This easy and quick sardine soup can help you lower your cholesterol with its rich omega-3 fatty acids and soluble fiber.
This sardine stew is made from pantry staples and can be easily whipped up when you are craving something warm and comforting.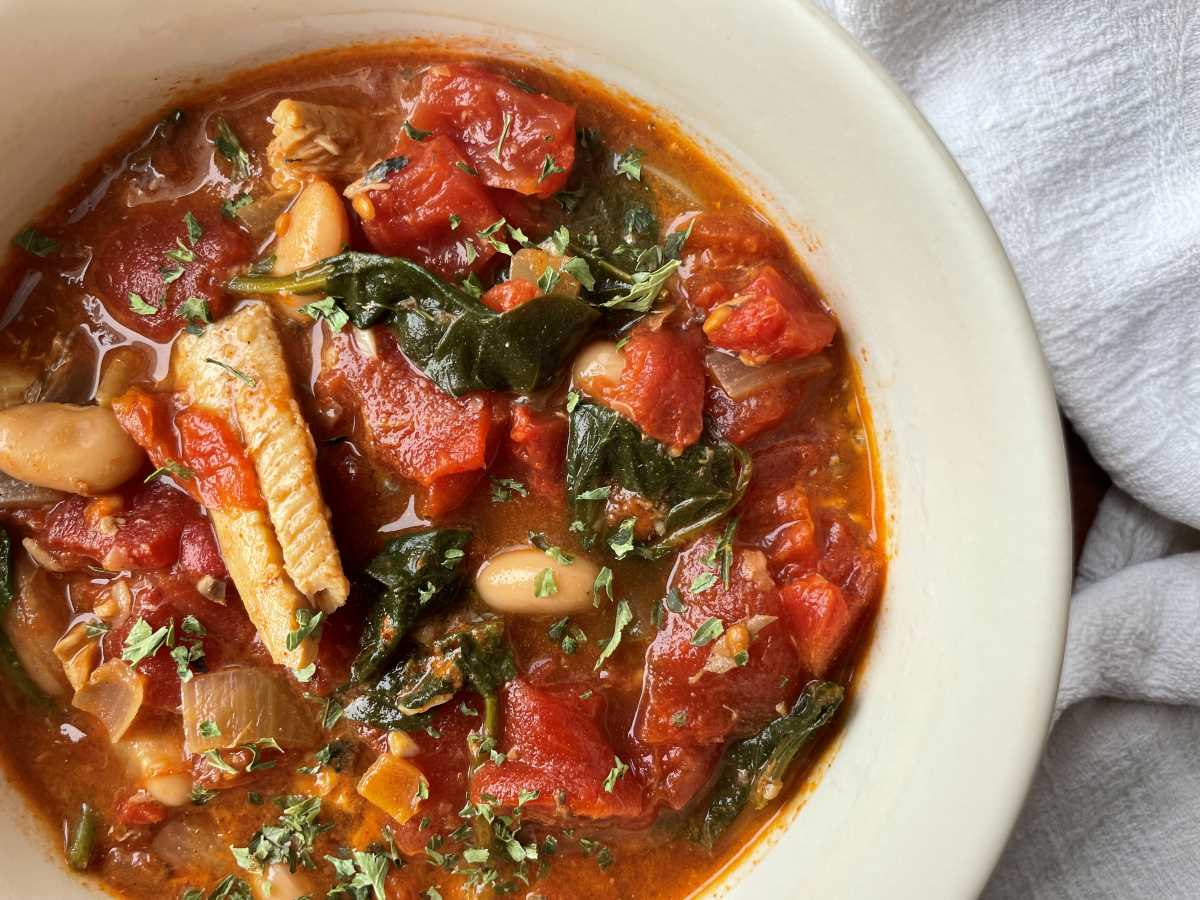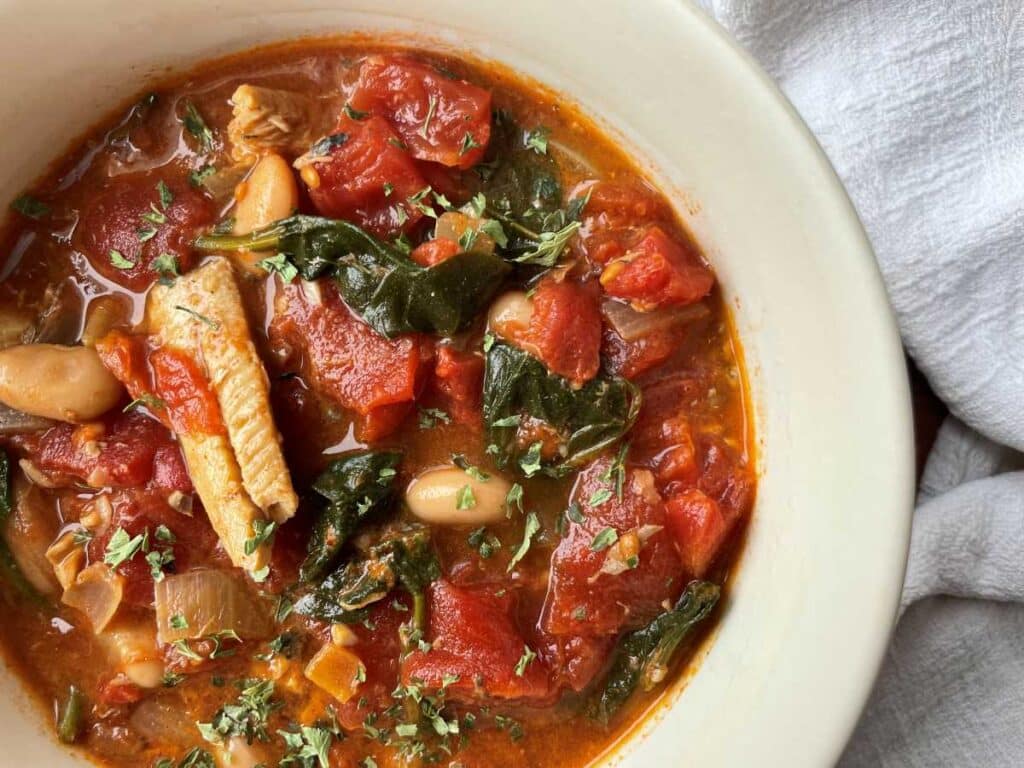 Pin It Now & Make It Later!
Why Make Sardine Stew
a quick and easy meal that comes together in 20 minutes
full of pantry staples
rich in omega-3 fatty acids (and low in mercury!)
satiating soluble fiber from the cannellini beans
can be a stew or soup, depending on how much liquid you add
Sardines
Sardines are an inexpensive source of protein and healthy fats. They are available fresh, frozen, and canned.
Unlike other omega-3-rich fish, they are low in mercury and other containments. They are small in size and have a short life span which means they don't have as long to accumulate mercury as larger fish like tuna. They also eat plankton which is relatively low in mercury.
As for heart health, they are full of inflammation-stopping omega-3 fatty acids. They are a great source of protein and calcium too.
In fact, the American Heart Association recommends two servings of omega-3-rich fish per week, and eating sardines can help you meet this goal (1).

Other beneficial nutrients found in sardines include magnesium and potassium. Two heart-healthy micronutrients that manage blood pressure according to the DASH diet and Mediterranean diet.
You can eat them right out of the can even though the skin and bones remain intact. This is where some nutrition lies, like in the calcium-rich bones.
Sardine Nutrition
1 can of sardines in oil (2)
Daily Requirements For Adults Depends on age, sex, and activity level (3)
Energy (kcal)
191
2000
Protein (g)
22.6
Around 20 grams per meal
Calcium (mg)
351
1000-1300
Potassium (mg)
365 mg
2600-4700
PUFA 20:5 n-3 (EPA) an omega-3 fatty acid
0.44 g
250 mg of combined EPA and DHA
PUFA 22:6 n-3 (DHA) an omega-3 fatty acid
0.47 g
Table 1: Key nutritional characteristics of sardines
As you can see in the table above, sardines are high in fiber, protein, and heart-healthy minerals like potassium, calcium and omega-3 fatty acids. In fact, 1 can of sardines has almost:
35% of your calcium needs
14% of your potassium needs
over 100% of your omega-3 needs
meets your protein needs for the day
That being said, canned sardines are often high in sodium, in fact, one can of sardines provide almost 1/3rd of your recommended intake. Read on to learn how to purchase low-sodium sardines.
Tips To Purchase Canned Sardines
I prefer canned sardines because they are convenient and inexpensive. Two tips to consider when purchasing canned sardines:
1. When purchasing canned sardines choose ones that are packed in olive oil or water. When possible, you want to avoid the ones packed in omega 6-rich fats like soybean oil, which may promote inflammation.
If you choose the ones packed in water, you can rinse the sardines to get rid of excessive sodium.
However, if you choose one packed in oil, you will want to use the oil when possible because some omega-3s may have moved from the fish to the oil.
2. Try to find canned sardines with the lowest amount of sodium listed. If you can't find any low in sodium, try rinsing the sardines before consuming or be sure to eat them with other low-sodium foods to help manage your blood pressure.
Can You Cook Canned Sardines?
You can absolutely cook canned sardines. They can be eaten straight from the can, or heated just like this Mediterranean stew recipe.
Sardine Soup Ingredients
This sardine stew recipe is full of foods that will unclog your arteries and lower blood pressure:
sardines – can be purchased fresh, canned, or frozen
onion, garlic, parsley, paprika – flavor enhancers and antioxidants
spinach – a mild-tasting green leaf with lots of nutrients, switch it up by using kale, chard, or arugula instead
tomatoes – choose fresh or no-salt-added canned tomatoes
olive oil – olive oil is a heart-healthy monounsaturated fat full of polyphenols that can lower blood pressure
white cannellini beans – choose dried or no-salt-added canned beans, leftovers can be added to this white bean smoothie
The most important thing to consider here is when purchasing other canned items for the sardine soup, be sure they are labeled as "no salt added" or "low sodium" on the front of the package, to make the final fish a reasonable amount of sodium.


How To Make This Mediterranean Stew
First, prepare ingredients. I like having everything pre-chopped and ready to go.
Then I heat a large soup pot over medium heat and sauté the onions, and garlic with the olive oil.
Add the tomatoes, chicken stock, cannellini beans, and then sardines. Note: you can use water here instead of chicken or fish stock to keep the sodium low in the final dish.
Mix in the paprika.
Bring to a boil and simmer.
Right before serving, stir in the spinach and top with parsley.
Taste and adjust as possible.
Other add-ins: mussels, brown rice, diced potato, red pepper
Video Tutorial
What Can I Do With Tinned Sardines?
Here are some ideas you can do with leftover tinned sardines
Toppings for salads and sandwiches
Sautee in olive oil
Add to pasta
Try sardine tacos
They are delicious in a sushi roll
Or use them as a dip
Other Sardine Recipes
Final Thoughts
Try this chunky sardine soup to get the omega 3s you need for heart health. Who knew sardines could taste so good?
Check out these articles if you are looking for juices to lower cholesterol, a food list low in cholesterol, how to follow a stent diet, or a 7 day low cholesterol meal plan.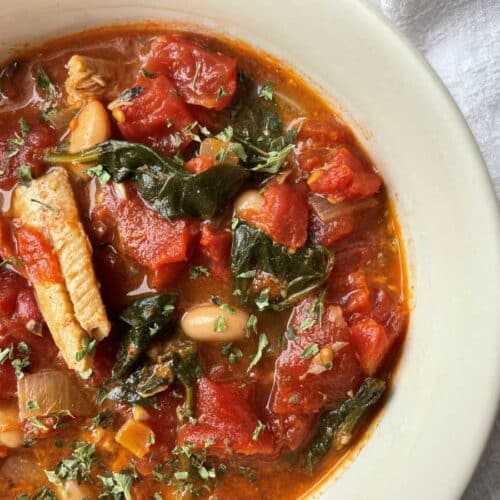 Sardine Soup with Cholesterol Lowering Beans
This easy and quick sardine soup can help lower your cholesterol with its rich omega 3 fatty acids, and soluble fiber. It is made from pantry staples and can be easily whipped up when you are craving something warm and comforting.
Ingredients
1½

tsp

olive oil

1

small

onion

diced

1

clove

garlic

diced

1

can

diced tomato

no salt added

1

can

cannelli beans

no salt added

2

cups

chicken stock

low sodium

2

cans

sardines

in water

1

tbsp

paprika

2

cup

baby spinach

¼

cup

parsley

minced
Instructions
Sauté onions and garlic in saucepan with extra virgin olive oil over medium heat

After 5 minutes, add tomatoes, canned beans, chicken stock and mix together

Bring to a boil, and add 2 packs of drained sardines to the saucepan

Add paprika to the soup, mix well

Add spinach leaves and mix

Serve, and top with parsley  
Nutrition
Calories:
272
kcal
Carbohydrates:
25
g
Protein:
25
g
Fat:
10
g
Saturated Fat:
1
g
Polyunsaturated Fat:
4
g
Monounsaturated Fat:
4
g
Cholesterol:
89
mg
Sodium:
252
mg
Potassium:
681
mg
Fiber:
7
g
Sugar:
4
g
Vitamin A:
1983
IU
Vitamin C:
23
mg
Calcium:
367
mg
Iron:
6
mg