High potassium smoothies are a fantastic way to meet the DASH diet requirements of potassium intake.
The DASH diet is a way of eating that will lower your blood pressure, as much as medications can. This diet is rich in potassium, magnesium and calcium. It is similar to the Mediterranean Diet.
Potassium is a nutrient that often gets overlooked but plays a vital role in keeping your heart, muscles, and nerves functioning properly.
Luckily, there are plenty of high potassium ingredients that you can use to create a delicious potassium rich smoothie.
Keep reading to download a FREE list of high potassium foods to customize this smoothie to your liking.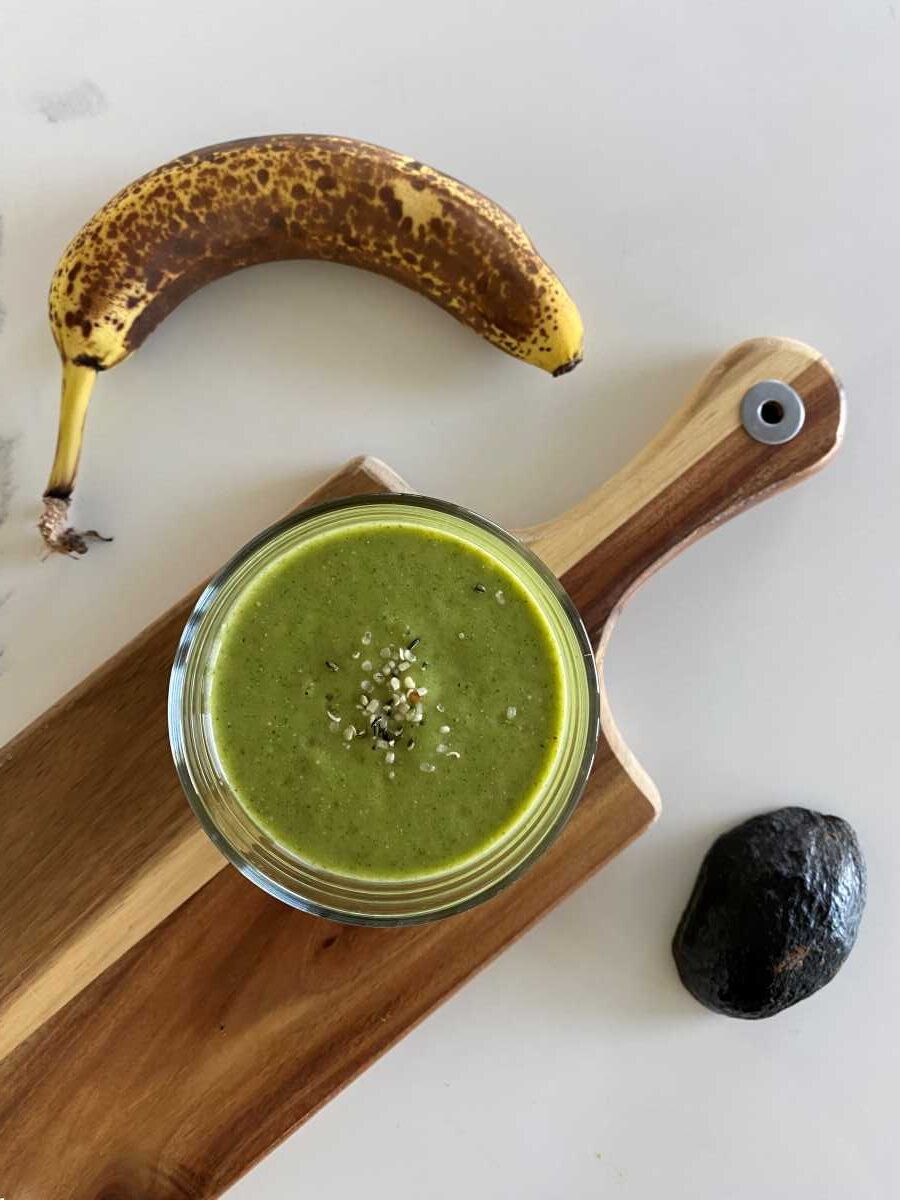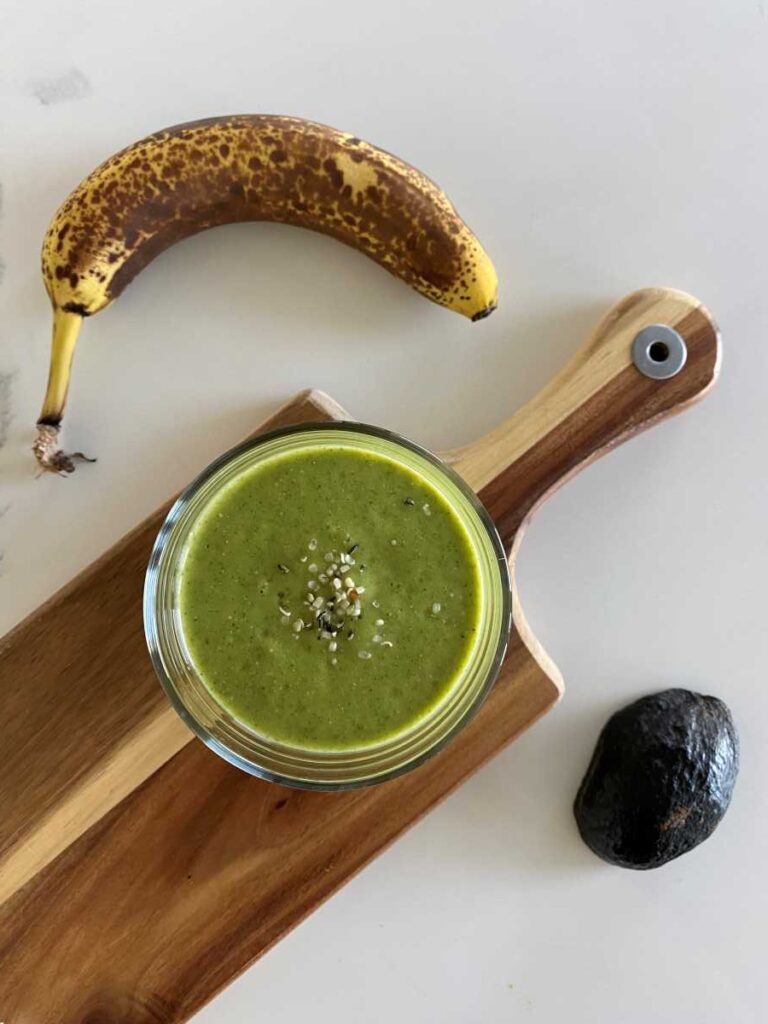 Potassium and Heart Health
Potassium is a mineral and electrolyte that is essential for regulating fluid balance, transmitting nerve signals, and maintaining healthy blood pressure.
It is important in heart healthy because of its ability to help regulate blood pressure. Potassium helps to counteract the effects of sodium in the diet, which can raise blood pressure. By consuming adequate amounts of potassium, you can help to maintain healthy blood pressure levels and reduce the risk of heart disease and stroke.
Potassium is also involved in transmitting nerve signals. This process is critical for proper muscle function, including the beating of the heart.
In addition to these heart health benefits, potassium also plays a role in supporting bone health, reducing the risk of kidney stones, and improving muscle function.
Potassium and North Americans
Despite the importance of potassium in our diets, many North Americans are not getting enough of this essential mineral. There are several reasons for this:
Low Consumption of Fruits and Vegetables: Many of the best dietary sources of potassium are fruits and vegetables, but studies have shown that North Americans often fall short of their recommended intake of these foods. Instead, they tend to consume more processed and packaged foods that are often low in potassium (1).
High Sodium Intake: Sodium is a mineral that can counteract the effects of potassium in the body, so when we consume too much sodium, our bodies may become deficient in potassium. North Americans consume a diet that is often high in sodium due to the high consumption of processed foods and restaurant meals.
Lack of Awareness: Many people may not be aware of the importance of potassium in their diet or how to get enough of it.
Potassium and Food Labels
To address this issue, food labels in North America now include information about potassium content. This is in response to recommendations from health organizations like the World Health Organization and the Institute of Medicine, which have identified potassium as a nutrient of public health concern.
By including information about potassium on food labels, consumers can make more informed choices about the foods they eat and ensure that they are getting enough of this critical nutrient.
This information can also help raise awareness about the importance of potassium in the diet and encourage people to consume more potassium-rich foods like fruits, vegetables, and legumes.
If you are interested in eating more potassium-rich foods. Download this handout, to provide some examples of foods rich in potassium.
How Much Potassium Do We Need?
The recommended daily intake of potassium varies depending on age, sex, and other factors. According to the National Institutes of Health (NIH) Adults aged 19 years and older: need 4,700 mg of potassium every day (2).
It's important to note that some individuals, such as those with certain medical conditions or who are taking certain medications, may require more or less potassium. If you have questions about your specific dietary needs, it's best to consult with a healthcare provider or your Registered Dietitian.
Nutrition In The High Potassium Smoothie
I made sure this potassium rich smoothie was not just fruits and vegetables, and instead balanced with heart-healthy protein, fiber, and fats too to ensure satiety.
Protein: 17g
Fiber: 9g
Potassium: 1120mg
This means that one potassium smoothie helps you reach 24% of your potassium needs for the day.
Ingredients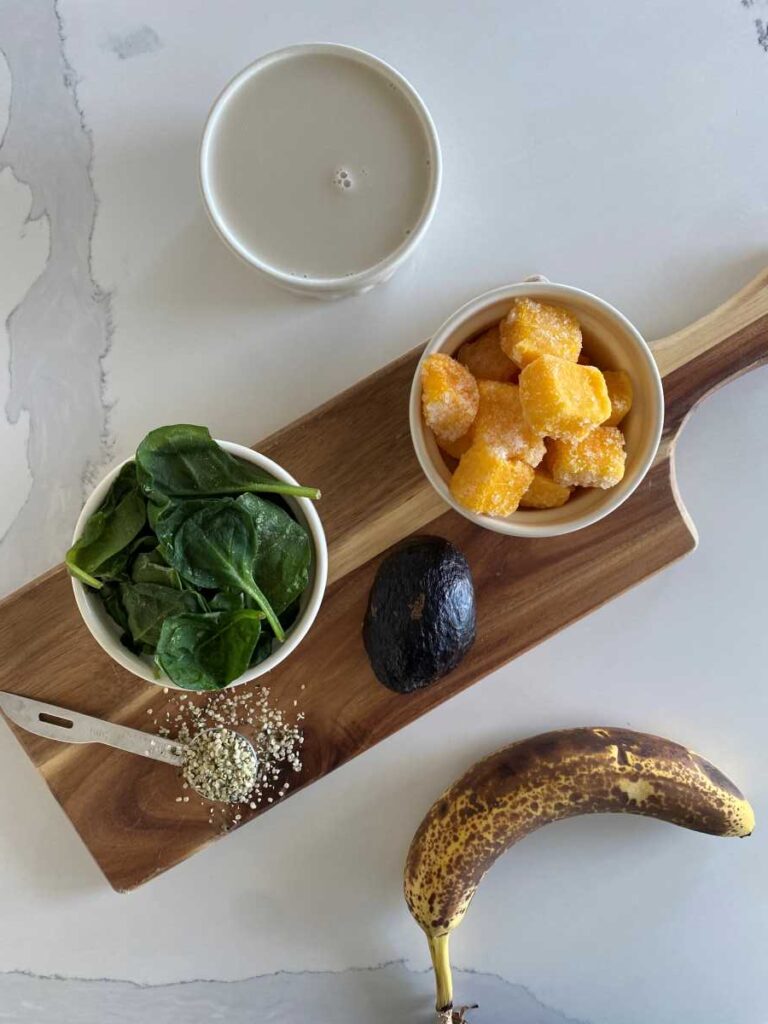 This high potassium smoothie recipe is full of foods that will lower blood pressure and unclog arteries
Bananas: An excellent source of potassium that adds a sweet, creamy flavor to your potassium rich smoothie, like this pineapple smoothie for weight loss.
Avocado: A high-potassium fruit that adds a smooth, creamy texture to your potassium smoothie, like in this smoothie to lower cholesterol and this chocolate avocado smoothie.
Spinach: a leafy green vegetable that is rich in potassium and adds a healthy dose of vitamins and minerals to your potassium shake.
Soy Milk: Soy milk is a plant-based milk that is high in protein, calcium, and potassium. One cup of soy milk (240 milliliters) contains around 300 milligrams of potassium. An important component of the Portfolio diet or diet after stent placement and can be found in other potassium smoothies like this watermelon smoothie.
Hemp seed: is a small, nutrient-dense seed that is high in protein, healthy fats, and minerals like magnesium, iron, and potassium. One ounce of hemp seed (about 28 grams) contains around 330 milligrams of potassium. You could also try adding pea protein or hemp protein powder.
Mango: a juicy and sweet tropical fruit that is high in vitamin C, fiber, and potassium. One cup of sliced mango (about 165 grams) contains around 320 milligrams of potassium.
Potassium Content of Ingredients
| | | | |
| --- | --- | --- | --- |
| Ingredient | Amount | Potassium Content | Health Benefits |
| Banana | 1 medium | 422 mg | High in fiber, vitamin C, and vitamin B6. May aid digestion and heart health. |
| Avocado | 1/2 medium | 480 mg | High in healthy fats and fiber. May help lower cholesterol and improve skin health. |
| Frozen spinach | 1 cup | 540 mg | High in iron, calcium, and vitamins A and K. May support bone and eye health. |
| Hemp seeds | 3 tbsp | 225 mg | High in protein, healthy fats, and minerals like magnesium and iron. May support heart health and reduce inflammation. |
| Soy milk | 1 cup | 300 mg | High in protein, calcium, and vitamin D. May support bone health and reduce cholesterol. |
Table 1: Ingredients in High Potassium Smoothie and Their Health Benefits (3).
This smoothie is a great source of potassium, providing over 1800 mg per serving. This high potassium breakfast smoothie is also high in fiber, healthy fats, and a variety of vitamins and minerals that can support overall health and wellness.
Other High Potassium Ingredients
Coconut water: a refreshing and hydrating base for a potassiumsmoothie that is naturally high in potassium. Like in this triple berry smoothie or this purple smoothie bowl.
Kiwi: a tangy and flavorful fruit that is packed with potassium and adds a bright pop of color to a potassium rich smoothie.
Sweet potatoes: a nutrient-dense root vegetable that are high in potassium and add a natural sweetness to your smoothie. An example of one is in this DASH diet smoothies list.
Yogurt: a creamy and tangy base for your heart healthy smoothies that is also high in potassium and protein.
Orange juice: a citrusy and refreshing base for apotassium shake that is also high in potassium and vitamin C.
Almond butter: a creamy and nutty addition to a smoothie that is high in potassium and healthy fats.
Dates: a natural sweetener that is also high in potassium and adds a caramel-like flavor to your smoothie, like this pecan pie smoothie.
Prunes: another dried fruit that is high in potassium. They add a slightly tart flavor to potassium smoothies and can help improve digestion.
Beetroot: a vibrant vegetable that is high in potassium and also has anti-inflammatory properties. It adds a slightly earthy and sweet flavor to smoothies and pairs well with other fruits and vegetables. Like this smoothie to lower blood pressure.
Beans in smoothies, such as white beans, lima beans, and kidney beans, are high in potassium and fiber. One cup of cooked beans (about 180 grams) contains around 600-1000 milligrams of potassium, depending on the type. Try these smoothies: white bean Smoothie, Red Kidney Bean Smoothie, Green Pea Smoothie and Black Bean Smoothie.
Need more ideas? Download this list of high potassium foods to start lowering your blood pressure today!
How To Make High Potassium Smoothie
Making the high potassium smoothie can be as easy as adding all the ingredients into the blender and blitzing until smooth and creamy.
Here are some tips if you get into trouble:
If the smoothie is too thick add some additional soy milk to achieve the desired consistency
Use ripe produce for the best flavor and texture
Blend in stages to ensure all of the ingredients are evenly blended. Start with the liquid and frozen spinach and mango first, and then add the soft ingredients. Do this if you don't have a high powdered blender.
If you like a colder smoothie, add ice!
Watch The Video Tutorial
When To Eat A High Potassium Smoothie
breakfast – start your day off right by getting 24% of your daily potassium needs with this smoothie
post workout snack – this smoothie has 17 grams of plant based protein that helps your body refuel and repair
sweet snack – the mango in this smoothie makes this high potassium smoothie a healthier choice than other high sugar or high fat snack foods.
Frequently Asked Questions
Are Smoothies Healthy For My Heart?
Smoothies can be healthy for your heart if they are made with nutritious ingredients and consumed in moderation. However, some smoothies can be high in added sugars and calories, which can be detrimental to heart health if consumed frequently.
What Drink Is High In Potassium?
Coconut water is a drink that is naturally high in potassium. Other drinks that are high in potassium include orange juice, tomato juice, and prune juice.
Do Smoothies Have High Potassium?
Smoothies can have high potassium depending on the ingredients used. Fruits and vegetables that are high in potassium, such as bananas, avocados, spinach, and mangoes, can be added to smoothies to increase their potassium content.
How Can I Raise My Potassium Levels Quickly?
Drinking potassium rich foods can be an effective way to increase potassium levels quickly because they are typically easier and quicker to consume than solid foods, and the body can absorb the nutrients more quickly. Some eampls are smoothies, orange juice and coconut water.
How Can I Get 4700 mg Of Potassium A Day?
To get 4700 mg of potassium a day, it is important to consume a variety of potassium-rich foods. This can include fruits such as bananas, cantaloupe, and oranges, vegetables such as spinach, sweet potatoes, and tomatoes, and legumes such as lentils and kidney beans.
Which Fruit Is Highest In Potassium?
The fruit that is highest in potassium is the banana. One medium banana contains approximately 400 mg of potassium. Other fruits that are high in potassium include cantaloupe, honeydew melon, and oranges.
DASH Recipes
… or check out these low sodium diet cookbooks and low sodium cookbooks for more inspiration.
Other Articles To Lower Blood Pressure
Pin It Now & Make It Later!
Final Thoughts
Incorporating high-potassium smoothies into your diet is a simple and effective way to boost your overall health and lower your blood pressure.
Always important to consume a variety of potassium-rich foods, such as bananas, sweet potatoes, and spinach, to meet your daily needs. Download a high potassium food list here!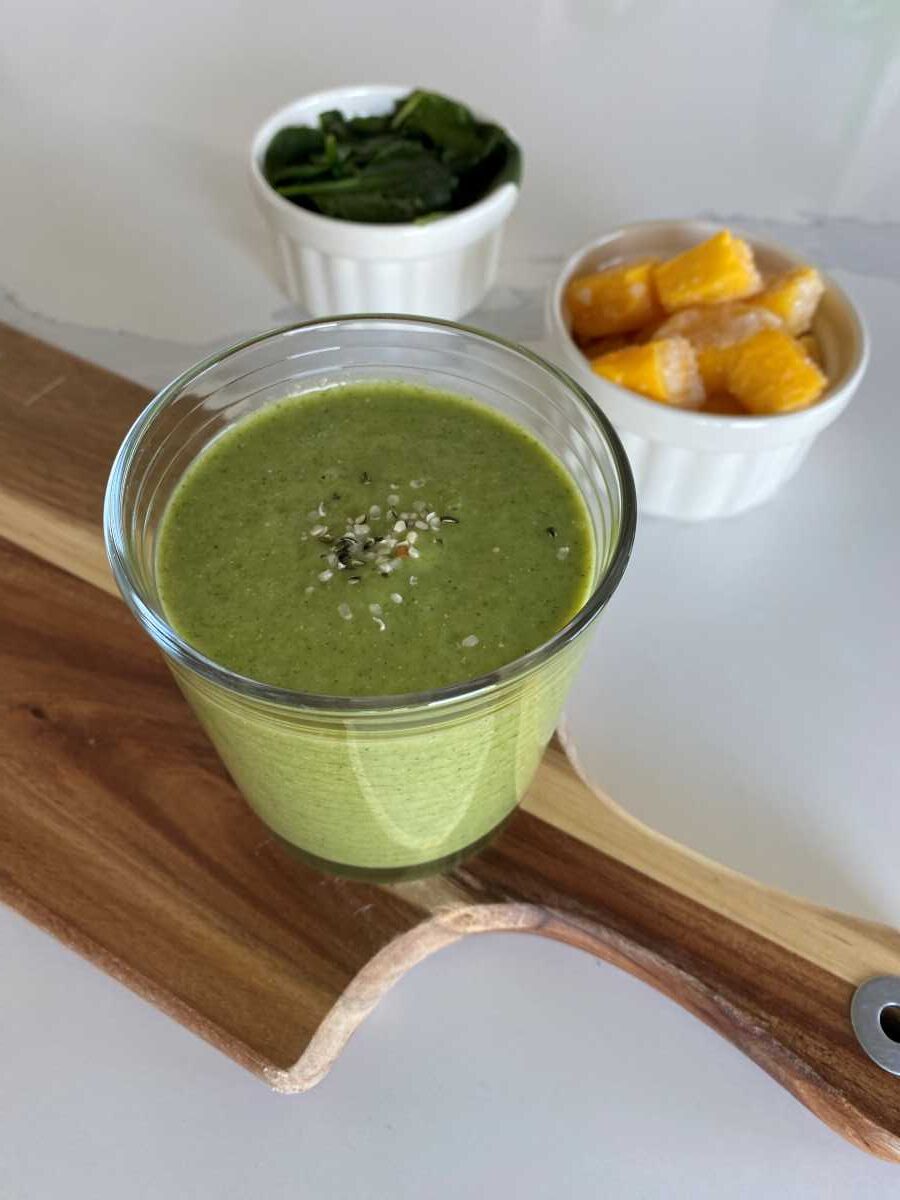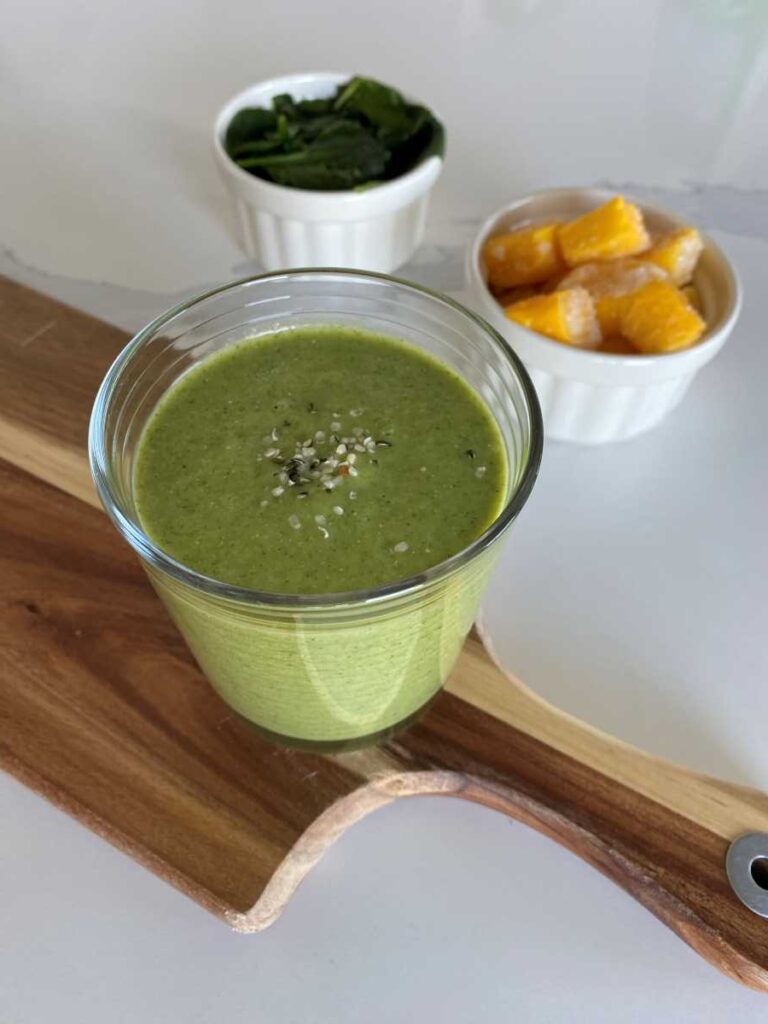 So, grab your blender and start experimenting with this delicious and nutritious high potassium smoothie today!
Recipe by Brooke Harris, Nutrition Student. Article was written by Veronica Rouse, MAN, RD, CDE.
High Potassium Recipe
Incorporating high-potassium smoothies into your diet is a simple and effective way to boost your overall health and lower your blood pressure.
Ingredients
½

avocado

½

cup

mango

frozen

1

cup

spinach

frozen

1

banana

3

tbsp

hemp seeds

1

cup

unsweetened soy milk
Instructions
In a blender add all the ingredients together
Nutrition
Calories:
351
kcal
Carbohydrates:
31
g
Protein:
17
g
Fat:
20
g
Saturated Fat:
2
g
Polyunsaturated Fat:
10
g
Monounsaturated Fat:
7
g
Sodium:
107
mg
Potassium:
1120
mg
Fiber:
9
g
Sugar:
14
g
Vitamin A:
10072
IU
Vitamin C:
29
mg
Calcium:
296
mg
Iron:
6
mg