Who doesn't love pancakes? Fluffy, delicious and great for a weekend brunch.
But guess what – pancakes can be packed with goodness too. Especially barley pancakes that are cooked with heart healthy barley flour!
Once you understand the nutritional powerhouse of barley pancakes recipe, you will be adding this recipe to your next grocery list.
And heck – these barley flour pancakes are super easy to make. All you need to do is swap barley flour, in place of the usually all-purpose flour. Bada bing, bada boom.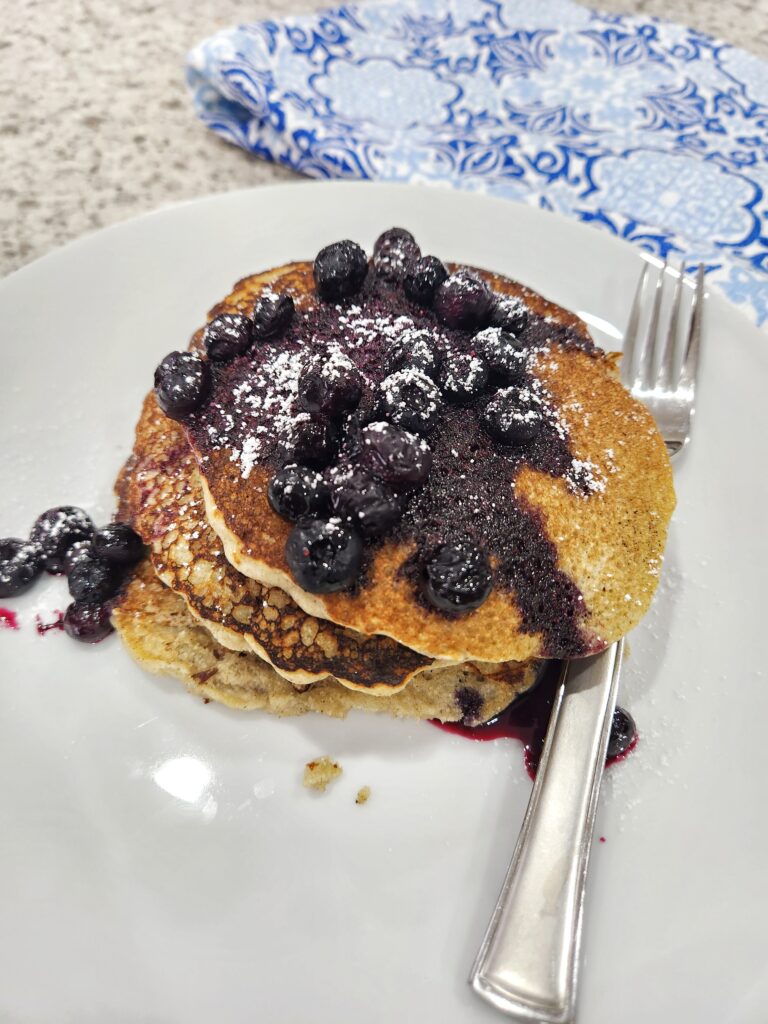 Pin It Now And Make It Later!
Why Make Barley Pancakes?
This heart healthy barley pancake breakfast recipe is:
quick to put together (less than 10 minutes!)
no chopping (no knife or cutting board needed)
kid-friendly, and great for baby-led weaning
more nutritionally dense than other pancakes using all purpose flour
Barley Flour
Nutrition Of Barley Flour
I decided to make a barley flour pancake because barley is a rich source of dietary fiber, especially beta-glucans, which are known for their cholesterol lowering properties.
The grain also provides essential heart healthy minerals like magnesium and potassium, found in the DASH diet that help lower blood pressure
Let's break down the nutritional differences between barley flour and all-purpose flour based on a 100g serving size:
| | | |
| --- | --- | --- |
| Nutrient | Barley Flour | All-Purpose Flour |
| Calories | ~345 kcal | ~364 kcal |
| Carbohydrates | ~74.52 g | ~76.31 g |
| Fiber | ~15.6 g | ~2.7 g |
| Protein | ~10.5 g | ~10.33 g |
| Potassium | ~370 mg | ~107 mg |
| Magnesium | ~79 mg | ~23 mg |
Table 1: Key nutritional differences between all purpose flour and barley flour (1) Notes: These values are approximate and can vary based on the brand, processing method, and other factors.
As you can see, barley flour is significantly higher in dietary fiber compared to all-purpose flour, making it a good choice for those looking to increase their fiber intake.
Barley flour contains significantly higher amounts of potassium and magnesium than all-purpose flour making them a heart healthy choice. Barley pancakes also fit within heart healthy diets including the Mediterranean Diet, DASH diet, Portfolio diet, Post Stent Diet, PAD diet, low cholesterol diet and MIND Diet.
Take a look at this article that details the nutritional value of Barley flakes too.
Taste
If you're looking for a way to elevate your regular pancake game, barley offers a slightly nutty, earthy or rustic flavor.
Some people mention the texture of a barley pancake is a little tougher than regular pancakes but others (like myself) don't notice the difference at all.
Where To Purchase
Barley flour is actually more common than it sounds. It is found in the baking aisle of most grocery stores, longside the regular flour! Try bigger grocery stores that have a wide selection of whole grain or alternative flours.
I also suggest sourcing barley flour from bulk food stores as some stores allow you to purchase the exact quantity of barley flour you need. This is also an environmentally friendly option, as it can reduce packaging waste.

And finally, if you can't find barley flour, grind barley yourself in a high speed blender.
Heart Health
Barley pancakes can be considered heart-healthy when compared to regular pancakes, especially when you look at the nutritional components of barley flour and how they relate to heart health.
Barley flour is particularly rich in a type of soluble fiber called beta-glucans. This fiber has been shown to help reduce cholesterol levels in the blood. Lower cholesterol is associated with a reduced risk of heart disease and stroke. And we all know fiber keeps us full longer too. A win-win!
Barley flour contains essential nutrients like magnesium and potassium. Magnesium plays a role in heart rhythm and muscle function, while potassium helps to maintain healthy blood pressure.
Whole grains, like barley, have been linked to a reduced risk of heart disease. They provide essential nutrients and fiber that support overall heart health. Try this Barley Porridge as an alternative to oat porridge.
The high fiber content in barley can also help regulate blood sugar levels by slowing down the absorption of sugar and reducing the risk of insulin spikes. Stable blood sugar levels can contribute to better overall heart health.
Ingredients in the Barley Pancake Recipe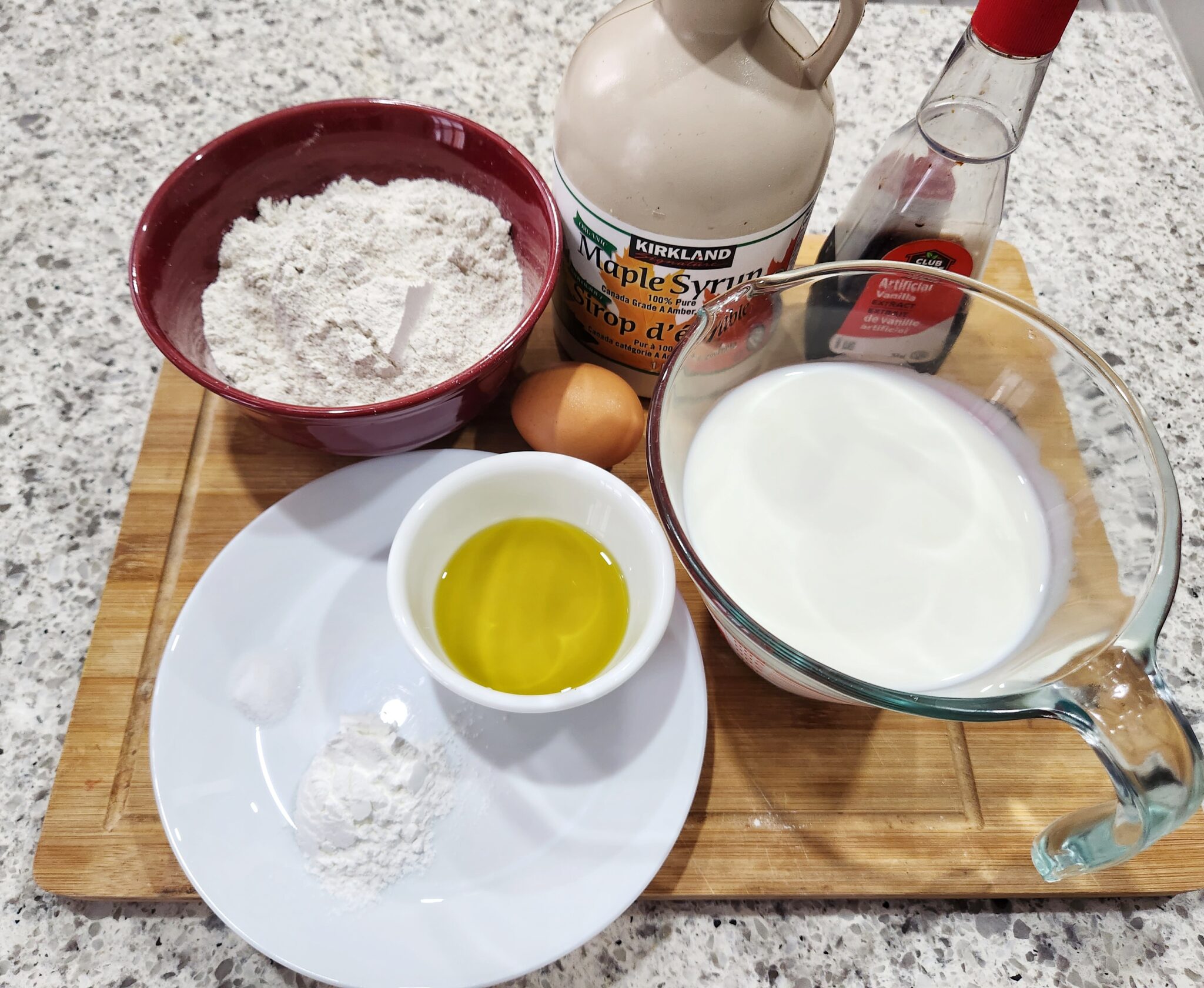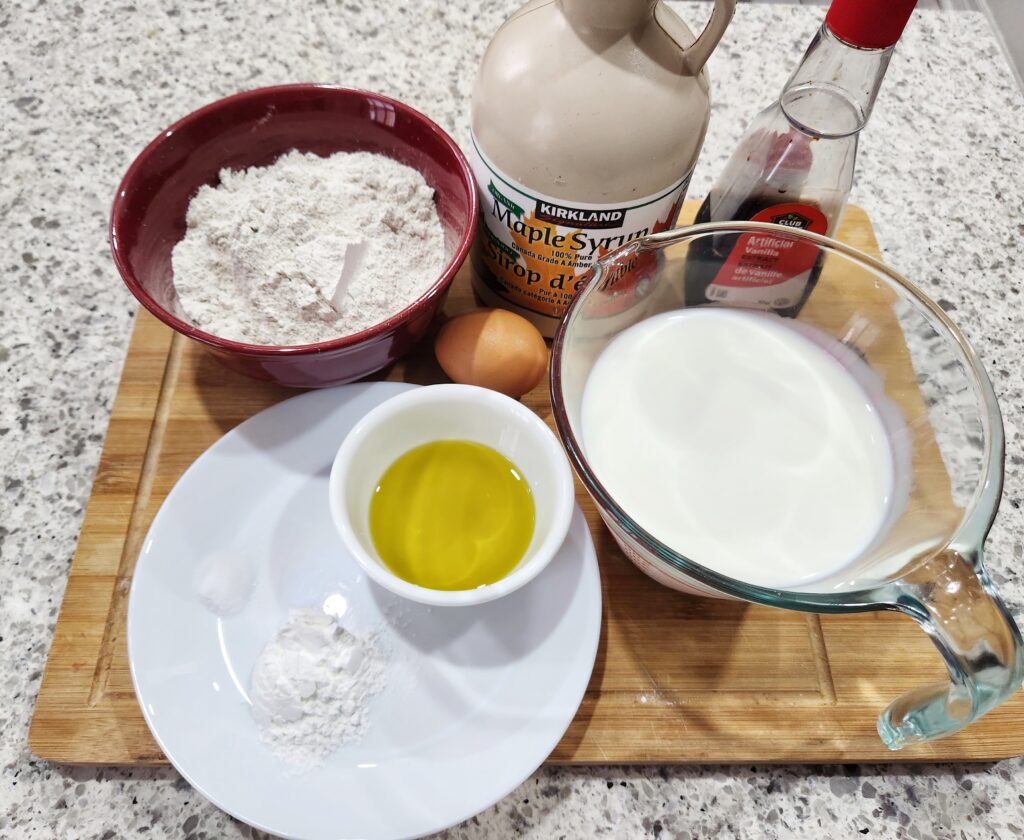 You will notice this barley pancake recipe has common ingredients to classic pancakes.
Barley flour – the start of the show
Baking powder is a leavening against used to help the pancake rise – who doesn't want fluffy barley pancakes
Salt is used for flavor, use as much or little as you need
Egg is used to bind everything together since barley has less gluten than white flour and needs the power of an egg to bind everything together.
Soy milk is used here because it is one of 39 foods that can unclog your arteries, but you can use your milk of choice here
Vanilla extract is used for flavor, but i'd also recommend trying almond extract too
Olive oil is used as the fat of choice because it is one of 39 foods that can lower your blood pressure making it a heart healthy oil
How Barley Pancakes Are Made
This barley pancakes recipe follow similar directions as any other pancake recipes. You will need two bowls and a pan.
Mix Dry Ingredients
Combine the barley flour, baking powder and salt in one large bowl. Using a whisk works better than a spoon.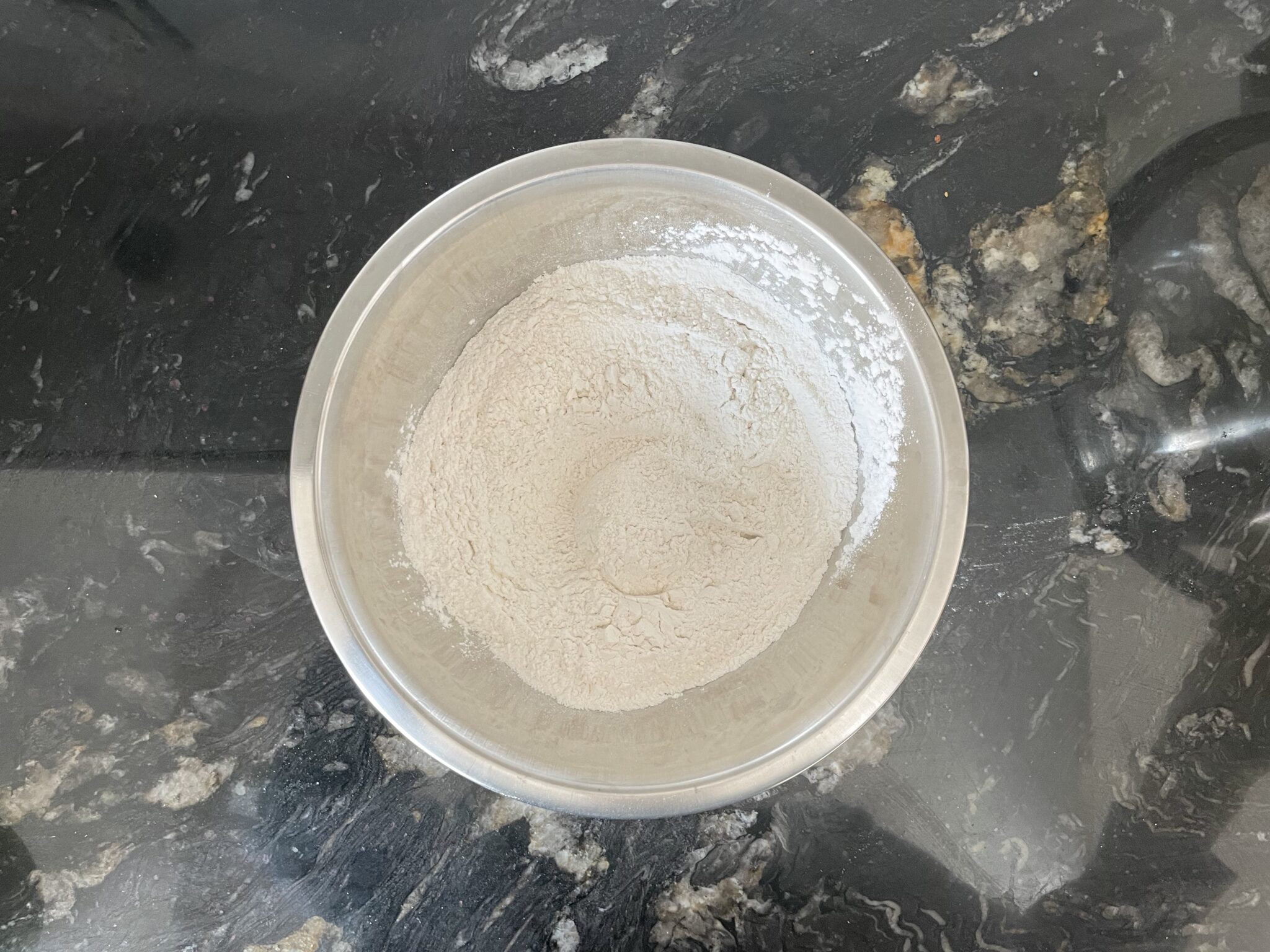 Mix Wet Ingredients
In a separate bowl, combine the maple syrup, egg, soy milk, vanilla extract and olive oil in another bowl. You can use the whisk here too. Start with beating the egg, then stir milk into the bowl and pour in the maple syrup, olive oil and vanilla extract.
Instead of using melted butter, olive oil is used as a heart healthy replacement. Don't like olive oil? Try avocado oil as a substitute for olive oil.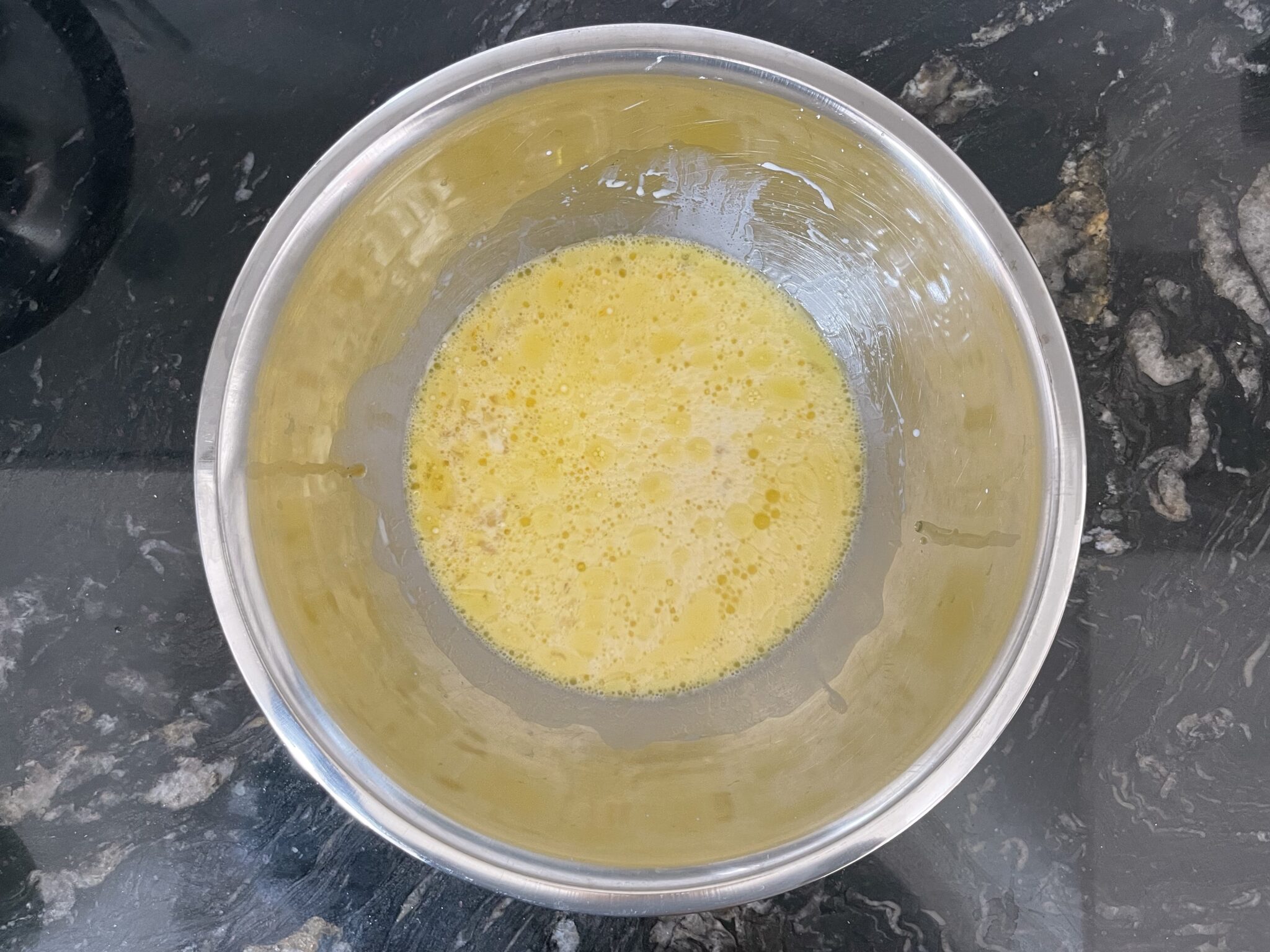 Combine The Two Bowls
Dump the flour mixture into the wet ingredients and stir a few times. Don't mix the pancake batter too well, or the batter will become too thick.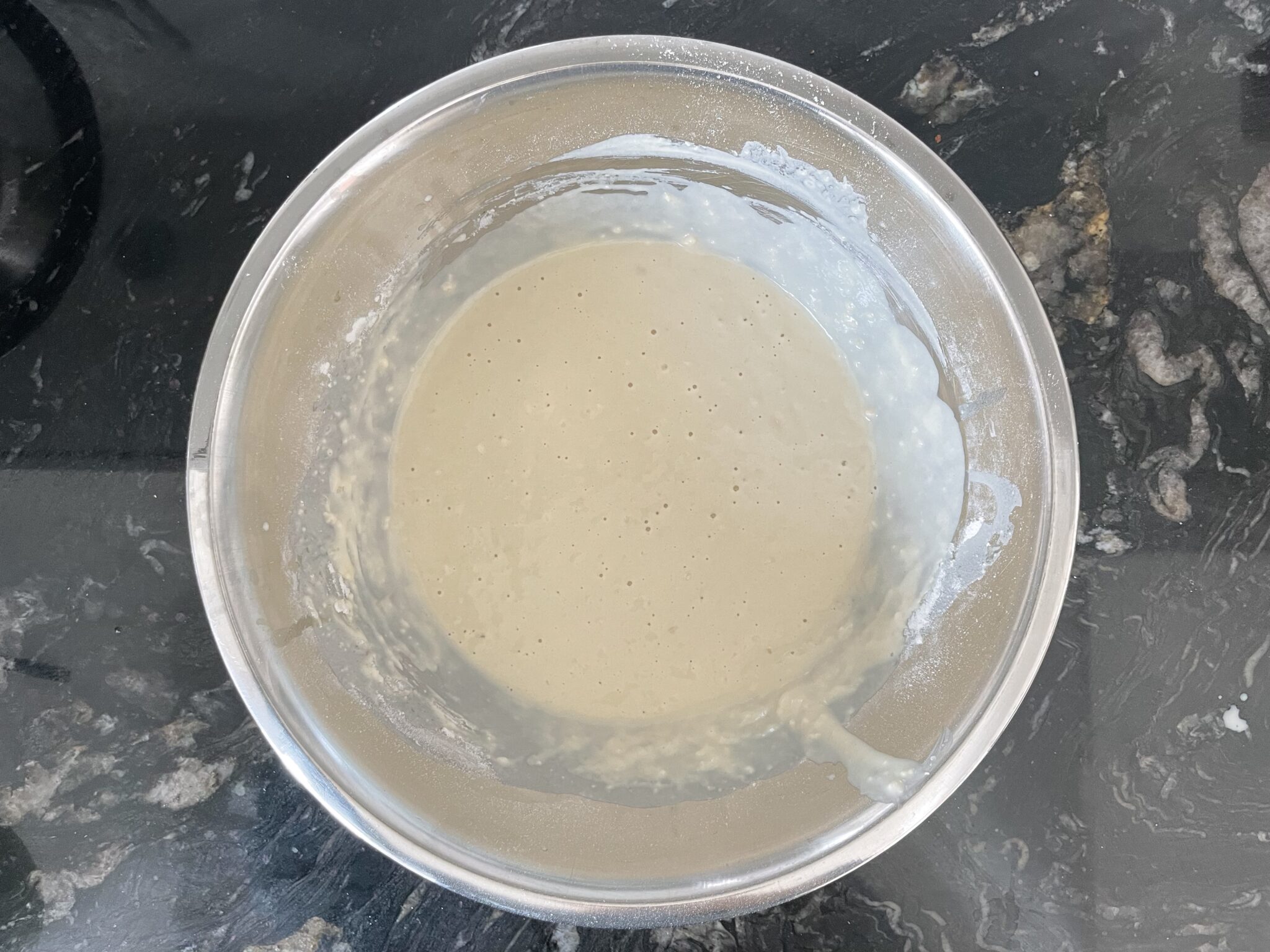 Heat the Pan
Be sure to heat the pan on medium heat before adding the oil and the batter. This makes a golden pancake.
Now all you need to do is cook on medium-low heat for 5 minutes or until the batter begins to bubble, that means they are ready to be flipped and cooked on the other side for the same amount of time.
The end result will be golden brown barley flour pancakes!
Watch The Video Tutorial
Watch how easy they are to whip up, and click here to subscribe to my YOUTUBE channel.
Make-Ahead To Save Time
I'd suggest cooking these pancakes ahead of time if you want this recipe to be part of your meal prep rotation for busy mornings. Since they are made with fresh ingredients, they only last 1-3 days in the fridge, so store them in the freezer for maximum freshness.
Leftovers
When you are ready to reheat, I'd suggest reheating them in the toaster, just like you are making toast!
Not only does this recipe make a healthy breakfast, but a healthy snack too, especially for kids!
Customize Barley Pancakes
Top with fruit like blueberries or raspberries
Mix in chopped nuts like walnuts or almonds
Add vegetables like zucchini or grated apple
Use brown sugar or orange juice instead of maple syrup
Switch out barley flour for buckwheat flour or chickpea flour
Dollop on Greek yogurt for extra protein or apple sauce for extra sweetness
Spices like cinnamon, lemon juice, apple pie spice or pumpkin pie spice would go well too
What Else Can You Make with Barley Flour?
Barley Bread: Give your homemade bread a nutrition boost and a rustic flavor by using barley flour in the mix. You can replace up to half of the wheat flour in most bread recipes with barley flour.
Barley Muffins: Whether it's blueberry, chocolate chip, or banana nut, barley flour can be a fabulous addition, bringing its wholesome goodness to every bite.
Barley Cookies: Add a twist to classic cookies by substituting part of the regular flour with barley flour. It pairs particularly well with oatmeal raisin or chocolate chip varieties.
Thickeners for Soups and Stews: Barley flour can act as a thickening agent for soups, gravies, and stews, adding both body and a subtle earthy flavor.
Frequently Asked Questions
Is Barley Flour Good For Baking?
Yes, barley flour is great for baking. Its unique, mildly nutty flavor adds a delightful dimension to baked goods, and its texture can offer a tender crumb. Additionally, barley flour is rich in essential nutrients, making it a healthier alternative or addition to many recipes.
However, because barley flour contains less gluten than wheat flour, it may produce a denser texture. To counteract this, many bakers mix barley flour with other flours, especially when making breads or other items that require a good rise.
Does Barley Flour Rise?
Barley flour does have some gluten, but it's not as much as found in wheat flour. Gluten is the protein responsible for the elasticity of the dough, which captures gas during fermentation and helps bread rise. Due to its lower gluten content, barley flour doesn't provide the same rise as wheat flour.
As a result, baked goods made solely with barley flour may be denser. For recipes where a significant rise is desired, like in many breads, barley flour is often mixed with a higher-gluten flour, such as all-purpose or bread flour.
Other Pancake Recipes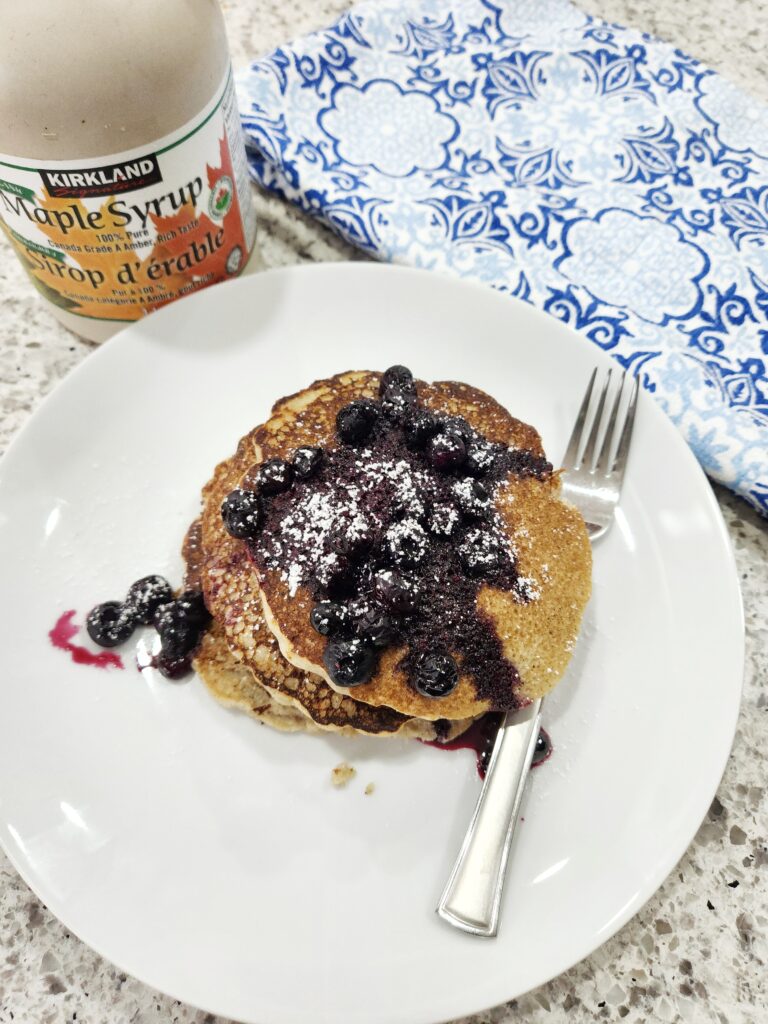 Final Thoughts
Barley pancakes are a wholesome and delicious way to start your day. Not only do they offer a break from the routine, but they also pack in the heart healthy benefits of an ancient grain.
So, the next time you're thinking of whipping up a stack of traditional pancakes, consider reaching for barley flour and savor the delightful difference. These barley flour pancakes will be a sure hit with the family.
Also, one quick request: if you love this barley pancake crowd pleaser as much as my family does, please leave me a 5-star rating and a nice comment. Ratings help more people find my recipes which helps me keep providing them! Thank you!
Recipe and photo by Safura Husainy Nutrition student. Article was written by Veronica Rouse, MAN, RD, CDE.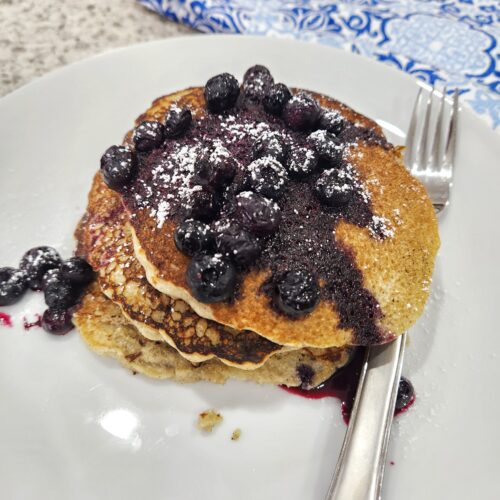 Barley Pancakes
Barley pancakes are a wholesome and delicious way to start your day. Not only do they offer a break from routine, but they also pack in the heart healthy benefits of an ancient grain.
Equipment
2 Mixing Bowls

1 Frying Pan
Ingredients
2

cups

barley flour

1

tbsp

baking powder

⅛

tsp

salt

2

cups

unsweetened soy milk

1

tbsp

vanilla extract

3

tbsp

olive oil
Instructions
Heat up a griddle pan and lightly brush with olive oil

In a large bowl, whisk the barley flour, baking powder and salt together until thoroughly mixed.

In another bowl, add the maple syrup, egg, 2 cups of milk, 1 tbsp vanilla extract, and 3 tbsp olive oil, and whisk together.

Make a well in the dry-ingredients bowl, and slowly incorporate the liquid mixture while gently stirring with a wooden spoon. Keep repeating until all the liquid mixture is incorporated. Mix until just combined. Try not to overmix.

Once the griddle is heated, scoop the pancake batter with a ladle and pour it onto the griddle.

When bubbles appear, flip the pancake to the other side for approximately 1-2 minutes. Once you are done, you are ready to enjoy!
Nutrition
Calories:
399
kcal
Carbohydrates:
59
g
Protein:
11
g
Fat:
14
g
Saturated Fat:
2
g
Polyunsaturated Fat:
3
g
Monounsaturated Fat:
8
g
Sodium:
439
mg
Potassium:
380
mg
Fiber:
8
g
Sugar:
2
g
Vitamin A:
252
IU
Calcium:
351
mg
Iron:
3
mg