One of the most effective and natural ways to manage your cholesterol levels is through diet – so why not try this homemade juice to lower cholesterol?
Today, I bring you a cholesterol lowering juice recipe, loaded with heart-healthy ingredients, that's not only delicious but can also help manage your cholesterol naturally.
This mango juice recipe is made with soy milk, chia seeds, and mango. It is a powerhouse of nutrients that are known to support heart health.
Or you can check out these 11 other Registered Dietitian approved fruit and vegetable juice recipes to lower cholesterol that contain foods that unclog arteries. And you may also enjoy this article on how long does it take to lower cholesterol with diet?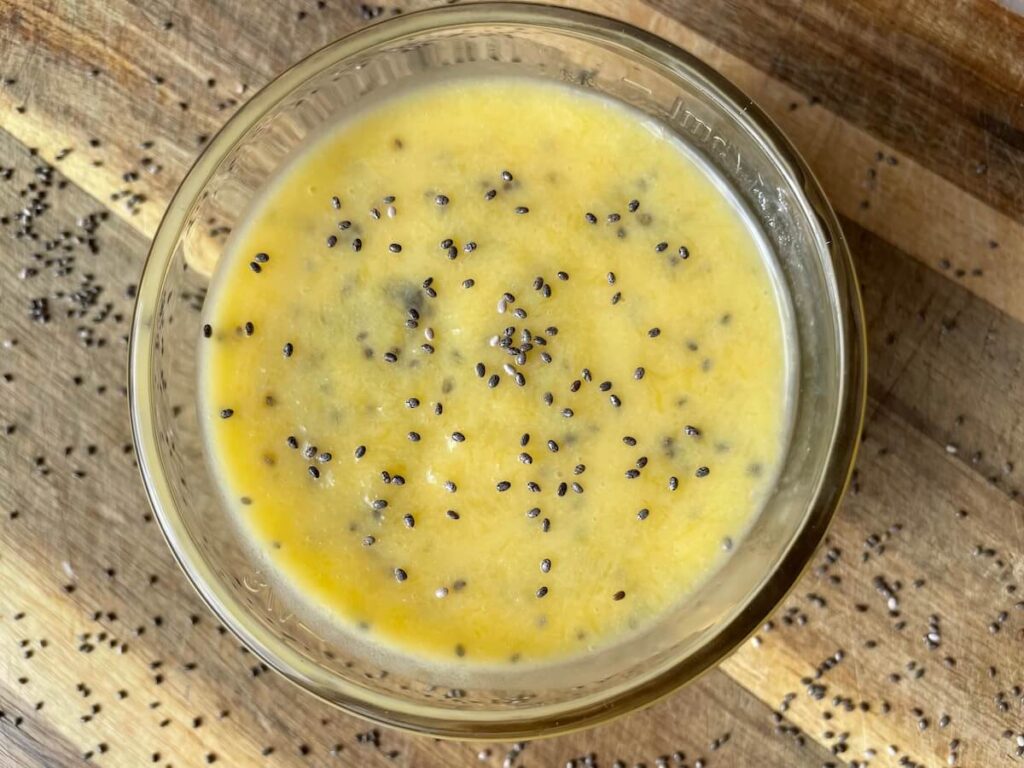 What Is Cholesterol?
Let's chat about cholesterol. It's sort of like the unsung hero of our bodies — it's a kind of fat that helps our bodies in quite a few ways. Some of its cool 'day jobs' include forming the outer layers of our cells, lending a hand in digestion, and even playing a big part in making hormones like estrogen and progesterone.
Oh, and it's also key in helping our bodies make vitamin D. So, it's safe to say we wouldn't be here without it!
So, where does this magic stuff come from? Our liver, actually. And would you believe there's only one type of cholesterol?
Now, you might be thinking, 'Wait, I've heard of LDL and HDL – aren't those different types of cholesterol?' Nope, those are just the names of the transport team! LDL (low-density lipoprotein cholesterol) and HDL (high-density lipoprotein cholesterol) are the molecules that move cholesterol around in our bloodstream.
Think of LDL as the delivery guy – it brings cholesterol to our cells by moving it through our blood. But, because this raises our blood cholesterol levels, it's earned itself a bit of a bad rep, hence being dubbed the 'bad' cholesterol.
HDL, on the other hand, is like the cleanup crew. It swoops in, picks up excess cholesterol from our blood, and brings it back to the liver. So, it actually lowers our blood cholesterol levels, which is why we often call it the 'good' cholesterol.
Cholesterol And Health
But, here's the thing. As great as cholesterol is for us, too much of it can be a problem for our heart and overall health.
Imagine if those LDL delivery guys start dropping too much cholesterol into our bloodstream. The cholesterol can get oxidized, which is just a fancy way of saying it transforms into a gunky, fatty substance that sticks to our arteries.
Over time, this plaque can make our arteries narrower and thicker, kind of like a garden hose that's clogged up with dirt. This condition is called atherosclerosis.
When our arteries are narrowed, less blood can get to our cells. And if it gets really bad, it could lead to serious issues like needing a stent, or even heart attack, stroke, and angina. So, it's super important to keep an eye on our cholesterol levels, and make sure we're not getting too much of a good thing!
Be sure to check out this great post on the diet after a stent placement.


Diet In Managing Cholesterol
Cholesterol lowering juice isn't the only thing you can do to manage cholesterol. There are many diets that can give your cholesterol levels a helping hand too.
The Portfolio Diet
First up, is the Portfolio diet. Think of this as a 'greatest hits' album of lowering your cholesterol with food (1). It's designed to keep your cholesterol in check and lower the risk of heart disease. The superstars of this diet are nuts, plant protein, viscous fiber, and plant sterols.
Adding chia seeds and soy milk in this juice to lower cholesterol recipe helps us to be one step closer to our goal of plant protein and soluble fiber.
DASH diet stands for 'Dietary Approaches to Stop Hypertension'. It's a diet rich in fruits and veggies, whole grains, poultry, fish, nuts and low-fat dairy designed to help lower blood pressure. DASH diet includes foods that lower blood pressure and recommends 4-5 servings each of fruits and veggies every day, along with servings of other major food groups like
· Grains
· Nuts and seeds
· Lean meats
· Low-fat dairy products
The evidence backing the DASH diet is pretty solid. The DASH diet can help your heart health and lower LDL-cholesterol levels (2).
And then we have the Mediterranean diet, inspired by the sunny regions of Greece and Italy. This diet emphasizes more fruits and vegetables, beans, nuts, and seeds, olive oil, and potatoes. It's all about olive oil as your main fat source, with fish and poultry in moderation and even a little bit of wine.
The benefits? This Mediterranean diet has been shown to lower blood cholesterol, reduce inflammation, and heart disease risk, plus it can be a helping hand with weight loss (3).
Including fruit like mango in this mango juice recipe, keeps you compliant with the DASH and Med diet, and helps this homemade juice recipe to lower cholesterol.
Nutrients To Lower Cholesterol
Some nutrients to consider including in your juice for cholesterol are the following.
Fiber
If fiber were a superhero, its power would be that it doesn't break down in your body. This means it slows digestion, helps to control blood sugar and cholesterol levels, and keeps you feeling full longer. The main source of fiber in this juice for lowering cholesterol is mango and chia seeds.
Antioxidants
Next up are antioxidants, the protective shield of our cells. They help fend off damage from free radicals, which are like tiny little chaos-causing particles in our bodies. They can mess with cholesterol, potentially leading to issues like clogged arteries.
This homemade juice lowers cholesterol, it contains numerous antioxidants from mangoes, including zeaxanthin, quercetin, astragalin, fisetin, Vitamin C, and gallic acid. These antioxidants help protect your cells against oxidative damage.
Some research shows that Vitamin C might help protect HDL cholesterol from oxidation and possibly LDL cholesterol too (3).
Quercetin, for example, which you can find in vegetables, fruits, red wine, and tea, might help lower LDL cholesterol. Anthocyanins, which make blueberries, cranberries, and cherries so vibrantly colored, might also lower LDL cholesterol (4).
Ingredients Of The Cholesterol Lowering Juice Recipe
Key ingredients of our cholesterol lowering juice are soy milk, chia seeds, and mango. These ingredients are not only flavorful but also loaded with nutrients beneficial for heart health and overall well-being.
Health Benefits Of Soy Milk
Soy milk is a fantastic addition to our heart-friendly homemade juice for cholesterol. It's a plant-based milk substitute that contains no cholesterol and is low in saturated fat.
Research has shown that consuming soy protein may help decrease LDL (bad) cholesterol levels, making it a brilliant choice for heart health (5).
Soy milk is an excellent source of high-quality protein, which is beneficial for various bodily functions. It's also rich in isoflavones, a type of phytoestrogen that are known for their antioxidant properties and may help improve blood pressure and cholesterol levels (5).
Health Benefits Of Chia Seeds
Chia seeds are tiny but incredibly nutrient-dense. They are exceptionally high in dietary fiber, which is known to reduce LDL cholesterol and overall cholesterol levels, thus improving heart health. Furthermore, chia seeds are rich in omega-3 fatty acids, which play a vital role in heart health by reducing inflammation and lowering heart disease risk (6).
The combination of fiber, omega-3, and other heart-healthy nutrients in chia seeds make them an excellent adding to this mango juice recipe. Regular intake can help maintain a healthy heart by controlling cholesterol, reducing inflammation, and lowering blood pressure (6).
Health Benefits Of Mango
Mangoes are not only deliciously sweet but are also packed with dietary fiber and antioxidants. The fiber in mangoes aids digestion and can help manage cholesterol levels. Plus, its antioxidant content, including vitamin C and beta-carotene, can fight oxidative damage and inflammation (7).
Mangoes are rich in nutrients that are beneficial for heart health, including potassium and magnesium, which help maintain a healthy pulse and relax blood vessels. The fiber and antioxidants in mangoes also contribute to a healthy heart by reducing cholesterol levels and protecting against oxidative stress (7).
By blending these ingredients together, we're not just creating a delightful and refreshing juice to lower cholesterol but also a beverage that is packed with nutrients beneficial to our heart health. It's a win-win situation for our taste buds and our bodies. So, let's get juicing!
How To Make A Cholesterol-Lowering Juice
To make this lower-cholesterol juice, you will want to start by soaking the chia seeds in water for 20 minutes. Chia seeds have a unique ability to absorb water, up to 12 times their weight. When soaked in water, they expand and form a gel-like substance around them.
I like soaking chia seeds as it can make them easier to digest, allowing your body to access the dense nutrients inside the seeds more effectively. Soaking the chia seeds can also improve the texture of your final product.
As the chia seeds are soaking, you will also need to peel the mango and blend it.
Then you will want to combine the two ingredients -soaked chia and blended mango – and voila a super delicious homemade juice to lower cholesterol.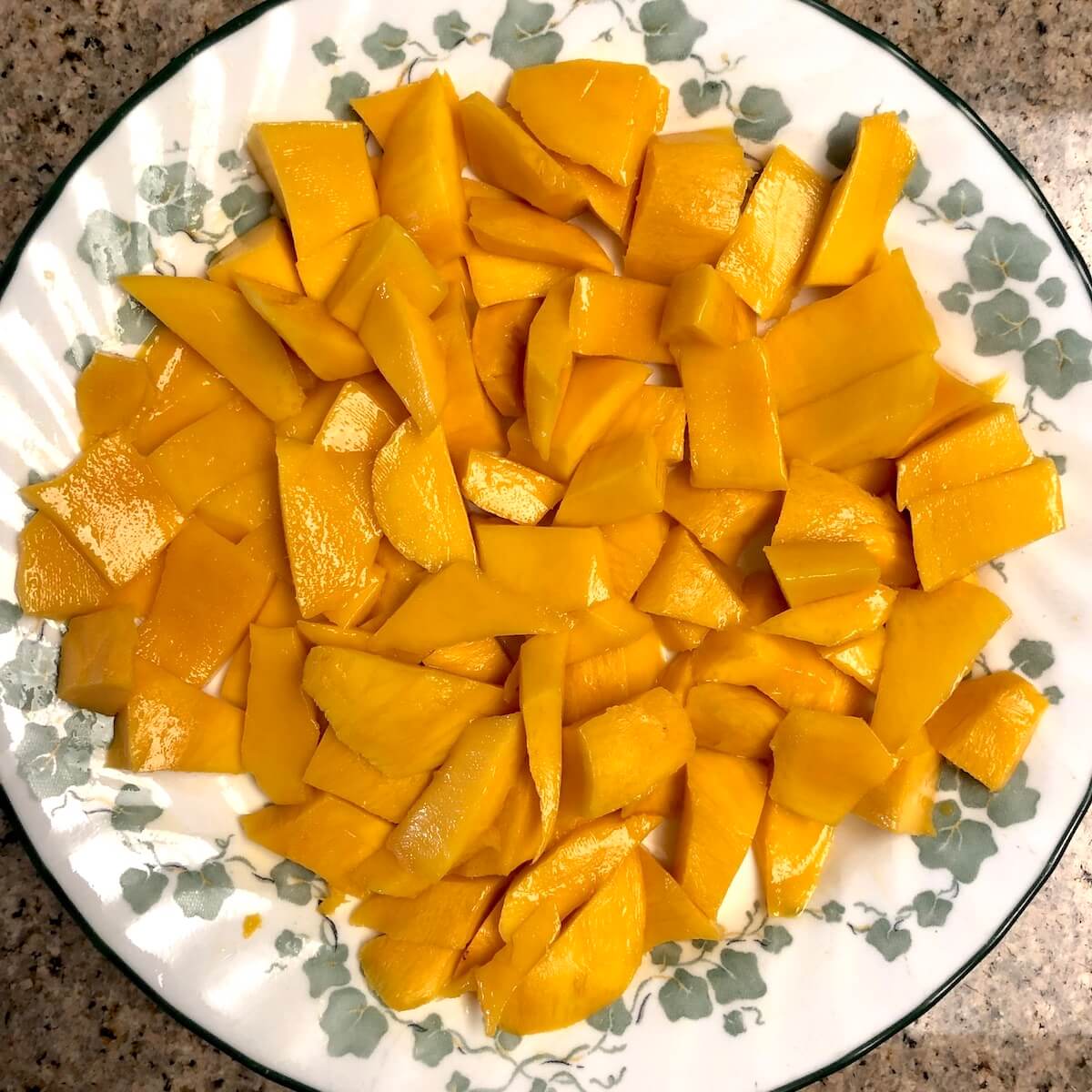 Video Tutorial
Watch how easy it is to make juice for lowering cholesterol levels.
Other Ways To Lower Cholesterol
Eating nutritious foods is not the only way to lower cholesterol. Simple lifestyle changes can prove to be an equally effective way for individuals to not only lower cholesterol but improve overall health. These include;
· Physical activity
· Stop smoking
· Managing stress
· Reducing alcohol consumption (8)
Other Smoothie Recipes to Lower Cholesterol
Pin It Now & Make It Later!
Final Thoughts
Managing cholesterol levels does not have to be a tedious or tasteless affair.
Try this lower cholesterol juice made of soy milk, chia seeds, and mango that offers an enjoyable and nutritious way to incorporate heart-healthy ingredients into your daily diet.
However, remember that this homemade juice to lower cholesterol is just one part of the bigger picture. A balanced diet filled with a variety of fruits, vegetables, whole grains, and lean proteins, coupled with regular exercise and routine health checks, forms the cornerstone of heart health.
Moreover, it's always important to consult with healthcare professionals, like your dietitian or doctor, before making any significant changes to your diet. So, pour yourself a glass of this cholesterol lowering juice recipe, and toast to a healthier heart!
Recipe and photo by Isabelle Mah, Nutrition Student. Article was written by Veronica Rouse, MAN, RD, CDE.


Homemade Juice To Lower Cholesterol
This is a cholesterol lowering juice recipe, loaded with heart-healthy ingredients, that's not only delicious but can also help manage your cholesterol naturally. 
Ingredients
2

tbsp

chia seeds

1/4

cup

water

for chia seeds

2

mangoes

medium

3/4

cup

unsweetened soy milk
Instructions
In a small bowl, soak the chia seeds in room temperature water for 20 minutes. Stir to ensure all seeds are in contact with water.

Peel and chop the mangoes into small pieces. Discard the pit.

Put the chopped mangoes, water, and milk into the blender and blend until smooth. If using an immersion blender, blend the mangoes in a large bowl.

In a glass, add a scoop of the bloomed chia seeds then pour the mango juice on top.

Enjoy! You may cover and store the juice in the fridge for one day.
Nutrition
Calories:
142
kcal
Carbohydrates:
25
g
Protein:
4
g
Fat:
4
g
Saturated Fat:
1
g
Polyunsaturated Fat:
3
g
Monounsaturated Fat:
1
g
Trans Fat:
0.01
g
Sodium:
26
mg
Potassium:
337
mg
Fiber:
5
g
Sugar:
19
g
Vitamin A:
1623
IU
Vitamin C:
50
mg
Calcium:
142
mg
Iron:
1
mg