This kale apple slaw recipe is a crunchy vegetarian side dish. It follows the DASH and Mediterranean dietary patterns, which make it a great option to support your heart health.
This easy, crunchy honey-Dijon apple kale slaw is ready in 30 minutes and couldn't be more refreshing.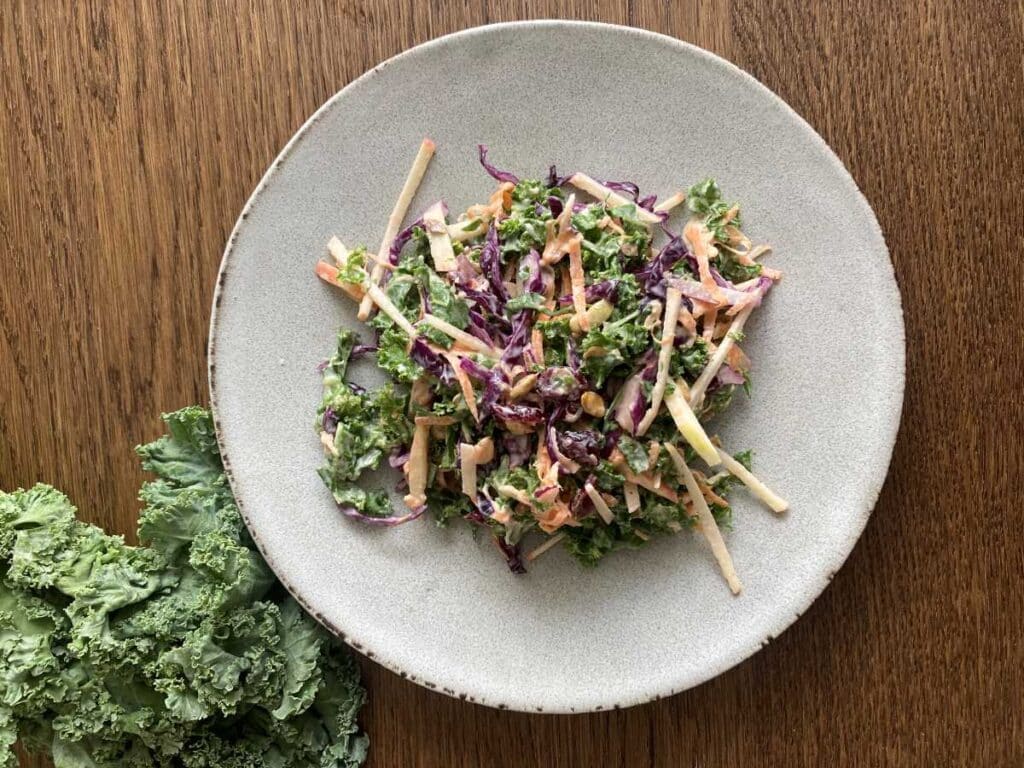 What Is Kale Apple Slaw?
Slaw is a cold salad made from chopped raw vegetables. In this recipe, it features kale, apple and carrots mixed with a creamy dressing.
Benefits of Kale And Apple Slaw
Making slaw is a fantastic and tasty way to eat the rainbow
It's gorgeous and will be crowd-pleasing if you bring it to an event
Easy to find ingredients
Nutrient-dense and full of fiber
Inexpensive ingredients
Meets your vegetable needs for the DASH and Mediterranean eating plans
Heart Health
One of the most challenging parts of following the DASH and Mediterranean dietary patterns is consuming enough produce. In the past, I've spoken about using smoothies to meet your needs, but salads, like this one can also help.
Both styles of eating recommend consuming 4-5 servings of produce a day. This kale apple carrot salad meets this recommendation in one dish.
Add a honey dressing for kale salad, and this tasty and refreshing dish will become a staple in your weeknight meal plan.
Nutritional Benefits
One serving of this cabbage apple kale salad contains:
8 grams of protein
7 grams of fiber
a fantastic source of calcium, potassium, and magnesium to manage blood pressure
naturally low in sodium to further lower blood pressure


Kale And Apple Slaw Ingredients
This kale apple slaw recipe has foods that unclog arteries and lower blood pressure
Ingredients for Slaw
Kale – Is packed with flavonoids that help manage heart disease (1). I used curly kale. Be sure to remove the stems and wash and dry them before shredding or chopping.
Red Cabbage – The anthocyanins in red cabbage and red onions may benefit your heart and lower your blood pressure (2). Use a cheese grater to shred the cabbage, it will save you loads of time.
Carrot – Rich in antioxidants like vitamins A, C, E and polyphenols aid in heart health. Use the cheese grater here too, you won't regret it!
Apple– I chose red delicious, for a sweeter note. But any apple would work well here.
Pumpkin Seeds – or sunflower seeds would be nice. Full of heart-healthy unsaturated fats.
Dried Cranberries – provide nice color contrast to the green kale, but any dried (or fresh!) fruit is fine and will add more antioxidants, fiber, and nutrients.
Ingredients for Dressing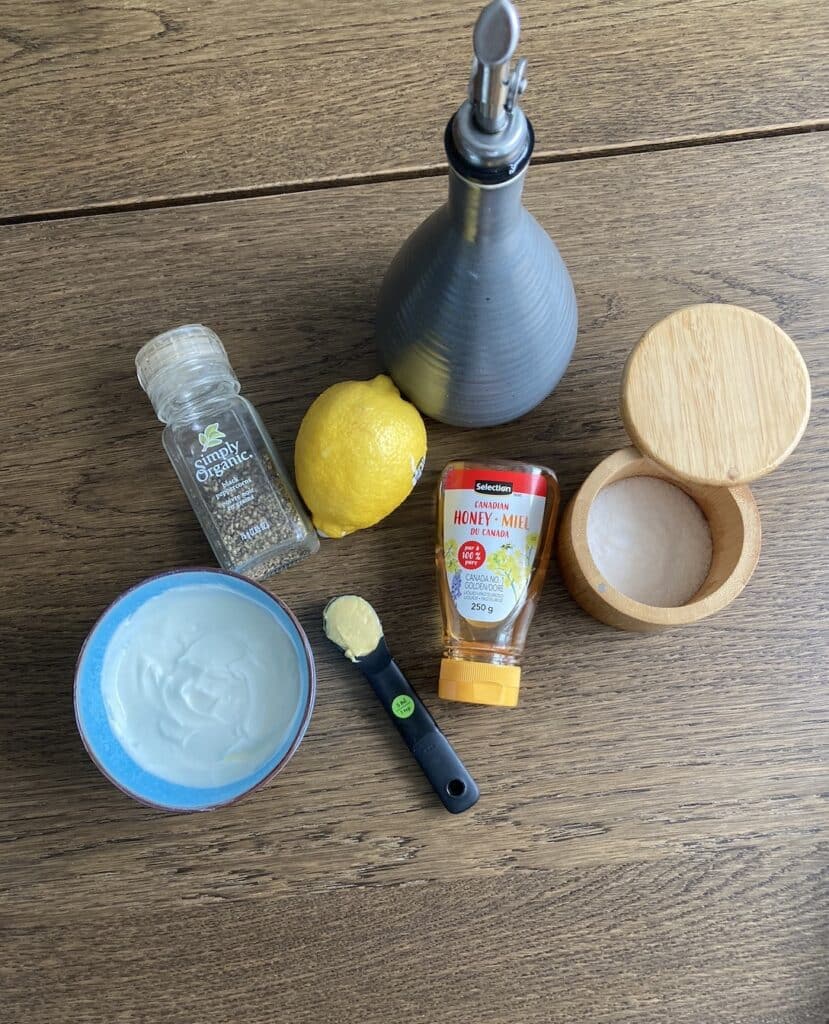 Greek yogurt – used instead of mayonnaise for a creamy dressing with more protein
Olive oil – a staple in both the Mediterranean and DASH diet patterns
Honey – Nate's Honey uses of all-natural ingredients or you could use maple syrup to keep it vegan
Dijon mustard – Mustard seed can lower blood pressure, it's full of flavor and a great emulsifying agent
Lemon – this helps to cut down on the salt used but also breaks down the kale to make it softer and more tender to chew
How To Make An Autumn Kale Salad
1. Prepare vegetables. You can use a mandolin, a food processor, kitchen shears, or a cheese grater to shred the vegetables. A knife works too, but more effort on your part.
2. Prepare the dressing. Add ingredients to a bowl and mix well.
3. Pour the dressing over the salad and combine everything until it is well-coated. You can use your hands to massage the dressing into the kale to make it more tender. This will make the kale less chewy, and softer.
Make Ahead
You can make it in advance. In fact, the longer the dressing is on the kale the softer the kale leaves will become. But this also means it may look worse – think soggy leaves and brown apples. This autumn kale salad will still taste delicious, but may not look as good.
Instead, prepare the vegetables and dressing separately. Only mix before serving.
Storage
Both the prepared vegetables and dressing need to be stored in airtight containers in the fridge.
Watch How It's Done
Add Versatility
The way this recipe is prepared is intended to be a side dish. However, you can make it a meal by adding protein and a carbohydrate.
I'd suggest baking salmon in the oven and adding a microwaved sweet potato to the mix. Easy, yet filling!
Tofu and quinoa to keep it vegan. Or add this kale slaw with apples to a non-deli meat sandwich like this tuna melt, black bean toast, or peanut butter and avocado.
And if you need a time-saving trick, substitute the cabbage and carrot for a store-bought bagged coleslaw mix.
Other High Fiber Recipes
Kale And Apple Slaw Recipe
This heart-y salad is nutrient dense and can help you meet your vegetable intake recommended by heart-healthy eating patterns like the DASH diet and the Mediterranean way of eating.
Enjoy and remember that eating vegetables doesn't have to be boring!


Recipe by Marissa Frodsham, Nutrition Student. Article written by Veronica Rouse, MAN, RD, CDE.
Creamy Kale Apple Slaw
This easy, crunchy honey-dijon kale apple slaw is ready in 30 minutes and couldn't be more refreshing. Try it yourself!
Ingredients
Kale Apple Slaw
4

cups

kale

shredded

1

cup

red cabbage

shredded

1

medium

carrot

grated

½

medium

red onion

1

red delicious apple

⅓

cup

roasted pumpkin seeds

unsalted

⅓

cup

dried cranberries
Dressing
½

cup

Greek yogurt

½

lemon

juiced

1

tbsp

olive oil

1

tbsp

honey

1½

tsp

Dijon mustard

⅛

tsp

salt

¼

black pepper
Instructions
Wash kale, remove stems (unless using pre-chopped kale) and finely chop kale, add to a medium-large bowl.

Cut red cabbage in half and grate 1 cup, or chop finely, add to bowl.

Grate 1 medium carrot, and finely slice ½ medium red onion, add to the rest of the ingredients. 

Cut 1 medium red apple (I used Pink Lady but use any type) in half and cut it into thin slices. Next, chop the slices into matchsticks and add to the bowl.

Add the dried cranberries and pumpkin seeds to the other ingredients.

Using a small bowl, combine the dressing ingredients and mix well.

Pour the dressing over the kale-apple slaw and toss until combined. Serve and enjoy
Nutrition
Calories:
221
kcal
Carbohydrates:
30
g
Protein:
8
g
Fat:
10
g
Saturated Fat:
2
g
Polyunsaturated Fat:
3
g
Monounsaturated Fat:
4
g
Trans Fat:
0.01
g
Cholesterol:
1
mg
Sodium:
182
mg
Potassium:
548
mg
Fiber:
7
g
Sugar:
20
g
Vitamin A:
9521
IU
Vitamin C:
87
mg
Calcium:
230
mg
Iron:
2
mg