Roasted black beans are a healthy alternative for your crunchy cravings. Use this recipe for an easy way to introduce a heart-healthy black bean snack into your diet.
Why Make This Roasted Black Beans Recipe?
Not only are toasted black beans easy to make, but they are jam-packed with nutrients that boost our heart health that we often lack in our everyday diet.
Black Beans Nutrition
This roasted black bean recipe is a great source of plant-based protein to meet the Portfolio diet, DASH diet, and Mediterranean diet recommendations.
| | |
| --- | --- |
| | 1 cup low-sodium black beans |
| Calories | 218 kcal |
| Protein | 14.5 g |
| Fiber | 16.6 g |
| Potassium | 739 mg |
| Magnesium | 35 mg |
| Iron | 4.5 mg |
| Calcium | 84 mg |
Nutrition information for 1 cup of canned low sodium black beans (1)
Plant Protein
Opting for plant-based proteins such as black beans is a great way to get your protein intake without consuming the cholesterol found in animal-based protein sources. In fact, legumes are one of the 39 foods that can unclog arteries.
Fiber
Soluble fiber, which is found in black beans, has been shown to reduce several risk factors for heart disease, such as blood pressure and cholesterol levels in the body.
Minerals
Studies have shown the importance of minerals – specifically calcium, magnesium, and potassium – in regulating blood pressure, all of which can be found in a can of black beans.
Ingredients
olive oil – read this if you need a substitute for olive oil
ginger, turmeric, cumin, black pepper, cinnamon, salt – used for flavor
black beans no salt added – fresh or canned work well, your choice!
Low Sodium Beans
While you can buy dry black beans and cook them from scratch, it's much more convenient and time-efficient for most of us to buy a good old can of beans.
Make sure to look for canned beans with the "no salt added" label which can be easily found at your local grocery store.
This ensures these black bean snacks are low in sodium.
How To Roast The Black Beans
After rinsing and drying the canned beans, simply mix the beans in the seasoning and form a single layer on a parchment-lined baking pan before popping it into the oven.
It should take about an hour to roast, but the time varies depending on the brand of canned beans, so don't be afraid to check in and taste test!
Step 1
Step 2
Final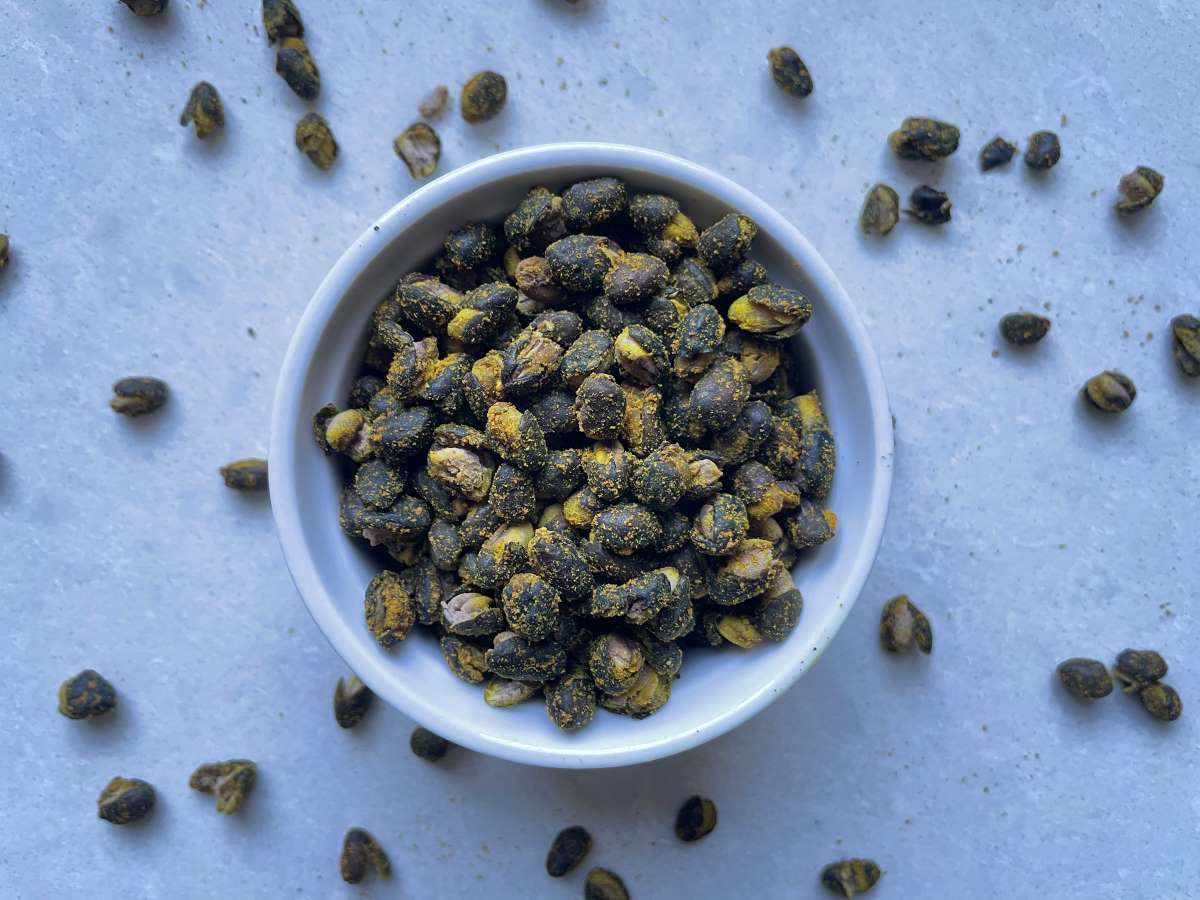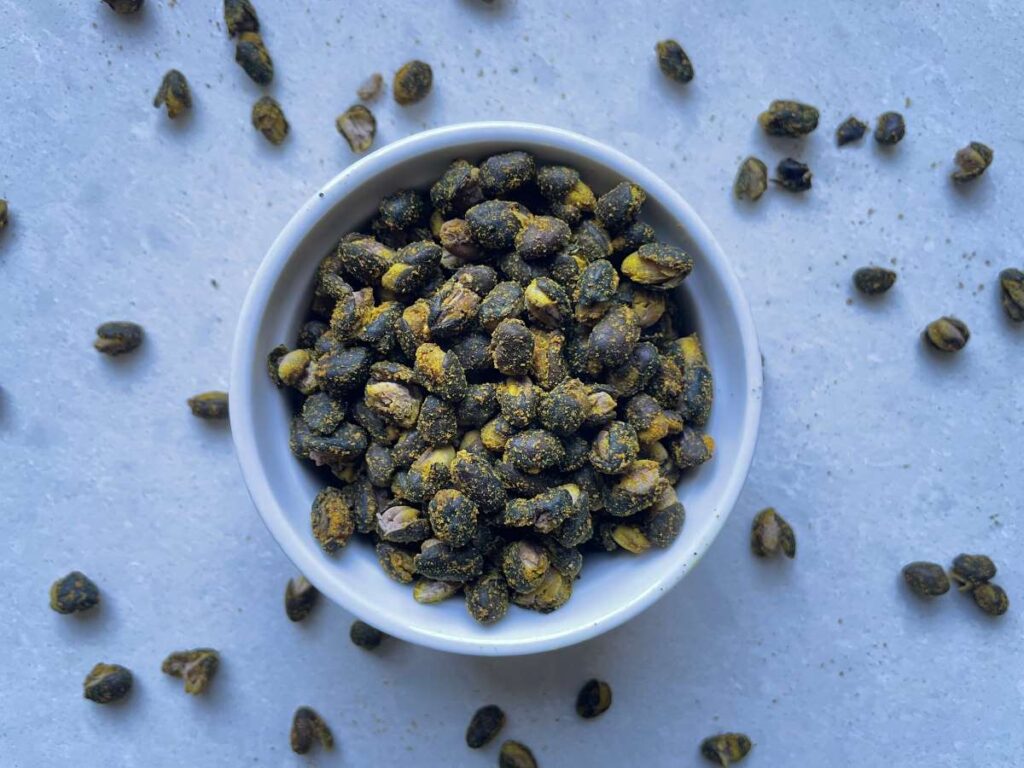 Storage
After the toasted black beans have cooled down, store the beans in an airtight container and place them in a cool, dry area where they'll be good for up to a week.
Video Tutorial
How To Use It
Besides satisfying your crunchy cravings, this roasted black beans snack can also be used as a topping for salads or your soup of choice among other dishes.
Recipe Variations
There's no limit to the spices you can use for this roasted black beans recipe. Whether you want to include garlic powder or some more chili to heat things up is all up to you!
Frequently Asked Questions
Are Roasted Black Beans Good For You?
Roasted black beans are good for you and are a great way to include more heart-healthy foods into your diet as they are rich fiber and protein content, and the many minerals and vitamins that come with it.
How Can I Make Black Beans Taste Better?
You can make black beans taste better by experimenting with different dishes that call for black beans to expand your palate. Popular examples are tacos, salads, burrito bowls, and more! Try this black bean smoothie or black bean toast.
What Do Black Beans Go Well With?
Since many of the nutrients found in black beans are fat soluble, it's a good idea to pair black beans with healthy fats in your meal to reap the most nutritional benefit. Examples of heart-healthy fats include avocado and olive oil.
What Flavor Goes Well With Black Beans?
Black beans can be combined with a variety of flavors and ingredients, such as tomatoes, onions, lime, coriander, or cumin – the list goes on! This black bean snack has a variety of flavors included!
Other Recipes Using Beans
Final Thoughts
Toasted black beans is a fun way to include more plant-based foods into your diet which contributes to improving your heart health in the long run.
What is your favorite way to eat a black bean snack? Leave a comment below to let me know!
This article was written by Effa Ali, Nutrition Student, and Veronica Rouse, MAN, RD, CDE.
Roasteds Black Bean
Roasted black beans are a healthy alternative for your crunchy cravings. Try this recipe for a heart-healthy snack.
Ingredients
1

tbsp

olive oil

1

tsp

ginger

1

tsp

turmeric

1

tsp

cumin

1

tsp

black pepper

⅛

tsp

cinnamon

⅛

tsp

salt

1

can

black beans

no salt added
Instructions
Let dry on tea towel for at least 1 hour, the longer the better

Add olive oil to spice mixture

Coat balck beans in spice and olive oil mixture

Pour black beans onto a parchment-lined baking sheet and spread them into a single layer. Bake for about 45 to 60 minutes until crispy and dry

The exact bake time depends on the brand of beans, so watch closely in the final minutes, taste test, and remove when the black beans are browned but before they become very dark and hard. Allow to cool for about 10 minutes before storing; the black beans will crisp up even more as they cool. Store in an airtight container in a dry cupboard for up to 1 week.
Nutrition
Calories:
89
kcal
Carbohydrates:
12
g
Protein:
4
g
Fat:
3
g
Saturated Fat:
0.4
g
Polyunsaturated Fat:
0.4
g
Monounsaturated Fat:
2
g
Sodium:
49
mg
Potassium:
238
mg
Fiber:
5
g
Sugar:
0.03
g
Vitamin A:
9
IU
Vitamin C:
2
mg
Calcium:
30
mg
Iron:
2
mg