This beet greens smoothie is a fantastic addition to a lower blood pressure diet plan.
Not only are beet greens full of nutrients to widen your blood vessels to help manage blood pressure and heart disease, but they can also save you money by reducing food waste! That's a win-win in my books.
The beet itself, is very commonly used. In fact, I have some recipes that use this familiar vegetable:
But this time, this beet top smoothie focuses on using beets WITH beet greens. Why not use those green stems that come with the beets? They are edible too! Beet greens are packed with nutrition and help reduce food waste. Show them some love with this beet top smoothie!
Pin It Now & Make It Later!
Why Use Beet Greens?
If you are always using spinach or kale in your smoothies, try beet greens as an alternative. Rotating your greens offer your body a variety of nutrients. And these beet greens aren't as bitter as other greens like kale.
Beet Greens Nutrition
Beet greens are an excellent source of nitrates, which can help to lower blood pressure by relaxing the blood vessels and increasing blood flow. Studies have shown that consuming foods high in nitrates, such as beet greens, can lead to a significant reduction in blood pressure (1,2).
Beet greens are also rich in antioxidants, which can help protect the heart from damage caused by free radicals. Additionally, beet greens are a good source of potassium, which is an important mineral for maintaining healthy blood pressure levels.
Reduce Food Waste
Using beet greens in recipes is a great way to reduce food waste. When people buy beets, they often discard the greens, which are actually edible and nutritious.
By using beet greens in cooking or smoothie recipes, we can prevent them from going to waste and make use of a part of the vegetable that might otherwise be thrown away.
Save Money
Reducing food waste is important for a number of reasons, particularly environmental. But in addition reducing food waste can also save money!
By using all parts of a vegetable, we can get more value out of our food purchases and reduce the need to buy additional groceries. This can help to stretch food budgets and reduce food insecurity, particularly for those who may not have easy access to fresh, healthy food.
Can You Use Beet Greens For Smoothies?
You can use beet greens for smoothies, just like you would spinach or romaine.
What Are The Benefits Of Beet Greens For Smoothies?
The benefits of beet greens for smoothies are endless. Beets greens are rich in many nutrients especially, potassium and nitrates that can benefit heart health. But my favorite reason to include beet greens for smoothies is that they are less bitter than other greens recommended for smoothies like kale!
Is It Safe To Eat Raw Beet Greens?
It is safe to eat raw beet greens. Treat them like any other greens you can buy at the store. Prepare them by washing them thoroughly to remove any dirt or debris, and then all you need to do is remove the leaves from the stems before you can eat them!
You will likely want to discard the stems because they are very tough and fibrous, or save them in your freezer to add to your recipe for soup stock.
Nutrition In Beet Leaves Smoothie
Smoothies help you meet the nutrients in the DASH diet because you can pack a lot of nutrition into just one bite.
Adding beet greens in a smoothie can help you meet your potassium needs. In fact, this beet leaves smoothie meets 15% of your potassium requirements, but it is also filled with satiating fiber and plant protein to meet your portfolio diet needs to lower your cholesterol too.
Ingredients
This beet stems smoothie contains ingredients that will unclog your arteries and lower your blood pressure.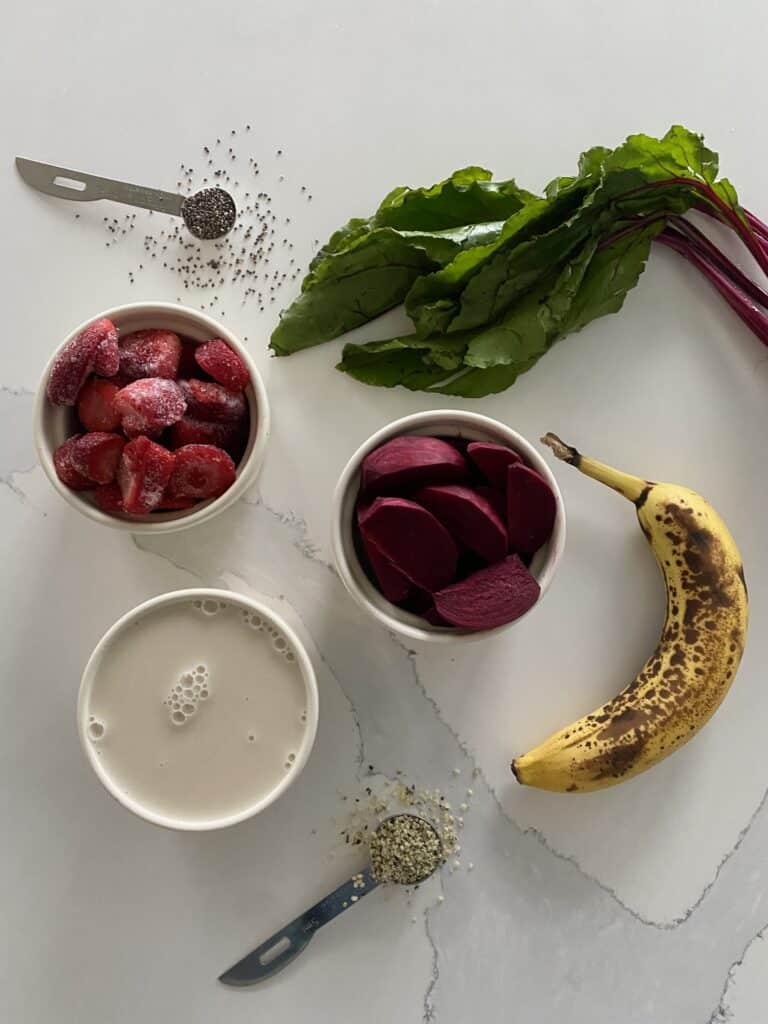 Banana: helps to make that creamy smoothie texture we all desired, but also a fantastic source of potassium that can further lower blood pressure.
Strawberries: Strawberries are rich in antioxidants, which can help to protect the heart from damage caused by free radicals. They are also a good source of fiber. Fresh or frozen work well here.
Beets: Beets are high in nitrates, which can help to lower blood pressure by relaxing the blood vessels and increasing blood flow. This can improve overall heart health and reduce the risk of heart disease.
Beet greens: Beet greens are also high in nitrates, as well as antioxidants and potassium. As I mentioned earlier, these nutrients can all be beneficial for heart health.
Chia seeds: Chia seeds are high in fiber and omega-3 fatty acids, which can both be beneficial for heart health. Fiber can help to reduce cholesterol levels, while omega-3s can help to reduce inflammation and improve heart function.
Hemp seeds: Hemp seeds are also high in omega-3s and fiber, as well as protein. These nutrients can all be beneficial for heart health, by reducing inflammation, improving cholesterol levels, and promoting overall heart function.
Unsweetened soy milk: Soy milk is a good source of protein, fiber, and heart-healthy fats. It also contains isoflavones, which are plant compounds that may help to improve heart health.
My favorite part of this beet green smoothie is that it doesn't have any added sugars, why add sugars when you can get naturally occurring sugars with fruit that are full of nutrition!
How To Make A Beetroot Green Smoothie
Making this smoothie with beet greens is as easy as adding the ingredients into the blender and blitzing away!
I recommend starting at a low speed on the blender and gradually increasing power, instead of going full blast right away. This helps to ensure a well mixed drink.
Also, if you don't have a high speed blender, try adding the milk and greens first to mix well, and then add the other ingredients.
Finally, you can add more or less liquid depending on your desired thickness.
How Do you Prepare Beet Greens?
You may be wondering where to start with beet greens. Well you are in luck because preparing beet greens for a smoothie is quite simple. Here are the steps you can follow:
Wash the beet greens thoroughly under running water to remove any dirt or debris. You can use a colander to make this process easier.
Remove the stems from the beet greens by using a sharp knife or your hands. The stems are tough and fibrous, so it's best to discard them.
Chop the beet greens into small pieces. This will make it easier to blend them into the smoothie.
That's it!
Freezing beet greens for smoothies is another excellent way to reduce food waste. Once they are cleaned and dried, add them to a freezer bag and store them until you are ready to add them to your smoothie.
They don't need to be defrosted before adding them to the blender. You can add them as is.
Other Beet Tips:
Chop the beets into very small pieces to ensure they are broken down well in the blender.
Don't want to cut raw beets? Buy them frozen! This is also another money saving hack. Buy frozen beets on sale, and store them in the freezer until you need them.
You can use cooked beets if your blender isn't strong enough to blend the raw beets.
I love using raw beets because you avoid the mess of cooked beets (and pink fingers), but if you are cooking them be sure to wear gloves when chopping them, and use a cutting board that you are okay staining!
Or purchase precooked beets (which cost more money) and unfortunately don't have the nutritious stem attached (which is what this recipe is all about!)
Looking For A High Protein Beet Green Smoothie?
Variation
This smoothie is vegan and gluten free as is!
Use whatever fruit you have in your freezer or fridge. I used strawberries here for their red color, but any fruit will work well. Try mango, pineapple, apple or peach to name a few!
Add coconut water instead of soy milk for added potassium (however, this will reduce the protein content)
When To Eat a Beet Green Smoothie
Double it for breakfast and you will have your recommended serving of protein and fiber to start the day
Skip the processed granola bars, and try this beet green smoothie for snack!
Try it as a beet green smoothie bowl. Top it with some nuts, seeds, and extra fruit. You may want to only use ½ cup- ¾ cup of soy milk to make it a more spoonable, thicker end product.
Dessert! The natural sugars from the banana and strawberries, make this fruity beet green smoothie a real treat.
Recommended DASH Recipes
The DASH diet can also help lower your blood pressure. Check out these round ups, and DASH diet cookbooks for more recipe inspiration to manage your blood pressure.
Final Thoughts
Enjoy this beet greens smoothie for its blood pressure lowering capabilities. Who knew lowering blood pressure could be so tasty!
Recipe by Brooke Harris, Nutrition Student. Article was written by Veronica Rouse, MAN, RD, CDE.
Beet Green Smoothie
Beet greens smoothie is a fantastic addition to your lower blood pressure diet plan and they can also save you money by reducing food waste!
Ingredients
½

cup

strawberries

frozen

½

cup

beets

peeled and chopped

1

cup

beet greens

washed, stemmed, chopped

1

banana

1

tsp

chia seeds

1

tbsp

hemp seeds

1

cup

unsweetened soy milk
Instructions
In a blender add all ingredients together
Nutrition
Calories:
176
kcal
Carbohydrates:
24
g
Protein:
8
g
Fat:
6
g
Saturated Fat:
1
g
Polyunsaturated Fat:
5
g
Monounsaturated Fat:
1
g
Trans Fat:
0.01
g
Sodium:
116
mg
Potassium:
676
mg
Fiber:
5
g
Sugar:
12
g
Vitamin A:
1547
IU
Vitamin C:
34
mg
Calcium:
210
mg
Iron:
3
mg