This low sodium enchilada sauce is the perfect heart healthy alternative for your next Mexican night.
Let's dive into a recipe that's bursting with flavor, yet simple and straightforward. We often assume that a dish as tasty as enchiladas couldn't possibly have a low-sodium version. But guess what? Not only does this low-sodium enchilada sauce exist, but it's incredibly heart-healthy too!
In just 15 minutes, you can execute this low salt enchilada sauce using pantry ingredients you most likely already have in your cupboard.
It's super easy to prepare, making it perfect for those busy weeknights when you want a hearty meal without the fuss.
Ready to take your enchiladas from great to amazing with this healthy enchilada sauce? Let's get cooking!
Health Benefits Of Spices In Low Sodium Enchilada Sauce
The American Heart Association recommends a 1500 mg of sodium per day diet for heart health, to manage blood pressure and protect your kidneys!
Many premade enchilada sauces are high in sodium like this Old El Paso brand! One serving (1/2 cup) has 580 mg of sodium (or 39% of your daily intake on a 1500 mg of sodium diet). That is almost half of your intake in just the sauce!
Now compare that to this recipe, which only has 15 mg per serving or 1/2 cup which is only 1% of your daily value of sodium. You can't beat that.
Not to mention premade enchilada sauce brands also usually contain added ingredients like processed oils, added colorings and flavor. Check out this ingredient for the Old El Paso product example above:
Water, Tomato Puree (water, tomato paste), Modified Corn Starch. Chile Pepper, Soybean Oil, Vinegar, Spice, Citric Acid, Hydrolyzed Corn Protein, Onion Powder, Natural Flavor, Color (black carrot and paprika extract).
Sauces are usually high in sodium, but they are also important component in most recipes. They add flavor and texture to dishes. If you like this recipe and need more low sodium inspiration, be sure to check out my top 15 low sodium sauces or my favorite low sodium cookbooks.
I've added the following ingredients to this no salt enchilada sauce recipe to further aid in heart health!
Olive Oil
Is olive oil good for high blood pressure? It sure is! Research has shown that 2 tbsp of olive oil per day can lower blood pressure in as little as 3 weeks (1).
Garlic
Garlic has been a medicinal ingredient for thousands of years, and according to research, with good reason. A recent study showed that garlic could lower systolic blood pressure by around 8.3 mm Hg and diastolic blood pressure by 5.5 mm Hg (2).
Tomato Paste
Tomatoes are full of healthy nutrients, particularly lycopene. Lycopene is a type of pigment, which is a compound that gives tomatoes their famous red color!
Lycopene not only provides tomatoes with its color, but it also provides antihypertensive properties. A study revealed that lycopene could control blood pressure, such as lowering systolic blood pressure (3).
Low Sodium, Blood Pressure, And Heart Health
A low-sodium diet is often recommended for people aiming to improve their cardiovascular health. Sodium plays a crucial role in fluid balance, but too much can lead to high blood pressure, a risk factor for heart disease and stroke.
Despite its importance, low-sodium options are often scarce in the convenience food sector. This means that home cooking becomes the go-to choice for many people trying to manage their sodium intake. But don't worry, being heart-healthy doesn't have to mean spending hours in the kitchen.
That's precisely why this healthy enchilada sauce recipe was created. In the grocery store, the choices for premade enchilada sauce are full of sodium and additives. They are also not always vegan or gluten free. So, I decided to make my own to fit into a heart healthy diet.
This recipe is just as quick and easy as using a store-bought version, but without the hefty sodium content. This means you can enjoy your meals while taking care of your heart health!
Mexican Food And Sodium
When it comes to Mexican cuisine, canned versions of sauces are frequently used for convenience, but these are often high in sodium. The convenience factor is why many of us reach for these canned versions, even when we're trying to monitor our sodium intake.
But here's the good news: this homemade enchilada sauce is just as convenient as the canned ones! The process is straightforward and quick, ensuring that you can whip up a flavorful sauce without the excessive sodium content commonly found in store-bought versions.
Low Sodium Enchilada Brands
If you are still looking for low sodium enchilada brand alternatives, I'd check out this premade enchilada sauce from Epicure. Learn more with this Epicure review, as they have many products that follow a low sodium eating pattern.
Sodium In Healthy Enchilada Recipe
| | |
| --- | --- |
| Ingredient | Sodium Content |
| 2 tablespoons olive oil | 0 mg |
| 2 tablespoons paprika powder | 40 mg |
| 1 teaspoon garlic powder | 2 mg |
| 1 teaspoon onion powder | 2 mg |
| ½ teaspoon ground cumin | 1 mg |
| 1/4 teaspoon cayenne | 0.5 mg |
| 1 teaspoon maple syrup | 2 mg |
| 4 tablespoons no-salt-added tomato paste | 0 mg |
| 2 cups no-salt-added vegetable broth or water | 0-30 mg (depending on broth brand) |
| Total Sodium | 45.5 – 75.5 mg |
| Sodium per Serving (5 servings) | 9.1 – 15.1 mg |
Table 1: Ingredients in low sodium enchilada recipe (4). Please note that the sodium content may vary based on the specific brands or products used. Always check the nutrition labels on your ingredients to ensure accuracy.


Frequently Asked Questions
What Is The Healthiest Enchilada Sauce?
The healthiest enchilada sauce is one you make at home with fresh, wholesome ingredients! Making enchilada sauce at home allows you to control the content of everything from salt to sugar.
Consider this homemade low sodium enchilada to start. It takes ten minutes to execute and has ingredients that are already in your cupboard!
Why Are Enchiladas High In Sodium?
Enchiladas can often be high in sodium due to the ingredients used in the sauce, fillings, and even the tortillas themselves.
Packaged and processed foods, which many traditional enchilada recipes call for, tend to have high sodium levels as it's used as a preservative and a flavor enhancer. That includes pre-made sauces, canned beans, and pre-shredded cheese.
When buying these fillings, look for no salt added canned beans, low sodium tortillas, and choose a low sodium enchilada sauce like this recipe below, or this premade enchilada sauce from Epicure.
What Is A Substitute For Enchilada Sauce?
If you are looking for a substitute enchilada sauce, try a simple tomato sauce spiced up with some chili powder, cumin, and garlic can do the trick to create a pleasing red sauce.
Alternatively, salsa, especially chunky varieties, or this low sodium salsa, can offer a fresh, flavorful substitute with a similar texture to achieve a healthy enchilada sauce with minimal effort!
Ingredients In Low Sodium Enchilada Recipe
You likely have these foods to lower your blood pressure and unclog arteries on hand!
olive oil – a staple in the Mediterranean diet and DASH diet for heart health
paprika, garlic, onion, cumin, cayenne, maple syrup – for sweet and spicy flavor without salt
no-salt-added tomato paste – remember to look for the words "no salt added" on the front of package. This means salt should not be listed on the ingredient list.
no salt added vegetable broth – if you can't find no salt added vegetable broth, no salt added chicken broth or water would also work.
How To Make Low Sodium Enchilada Recipe
Start by adding all spices to a bowl and whisk together to ensure an even mixture.
Then add all the ingredients right on your stovetop in a medium saucepan. Conveniently mix all the ingredients together in a single pan. Once the different flavors have had a chance to beautifully blend you are done!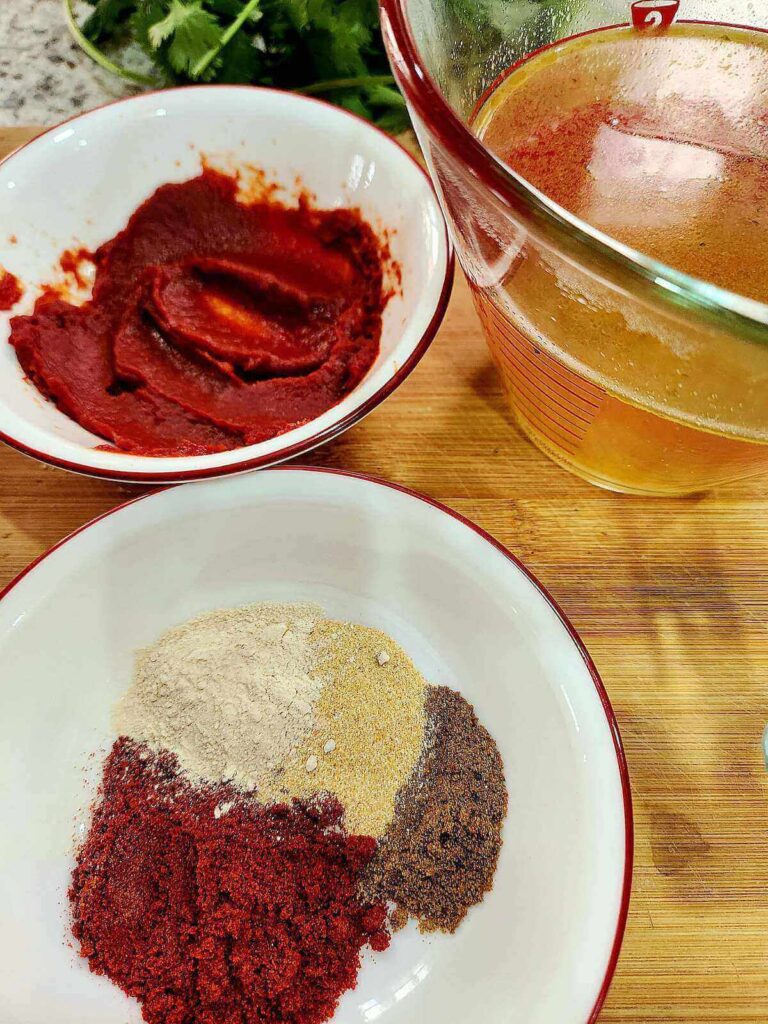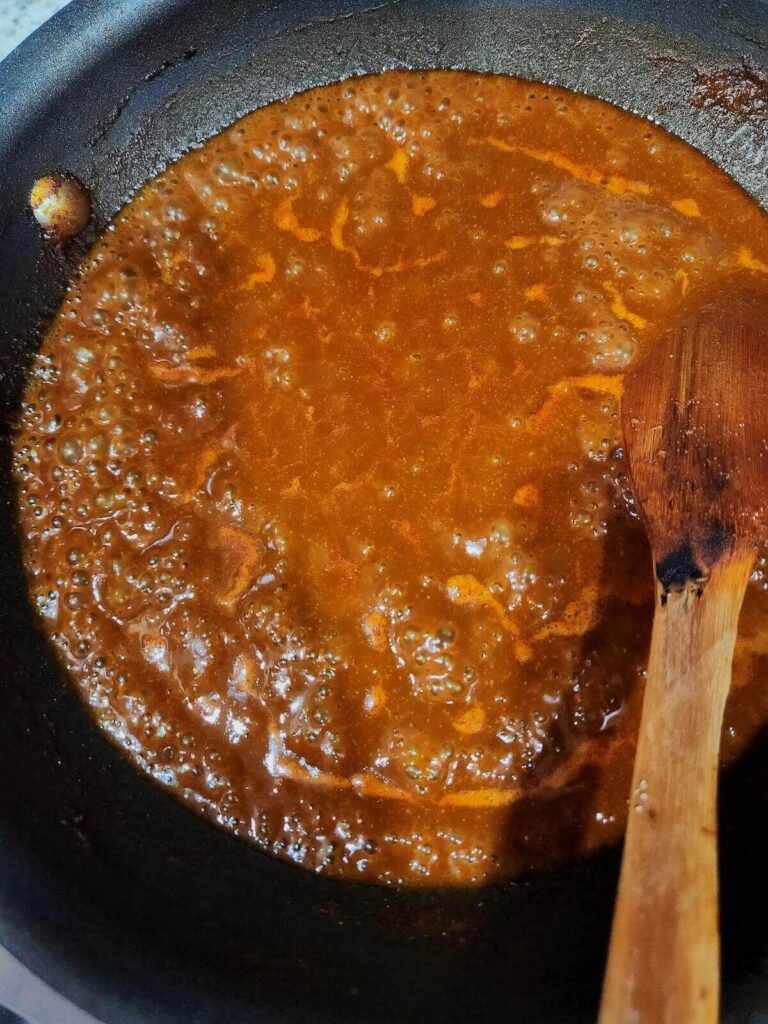 Expert Tips
Here are some expert tips to ensure your low-sodium enchilada sauce turns out perfect every time:
1. Use Fresh Spices: Spices lose their potency over time. For the most vibrant flavor, make sure your spices are fresh. You'll notice a significant difference!
2. Whisk Continuously: When adding the broth to the tomato paste and spices, be sure to whisk continuously. This will help you achieve a smooth sauce without any lumps.
3. Adjust the Heat: If you're sensitive to spice, feel free to reduce the amount of cayenne pepper. If you love heat, add a bit more!
4. Taste and Adjust: Before removing the sauce from the heat, taste it and adjust the spices if necessary. Remember, it's easier to add more than to take it away, so start with less and build up if needed.
5. Store properly. Store in an airtight container in the refrigerator for up to a week. This healthy enchilada also sauce freezes well so freeze some for later!
Other Variations
This low sodium enchilada sauce is gluten free AND vegan. This often isn't the case as some recipes are made with butter, as well as flour or starch to help thicken the sauce.
Variations of a recipe are always a fun way to shake things up! Here are a few ideas for different takes on this no salt enchilada sauce:
fresh garlic root or jalapenos if you have a few extra minutes to chip
try chili powder instead of paprika
brown sugar, dark chocolate or cocoa instead of maple syrup for a little sweetness
dried chilies – like smoky anchos would also be great
add milk for a creamy version and milder enchilada flavor
Other Low Sodium Recipes
What Else Can You Make With Low Sodium Enchilada Sauce
Try this authentic enchilada sauce in a
quinoa enchilada casserole
add it to shredded chicken to make a chicken enchilada or beef for a beef enchilada
a vegetarian enchilada with black beans
enchilada soup
tacos
burritos … like this lentil burrito recipe
or tamales
Low Sodium Toppings For Homemade Enchiladas
And don't forget to use these low sodium tortillas too – there are recommendations for low sodium corn and flour tortillas!
Final Thoughts
Let's face it, a delicious sauce can take any dish from good to spectacular! So why not ditch the store-bought stuff and try whipping up this homemade no salt enchilada sauce instead?
I'm confident you won't regret it. You might even be pleasantly surprised at just how easy it is to create a flavorful, health-conscious sauce right in your own kitchen.
Once you've given it a try, I'd love to hear your thoughts. So don't hesitate to leave a comment and rate the recipe.
Your feedback not only helps me, but it also assists fellow home cooks looking for their next culinary adventure. I can't wait to hear what you think of this heart-healthy, low-sodium enchilada sauce!


Recipe by Safura Husainy, Nutrition Student. Article was written by Veronica Rouse, MAN, RD, CDE.
---
Low Sodium Enchilada Sauce To Manage Blood Pressure
This low sodium enchilada sauce is the perfect heart healthy alternative for your next Mexican night. Easy to prepare, and perfect for those busy weeknights when you want a hearty meal without the fuss. 
Ingredients
2

tbsp

olive oil

or avocado oil

2

tbsp

chili powder

1

tsp

garlic powder

1

tsp

onion powder

1/2

tsp

ground cumin

4

tbsp

low sodium tomato paste

2

cups

low sodium vegetable broth
Instructions
In a medium nonstick pan over medium heat, add oil and swirl around. Then add spices and whisk together. It will form a mixture with a roux-like consistency (thick and clumpy).  Stir until fragrant, about 1 minute.

Add tomato paste and whisk together. Then slowly pour in broth, whisking until the tomato paste mixture dissolves into a liquid. Increase heat to medium-high until bubbles begin to form.

Remove enchilada sauce from heat and enjoy this sauce on enchiladas, or any recipe that calls for a low-sodium enchilada sauce. If not using it right away, let the sauce cool to room temperature and store in a covered glass container in the refrigerator for up to one week.
Nutrition
Calories:
79
kcal
Carbohydrates:
6
g
Protein:
2
g
Fat:
6
g
Saturated Fat:
1
g
Polyunsaturated Fat:
1
g
Monounsaturated Fat:
4
g
Sodium:
155
mg
Potassium:
207
mg
Fiber:
2
g
Sugar:
2
g
Vitamin A:
1147
IU
Vitamin C:
3
mg
Calcium:
19
mg
Iron:
1
mg