North Americans aren't consuming enough protein for breakfast.
Typical breakfast meals include oatmeal, granola, and cereals, which offer fantastic carbohydrates, but lack protein. Eating adequate protein at meals will help with weight management, reduce cravings and keep us satisfied.
If this sounds like you, try this super healthy protein-packed breakfast. This baked protein oatmeal recipe comes together in 10 minutes and doesn't require any fancy protein powders.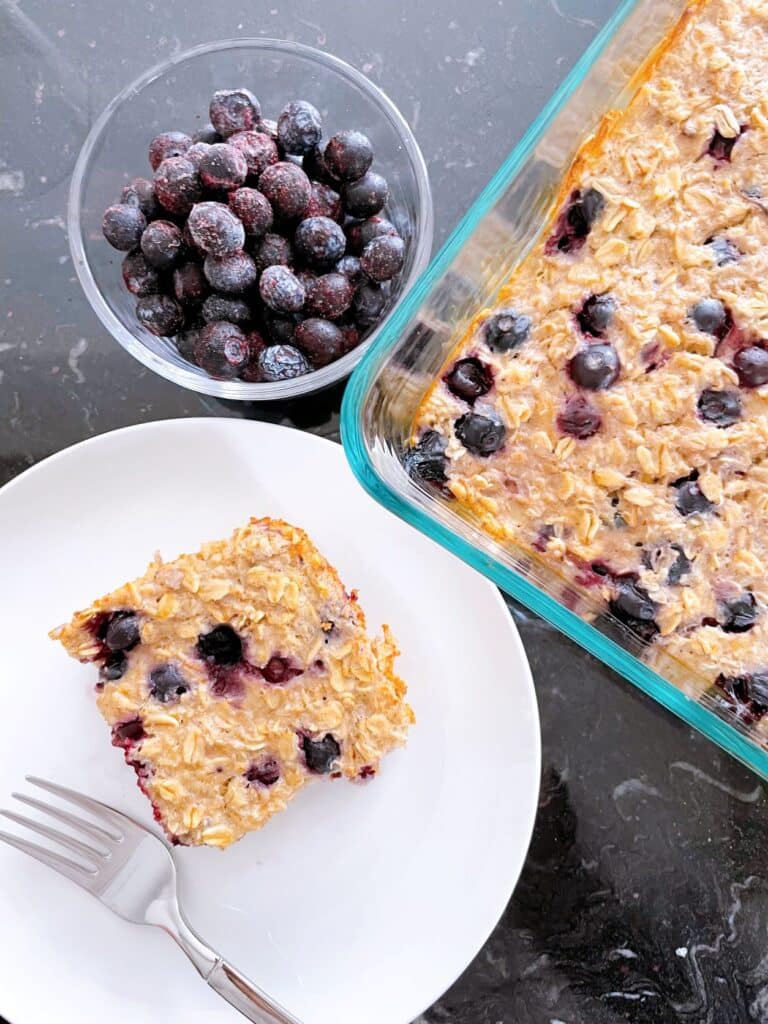 Recipe by Aliza Hunt, Ryerson University Nutrition Student. Reviewed by Veronica Rouse, MAN, RD, CDE. The article was written by Veronica Rouse, MAN, RD, CDE
Protein Baked Oats
Protein baked oatmeal is an easy dish that is rich in fiber and protein. If you typically eat oatmeal in the morning, this recipe ensures your breakfast will be balanced with the right amount of protein, carbohydrates, and fat.
This nourishing meal is seriously delicious and easy to put together. It can be doubled to feed a crowd or cut in half to cook for two. This baked oatmeal is a family-friendly recipe – a hit for both kids and adults.
Why Make Protein Baked Oatmeal Without Protein Powder?
Many of my clients are missing protein at their breakfast. With the rise of plant-based diets, we started reducing animal protein which is a fantastic move for our heart and overall health. However, with this shift, we didn't increase our consumption of protein from plants.
You may have heard that most North Americans are eating enough protein throughout the day. And yes, a lot of individuals are eating enough protein overall, but typically overeating protein at lunch and dinner. Unlike carbohydrates or fat, our body can't store protein, so it's important to consume it at regular intervals throughout the day.
Ensuring we are eating adequate protein at breakfast will help us feel energized, satisfied, curb cravings and keep us in a better mood throughout the morning.
If you've been following me for a while you know I encourage whole foods over supplements. Whole foods provide us with many nutrients that work in synergy. Isolating and eating one nutrient in excess can lead to detrimental health benefits down the line.
That's why I've opted to use high protein whole food choices in this recipe, instead of protein powder. Firstly, protein powder isn't accessible to everyone. And secondly, I hate the sandy texture and its added fillers and preservatives.
What are high protein whole food options? Protein sources like Greek yogurt, soy milk, nuts, seeds, legumes and tofu are excellent nutrient-rich choices to start our day.
Is It Heart Healthy?
This recipe offers:
14 grams of protein from the soy milk, Greek yogurt, and egg
7 grams of fiber from the oats and blueberries
Protein
As mentioned above, eating enough protein at each meal is important to ensure adequate intake. Protein helps to build and repair bones and muscles in the body. It also aids in satiety.
This recipe offers heart-healthy proteins that are low in saturated fat. They are also rich sources of nutrients, like magnesium and calcium, that will help manage blood pressure and bone density.
High protein from real, whole ingredients instead of protein powders offers more fiber, vitamins, and minerals.
Fiber
Fiber is an important aspect of chronic disease management like heart disease, diabetes, and cancer. It aids in weight management, helps control blood sugar, and keeps us regular. The type of fiber in this recipe is called soluble fiber. Eating enough soluble fiber every day can reduce our cholesterol levels.
How To Make Protein Baked Oats
This recipe only takes 10 minutes to prepare.
The base of this dish starts with oats because you can't have oatmeal without oats! Start by blending the oats and milk together to create a thicker, more cohesive final product.
The next step is easy, all you do is combine the remaining ingredients in a mixing bowl. Start with the dry ingredients, then add the wet ingredients and finally fold in your frozen fruit.
Once the mixing is done, place it in a baking dish and let the magic happen in the oven!


High Protein Baked Oatmeal Recipe Video
Watch this quick video to see how easy this protein-rich dish comes together.
What Does Protein Baked Oatmeal Taste Like?
If you like the taste of oatmeal, it has a similar taste, but the texture is different. It's kinda like an oatcake but moister. In fact my toddler enjoys eating his protein baked oats like a granola bar, with his hands. Maybe this recipe could be called baked protein oatmeal bars instead.
Make Ahead To Save Time
This dish can be made ahead and stored in your fridge overnight to be baked in the morning. It's ideal because you can put it in your oven and let it bake while you run around getting ready for the day. Then when you are ready to eat you will have a warm breakfast waiting for you! No thinking or mess in the morning is a win in my books
Or if you don't have 35 minutes to let it bake in the morning, you can bake it over the weekend or the night before. It should last in your fridge for 4-5 days after its cooked.
Leftovers
I've found reheating leftovers is best done in the microwave. Zap it for 2-3 minutes.
That being said, I've also served it to my kids cold and they gobbled it up.
Your choice!
Variations Of Protein Oatmeal Bake Recipe
The beauty of this recipe is that it is so versatile. You can make this vegan, gluten-free, and even switch up the flavor based on your taste preference.
Vegan
This recipe is vegetarian, but not vegan. If you are looking to make it vegan, replace Greek yogurt with a dairy-free yogurt.
Switching to dairy-free yogurt will reduce the protein content, so be sure to add some hemp seeds to increase the protein content.
In the original recipe, an egg is used to bind the oatmeal mixture. To make it vegan, use a flax egg as a replacement. You can do this by whisking 1 tbsp ground flaxseed with 3 tbsp water in a small bowl. Refrigerate at least 15 minutes to thicken. After this time, it's ready to use as an egg.
Bonus? Adding hemp seed and flax to the dish increases your fiber and omega 3 intake.
Gluten-Free
To make this recipe gluten-free, be sure to use gluten-free certified oats.
Fruit Of Choice
I used frozen blueberries here because that's what was in my freezer! There are lots of frozen fruit options or blends to use… so let your taste buds decide!
A banana is used for binding and sweetness. Feel free to use a whole banana if you have it. If you want it even sweeter, add a tablespoon of maple syrup or honey.
Add The Toppings
For more protein – add hemp seeds, pumpkin seeds or nuts
For more fiber – add chia seeds or ground flax seeds
For more flavor – add fruit or shredded coconut
Other Breakfast Recipes
Other Oatmeal Recipes
Or check out other oatmeal recipes which include Protein baked oats, low sodium oatmeal, vegan protein oatmeal, chocolate avocado smoothie, smoothie to lower cholesterol, overnight oat bran, pecan pie overnight oats, pb2 overnight oats, turmeric energy balls, low sodium pancakes, pumpkin protein balls, turmeric oatmeal, oat water and blueberry cheesecake overnight oats.
And be sure to check out the list of Registered Dietitian approved oatmeal recipes, and a list of Registered Dietitian approved oat bran recipes.
Final Thoughts
Try this super healthy and seriously delicious breakfast to lower your cholesterol, manage your blood sugar and keep you full until lunch.
And if you are looking for other oatmeal recipes try these oat bran recipes, protein baked oats, low sodium oatmeal, vegan protein oatmeal, chocolate avocado smoothie, smoothie to lower cholesterol, overnight oat bran, pecan pie overnight oats, turmeric energy balls, low sodium pancakes, pumpkin protein balls, turmeric oatmeal and blueberry cheesecake overnight oats. for inspiration.
If you make this recipe, please consider rating it or leaving a comment below on the recipe card. This helps increase my visibility to continue making great content for you to enjoy!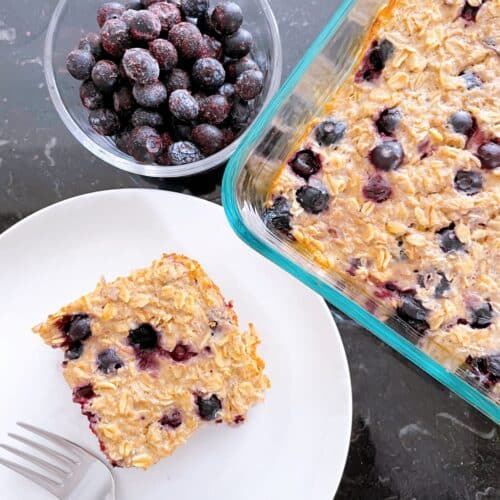 Blueberry Protein Baked Oats
Need a healthy protein-packed breakfast? This baked protein oatmeal recipe can be prepared in 10 minutes and doesn't require any fancy protein powders.
Equipment
1 Blender

1 Baking Dish

1 Mixing Bowl
Ingredients
2

cups

rolled oats

1

cup

soy milk

½

banana

mashed

1

cup

Greek yogurt

½

tsp

vanilla extract

1

egg

¼

tsp

salt

¾

tsp

cinnamon

optional

2

cups

frozen blueberries
Instructions
Preheat the oven to 350F and grease an 8×8 baking dish with olive oil or unsalted butter.

Place 1 cup of the rolled oats and 1 cup of milk into a blender and pulse until oats are finely chopped.

Mix Greek yogurt, mashed banana, vanilla extract, and egg in a bowl until just combined.

Then add the second cup of oats, salt, and cinnamon into the bowl. Stir to combine.

Pour the blended oat & milk mixture into the bowl and ensure that everything is mixed well.

Gently fold the frozen blueberries into the oat batter.

Pour batter into the prepared baking dish, top with more frozen blueberries if desired, and bake at 350F for 35-40 minutes or until edges are golden and the top is set.

Allow to cool and set for 10 minutes, cut into squares, top however you'd like, and enjoy!
Nutrition
Calories:
275
kcal
Carbohydrates:
45
g
Protein:
14
g
Fat:
5
g
Saturated Fat:
1
g
Polyunsaturated Fat:
2
g
Monounsaturated Fat:
2
g
Trans Fat:
1
g
Cholesterol:
43
mg
Sodium:
55
mg
Potassium:
419
mg
Fiber:
7
g
Sugar:
12
g
Vitamin A:
112
IU
Vitamin C:
8
mg
Calcium:
167
mg
Iron:
2
mg