If you've ever found yourself wondering how to enjoy a variety of flavorful snacks while maintaining a low-sodium diet, then you're in the right place.
Whether you're managing a health condition that requires a low sodium diet, aiming to maintain a balanced diet, or just curious about broadening your snack repertoire, we've got you covered.
*Please note that this post contains clearly identified affiliate links. If you click on these links and choose to make a purchase, I may receive a commission (at no cost to you). As an Amazon Associate, I earn from qualifying purchases.
Pin It For Later!
Low Sodium Diet
Sodium, a mineral found abundantly in our diets, plays a vital role in maintaining proper bodily functions. It assists in balancing fluids, transmitting nerve impulses, and regulating blood pressure. However, when consumed in excess, sodium can lead to various health concerns that demand our attention.
Excessive sodium intake has been linked to hypertension, commonly known as high blood pressure (1). This condition affects millions of people worldwide and is a significant risk factor for heart disease, stroke, and other cardiovascular complications. Furthermore, high sodium consumption can cause fluid retention, which can strain the heart and kidneys, and contribute to bloating and fluid retention (2).
To combat these potential health issues, organizations such as the American Heart Association (AHA) have set recommendations for sodium intake. According to the AHA, the ideal sodium intake for adults should not exceed 2300 milligrams per day, which is roughly equivalent to one teaspoon of table salt (3).
However, for individuals with certain health conditions, including high blood pressure, diabetes, or kidney disease, the AHA advises a further reduction to 1500 milligrams per day (3).
Low Sodium Diet And Health
Do you know that North Americans, on average, consume over 3400 milligrams of sodium per day, surpassing the recommended levels set by the American Heart Association and other health organizations (3)?
The main contributors to sodium intake often come from processed and packaged foods. These include not only salty snacks but also seemingly innocent items such as canned soups, condiments, and even breakfast cereals. Common snack foods like chips, pretzels, bread, cake, cheese crackers and popcorn can pack a surprisingly high amount of sodium, making them a sneaky source of excess intake (4).
By becoming mindful of our sodium consumption and opting for whole, unprocessed foods, we can take control of our health. Making conscious choices to reduce the intake of processed snacks and choosing naturally low sodium foods like fresh fruits, vegetables, lean proteins, and whole grains can significantly lower our sodium intake (4).
Check out these product guides to help choose low sodium tortillas, low sodium bagels, low sodium cereals, and low sodium mayonnaise.
Importance Of Low Salt Snacks
You might be wondering how choosing healthy low sodium snacks are beneficial to your health? Let me break it down for you!
Snacks play a significant role in our overall sodium intake. They can contribute to a substantial portion of our daily sodium consumption, especially if we opt for processed and packaged snacks. These snacks are often high in sodium due to added salt, flavourings, and preservatives.
In fact, many snacks, such as chips, pretzels, and crackers are common sources of hidden sodium, meaning that the sodium content may not be immediately evident, and individuals may underestimate the amount of sodium they consume from these snacks.
By consciously selecting good low sodium snacks, we can strike a balance between convenience, flavour, and health. So, next time you reach for a snack, consider the sodium content and make a choice that supports your heart health.
Guide To Buying Low Sodium Snacks
Definition Of A Low Sodium Snack
But how can we know if a snack is indeed low in sodium?
Snacks with low sodium are typically defined as a snack that contains less than 140 mg of sodium per serving (3). However, it is important to note that portion size matters when evaluating the sodium content, not just the serving size listed on the nutrition facts panel.
Just in case you didn't know – serving size is what is used as a reference on the nutrition facts table on products, but the portion size refers to the actual amount of food you choose to eat at one time. This could be more or less than the serving size.
Thus, the more you eat, the more sodium you consume. Something very important to keep in consideration.
Considering other factors like saturated fat and fiber content is crucial for choosing a heart-healthy low sodium snack.
Too much saturated fat consumption in one day is known to contribute to cardiovascular health issues as it can increase the "bad" LDL cholesterol levels.
Meanwhile, high fiber content helps promote satiety, reduces cholesterol, manages blood pressure, aids in digestion, and supports your overall heart health.
Furthermore, you should consider choosing low salt snacks that are high in potassium, calcium and magnesium can be advantageous for heart health. Potassium helps regulate blood pressure by relaxing the walls of blood vessels while magnesium plays a role in maintaining normal heart rhythm and calcium supports proper contraction of muscles, like your heart (5).
Including low fat low sodium snacks rich in these minerals is recommended by the DASH diet and can complement a heart-healthy diet.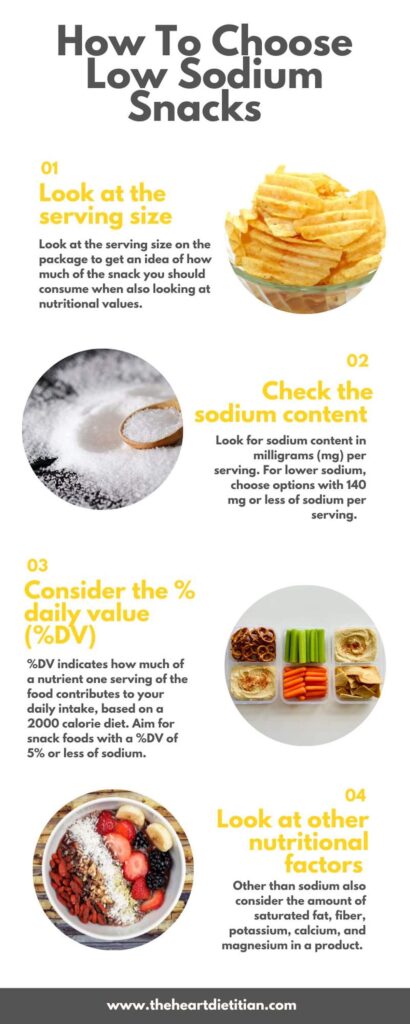 Understanding Nutritional Labels For Heart Healthy Low Sodium Snacks
Here's a step-by-step guide on how to read and understand food labels to identify low sodium snacks:
Start with the serving size: Look at the serving size listed on the package. This will help you determine how much of the snack you should consume and the corresponding nutritional values.
Check the sodium content: Look for the sodium content in milligrams (mg) per serving. To choose a low sodium snack, opt for options that contain 140 mg or less of sodium per serving.
Consider the % Daily Value (%DV): The %DV indicates how much of a particular nutrient, such as sodium, a serving of the food contributes to your daily intake based on a 2,000-calorie diet. Aim for low salt snack foods with a %DV of 5% or less for sodium to keep your intake in check.
Evaluate other nutritional factors: Besides sodium, consider other factors like a product that is saturated fat, high fiber, and a good source of nutrients like potassium, calcium and magnesium.
Now, let us consider an example of a low sodium snack:
In this example, the protein bar contains 125 mg of sodium per serving, which falls within the criteria for a low sodium health snack. Additionally, the snack provides a modest amount of fiber, protein, and potassium, which are beneficial for heart health.
Remember to take the serving size into account when evaluating the nutritional values. Adjust your portion accordingly if you plan to consume more or less than the serving size mentioned.
By reading and understanding food labels, you can make informed decisions and choose heart healthy low sodium snack options that align with your dietary needs and promote a healthier lifestyle.
Spotting High Sodium Snacks
On the contrary, you can also use the nutrition facts table and the ingredient list to spot high sodium snack foods.
Start with the serving size: Check the serving size listed on the packaging to determine the amount of the snack that constitutes one serving.
Check the sodium content: Look for the sodium content in milligrams (mg) per serving. High sodium snacks typically have a higher sodium content, so be cautious if the sodium value is relatively high.
Consider the % Daily Value (%DV): Please keep in mind that 5% DV or less is considered low, while 15% DV or more is considered high. A higher %DV for sodium suggests a higher salt content.
Scan the ingredient list: Look for sources of sodium in the ingredient list. Sodium may be listed as salt, sodium chloride, monosodium glutamate (MSG), or other sodium-containing additives. Also please be aware that ingredients listed at the beginning of the list are present in higher amounts.
Below are some commonly consumed high-sodium snacks that you might want to keep an eye for:
Potato chips and tortilla chips
Pretzels
Cheese and cheese-flavored snacks
Cured and processed meats, such as beef jerky, salami, and pepperoni
Salted nuts and trail mixes
Canned or packaged soups
Condiments and dips


Benefits Of Low Sodium Heart Healthy Snacks
Are you ready to discover the remarkable benefits of incorporating the below list of low sodium snacks into your diet? Let's dive in!
Satiety/Weight Loss
Low salt snacks packed with nutrients, such as protein and fiber, can help keep you feeling fuller for longer periods. This is because fiber adds bulk to your meal and delays emptying by prolonging the digestion process, providing a feeling of fullness and reducing the likelihood of overeating (6).
By choosing heart healthy snacks that provide satiety, you can curb excessive hunger and reduce the temptation to indulge in less healthy options. This aspect becomes particularly valuable when striving for weight loss or maintaining a healthy weight (7).
Additionally some recommendations in the low sodium snacks list below also contain oats. Oats are a heart healthy food that can lower blood pressure AND has soluble fiber that can help lower cholesterol levels too.
Heart Health
Opting for heart-healthy snacks low in sodium can work wonders for your heart health.
These low sodium snacks below can be categorized as DASH diet snacks. They are low in saturated fat and high in beneficial nutrients like fiber, potassium, calcium and magnesium. Consuming healthy low sodium snacks regularly has been associated with a reduced risk of coronary heart disease, high blood pressure, and stroke (8).
Blood Sugar Control
These low sodium snacks are high in fiber and complex carbohydrates which can help regulate blood sugar levels by preventing sudden spikes (9). This steadiness in blood sugar contributes to improved energy levels, enhanced mood, and long-term metabolic health (9).
Energy Levels
Have you ever experienced an energy slump during the day? Highly processed snacks loaded with sodium, sugar and unhealthy fats may provide a temporary energy boost but can leave you feeling sluggish afterward.
The following low salt snacks provide a steady release of energy due to their balanced nutrient composition. They contain essential macronutrients such as carbohydrates, proteins, and healthy fats that fuel your body, keeping you energized and focused throughout the day.
The Ultimate Low Sodium Snacks List
This Maple Pumpkin Spice Granola is made with simple ingredients, including gluten-free rolled oats, cinnamon, coconut oil, maple syrup, nuts and seeds.
This granola provides 60 mg of sodium, 100 mg of potassium, and 2 g of fiber per serving.
I recommend this product for their natural goodness, as they provide a rich source of healthy fats, fiber, and essential nutrients that support heart health. As a nutrition student, I was impressed by the nutritional profile of this granola, which includes a variety of whole grains, seeds, and plant-based fat, adding a diverse range of vitamins and minerals to your diet.
In my experience, this granola has proven to be a satisfying low sodium packaged snack that kept me full between meals, thanks to its balanced combination of carbohydrates, protein, and healthy fats. One of my favorite features of unsalted granola is its versatility, as it can be enjoyed on its own, paired with yogurt or milk, or added to smoothies for added texture and nutrition.
Despite this, they are more expensive than other heart-healthy snacks that could offer similar benefits, so you consider making your own homemade version to save money and tailor it to your preferences like this steel cut oat granola recipe.
Overall, this granola is an excellent choice for a low sodium crunchy snack that is heart-healthy and nourishing.
Use Code HEART for 10% off your order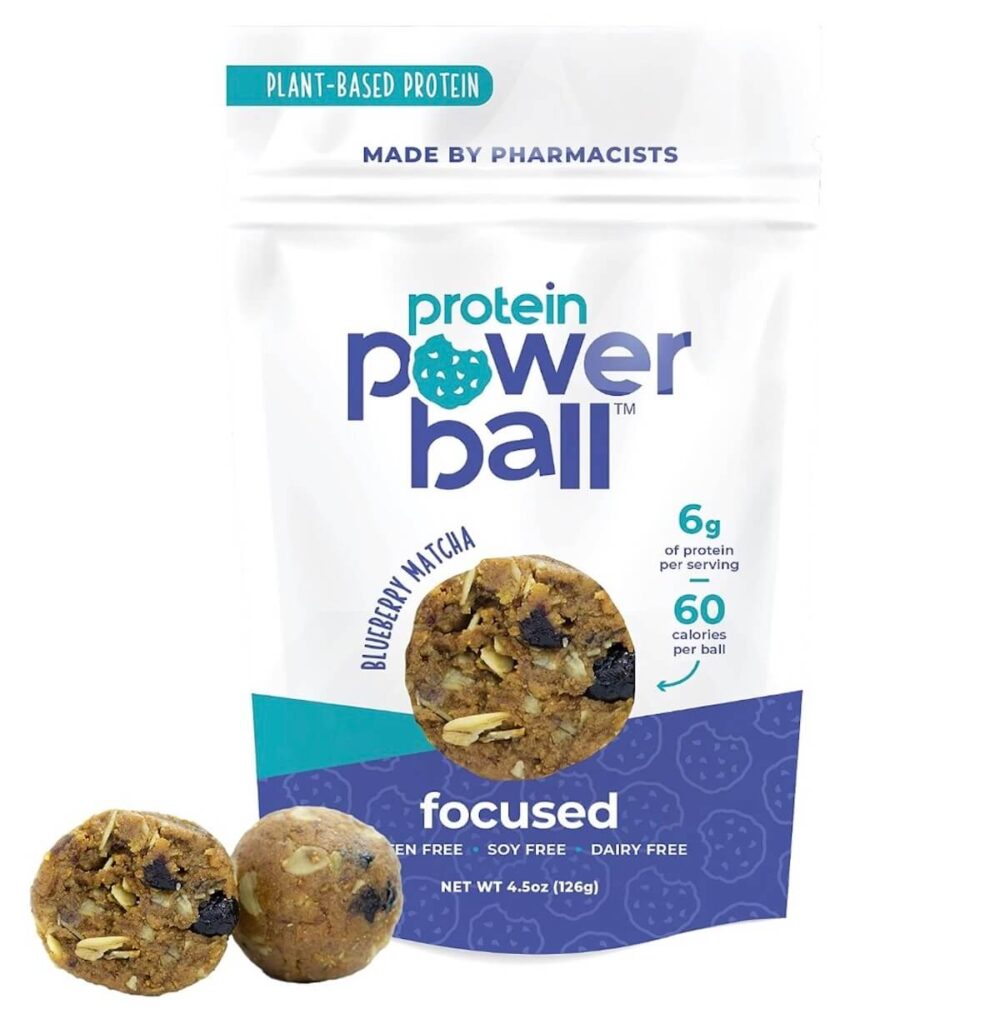 These protein balls provide 45 mg of sodium, 2 g of fiber, and 6 g of protein. Some of the key ingredients include peanuts, organic dates, dried blueberries, matcha powder and chia seeds.
Blueberry Matcha Protein Power Balls are an excellent choice for a heart-healthy low sodium packaged snack. I was impressed by the thoughtfully chosen components and the nutritional benefits they offer. The inclusion of unsalted crushed peanuts provides a source of healthy fats and protein, while the organic dates and gluten-free rolled oats offer natural sweetness and fiber.
One of my favorite features is the combination of organic dried blueberries and matcha powder, which adds antioxidants and unique flavors to the mix. These protein balls contain no added sodium, making them a low sodium snack choice.
What's more? They are a convenient and delicious healthy low sodium snack that you can easily take with you to kept you energized throughout the day.
However, it's important to note that this product contains peanut, so unfortunately you may want to opt out if you have peanut allergies.
Generally, Blueberry Matcha Protein Balls are an excellent choice for a heart-healthy snack low in sodium that combines wholesome ingredients, delightful flavors, and nutritional benefits.
Cocoa Hazelnut Bars are a wonderful choice for a heart-healthy snack on this low sodium snack list! It provides 6.9 g of fiber, 7.2 g of protein and an impressive content of 0 g of salt per 1 bar!
As a nutrition student, I was impressed by its nutritional components, especially the inclusion of dates and peanuts as the main ingredients, as they provide a natural sweetness and a good source of fiber, healthy fats, and plant-based protein. Furthermore, chicory fiber further makes this product a satisfying snack that kept you full throughout the day.
One of my favorite features is the rich and indulgent flavour derived from the fat-reduced cocoa powder, which adds a delightful touch. Besides, do you know that cocoa powder contains many antioxidants, which has been shown to fight inflammation and enhance positive mood (10).
While I don't have any negative issues to report, it's important to note that these bars contain peanuts, hazelnuts, and traces of soya, making them unsuitable for individuals with relevant allergies.
Overall, Cocoa Hazelnut Bars are an excellent choice for a high protein low sodium snack that is heart-healthy and indulgent. They provide a tasty and convenient option to support your well-being and satisfy your cravings in a wholesome way.
Gomacro Banana Almond Butter Bar is a fantastic choice for a low sodium snack to buy. A serving (65 g) provides only 5 mg of sodium, a decent amount of protein of 11 g, and 3 g of fiber. Plus, it's totally vegan-friendly!
In my experience, I was truly impressed by the real and naturally sweet banana, combined with smooth almond butter and crunchy walnuts, which creates a harmonious blend that satisfies both my taste buds and my body's nutritional needs. Plus, the natural sweetness of the banana eliminates the need for excessive added sugars.
One of the additional features that make the Gomacro Banana Almond Butter Bar even more appealing is its beautiful packaging. The bar is wrapped in a creamy-colored packaging that catches the eye and arouse a sense of elegance and simplicity. The thoughtful design not only enhances the overall visual appeal but also gives a hint of the bar's natural and wholesome qualities.
However, it's important to note that this bar contains peanuts and tree nuts. So, keep this in mind if you are allergic to any of these ingredients!
Overall, Gomacro Banana Almond Butter Bar is an excellent choice for a low sodium snack idea. Not only does it offer nutritious ingredients and a delightful taste, but it also presents itself in a visually pleasing package that adds to the overall appeal of the product!
The Kind Bar truly lives up to its name by being gentle and nourishing to your body. A Dark Chocolate Nut Bar provides a sodium content of 125 mg, along with 5 g of fiber and 12 g of protein.
With peanuts and almonds being listed as the primary ingredients, the bar boasts a satisfyingly crunchy and chewy texture. Additionally, the inclusion of soy protein, which is recommended in the Portfolio diet, and, offers higher levels of healthy fats and soluble fiber compared to animal-based protein. These properties contribute to reducing the "lousy" LDL and total cholesterol levels.
One of my favorite features is the low glycemic index of the unsweetened chocolate cocoa powder, which means it is digested more slowly, preventing rapid spikes in blood sugar levels. Moreover, do you know that unsweetened dark chocolate contains a phytochemical called flavanol? This compound may help lower blood pressure, improve blood flow to the heart, and prevent blood clots (10).
Please keep in mind that this bar contains allergens like peanuts and tree nuts.
Overall, unsweetened dark chocolate bars are an excellent snack choice for individuals seeking a low sodium, low glycemic index snack that is diabetes-friendly and promotes heart health.
This low sodium popcorn recipe is a great low sodium crunchy snack choice! It takes you only 4 minutes to prepare! How cool is that? Preparing a snack with low sodium has never been this easy!
As a nutrition student, I am really interested in the nutritional profile of this delicious heart healthy snack low in sodium. One serving provides only 3 mg of sodium, 5 g of fiber and an impressive monounsaturated fat content of 11 g.
One of the standout features of low sodium popcorns is their rich content of ferulic acid, a specific type of polyphenol. Ferulic acid is well-known for its powerful antioxidant and anti-inflammatory properties, which can protect cells from damage and reduce the risk of chronic diseases like cancer, heart disease, and diabetes (11).
Moreover, since popcorn is made from whole corn kernels, it retains all parts of the grain and is considered a whole grain. This means it provides valuable fiber that promotes satiety, helps lower blood pressure, and aids in maintaining healthy arteries.
While enjoying low sodium popcorns, it's important to be mindful of portion sizes and avoid excessive amounts of butter or salt. However, feel free to sprinkle nutritional yeast, coconut flakes, or drizzle a small amount of honey for flavour!
Overall, low sodium popcorn can fit into various dietary patterns, including the DASH diet, Mediterranean diet, low sodium diet, MIND diet, PAD diet and a diet after stent placement. What a flavorful and heart-healthy choice it is!
Grab a bag and enjoy the goodness of these vegetable chips guilt-free!
This vegetable chip contains 110 mg of sodium and 3 g of fiber per 1 serving (20 chips). The best low sodium chips around!
I truly enjoy the unique blend of vegetables used in these chips, including taro, sweet potato, yuca, and batata. These colorful and flavorful vegetables offer a delightful taste experience while providing a range of essential nutrients, including dietary fiber, vitamins, and minerals.
In my experience, these chips have been a satisfying and guilt-free snack option that kept me coming back for more. One of my favorite features is captivating black-colored packaging that adds a touch of sophistication to the snack. The sleek and stylish design of the package not only catches the eye but also sets these chips apart from the rest!
However, it's important to be mindful of portion sizes since these chips can be addictive. While they are a healthier alternative to traditional potato chips, it's still important to enjoy them in moderation to make sure you reap the full low sodium benefit it offers!
Overall, this is the best low sodium chip available as it offers a unique combination of vegetables, a satisfying crunch, and a lower sodium content, making them a delightful option to incorporate into a balanced diet.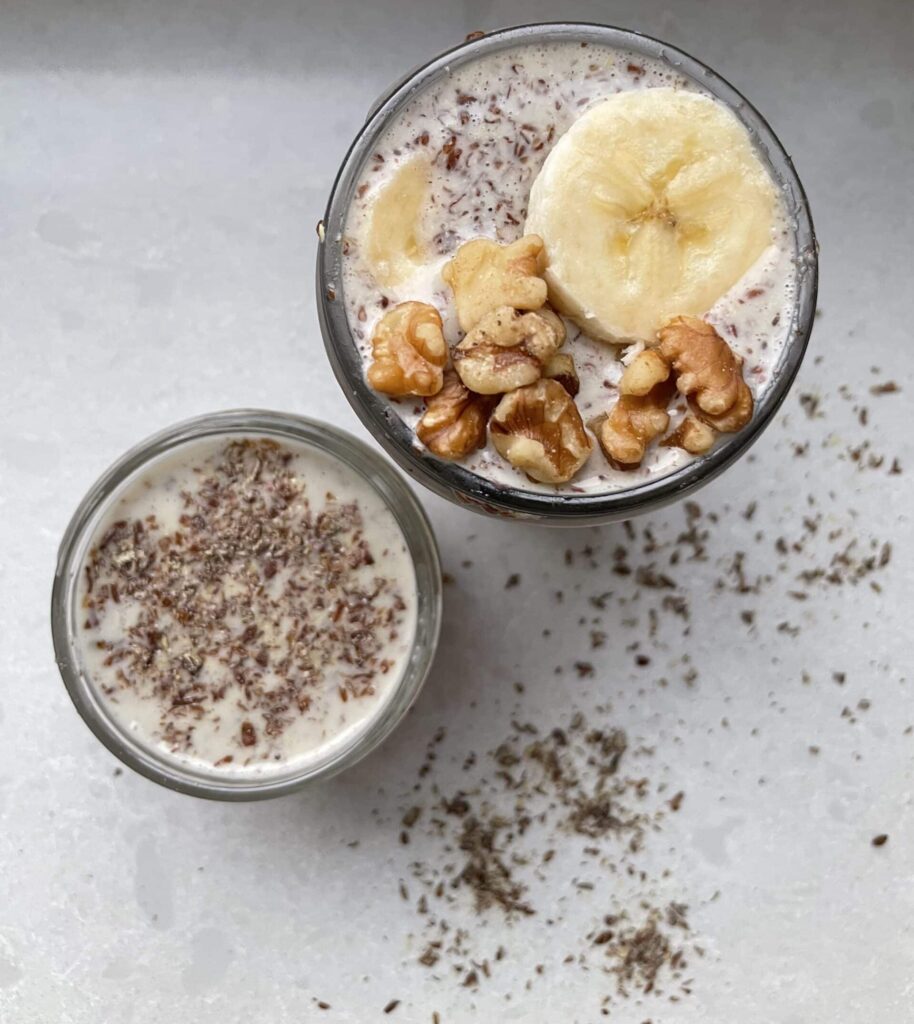 If you have followed this blog for a while, you know flaxseeds are a gem to your overall health!
This flaxseed pudding is packed with a staggering 18 g of fiber, 6 g of protein, and only 21 mg of sodium. It totally fits well into a low sodium diet!
I recommend incorporating flaxseeds into your diet for their remarkable heart-healthy benefits. Flaxseeds are a powerhouse of nutrition, packed with fiber, plant-based omega-3 fatty acids, antioxidants, and essential minerals.
The plant-based omega-3 fatty acids found in flaxseeds, specifically alpha-linolenic fatty acids (ALA), have been shown to reduce blood pressure, control inflammation, and provide a sense of satiety. Flaxseeds also contain antioxidants that help neutralize harmful free radicals and manage inflammation.
Moreover, thanks to its high fiber content, flaxseeds aids in controlling cholesterol levels and promoting regular bowel movements. They are also an excellent source of minerals, particularly magnesium, which plays a crucial role in blood pressure regulation which is a principle of the DASH diet.
In my experience, one of the highlights of this recipe is its incredible simplicity. With just 5 minutes of your time, you can effortlessly combine all the ingredients. Pop it in the fridge, and voila! The next morning, you'll wake up to a delightful and ready-to-enjoy treat.
Generally, flaxseed pudding is not only a low sodium breakfast idea but also a fantastic meal for enhancing your heart health. Your taste buds and your body will thank you for this sensational choice!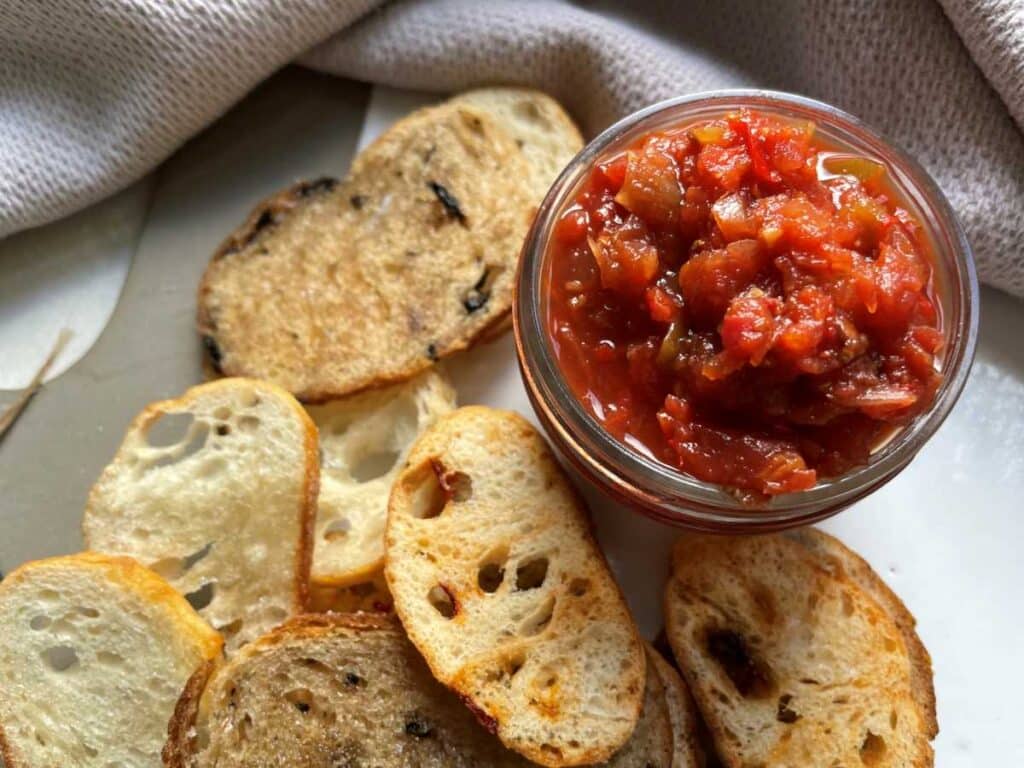 Prepare to salsa your way to a healthier heart with the incredible benefits of low sodium salsa!
A serving of this salsa contains only 28 kcal and 78 mg of sodium. What a winning combo! With its low-calorie content, it's a perfect choice if you are aiming for weight loss. But the benefits don't stop there. By keeping sodium in check, this salsa also contributes to a healthier heart.
As a nutrition student, I can't help but be amazed by the star ingredient in salsa: tomatoes. These vibrant red gems are not only bursting with flavor but also possess remarkable cardiovascular benefits.
Tomatoes are rich in lycopene, an antioxidant known for its ability to reduce blood pressure and lower LDL cholesterol levels (12).Tomatoes are also examples of food that can unclog arteries and food that can lower blood pressure. Check out these blogs of mine to learn about other foods that offer similar benefits.
While I don't have any negative issues to report, be mindful when purchasing commercial salsa sold in the supermarket as it is often made with a high amount of sodium for extra taste. Therefore, I encourage you to follow this recipe and make your own homemade low sodium salsa!
Overall, from pairing it with your morning scrambled eggs to using it as a zesty topping on baked potatoes, low sodium salsa is incredibly versatile and adds a burst of flavour to numerous dishes. Embrace the homemade goodness and indulge in the deliciousness of low sodium salsa for a heart-healthy culinary adventure!
These green peas crisps are indeed a heart healthy snack low insodium-! It contains 4 g of fiber, 50 mg of sodium, and 230 mg of potassium per serving (28 g).
I love these crispy and crunchy low sodium snacks as they are made from wholesome green peas. Green peas are not only a tasty vegetable but also packed with essential nutrients that promote heart health.
One of the standout features of green peas is their high fiber content and a great source of plant-based protein. Protein is essential for overall health, and incorporating plant-based protein into your diet has been associated with a reduced risk of heart disease. Plant proteins like hemp and pea protein are an important component of many dietary guidelines, including the portfolio diet and Canada's Food Guide.
Moreover, green peas contain a variety of vitamins and minerals that support heart health. They are rich in potassium, a mineral that helps regulate blood pressure and reduce the risk of cardiovascular diseases. Additionally, green peas are a good source of magnesium, which plays a role in maintaining a steady heartbeat and relaxing blood vessels.
It's important to note that while Harvest Snaps Snapea Crisps Lightly Salted are a nutritious choice, portion control is essential as it can be addictive. Snacking mindfully and being aware of your portion size will help you enjoy these delicious crisps as part of a balanced diet.
Overall, Harvest Snaps Snapea Crisps Lightly Salted are an excellent choice for a heart-healthy snack. Their unique combination of wholesome green peas, fiber, plant-based protein, and essential nutrients make them a nutritious and flavorful option that can contribute to your overall heart health.
These turmeric energy balls offer a harmonious blend of healthy fats, carbohydrates, and protein, infused with a touch of spice. They are an ideal snack option for you on hectic days and you don't have to worry about the excess sugar and salt.
I recommend these turmeric energy balls for their heart-healthy qualities. A serving provides 10 mg of sodium, 6 g of proteins, and 112 kcal.
As a nutrition student, I was impressed by their inclusion of pea protein in the recipe. In fact, preliminary research suggests that pea protein may have potential in reducing blood pressure, as it contains arginine, an amino acid that aids in enhancing blood flow by increasing nitric oxide levels, leading to the dilation of blood vessels (13).
One of my favorite features is the combination of wholesome ingredients, including turmeric, which contributes to their vibrant color and potential heart-protective benefits. Turmeric's active compound, curcumin, is a potent antioxidant that combats inflammation and oxidation, benefiting various conditions including heart disease, cancer, metabolic syndrome, diabetes, dementia, and arthritis (14).
It's important, though, to be mindful of portion sizes, as consuming too many energy balls may lead to excessive calorie and sodium intake.
Overall, these turmeric energy balls are a fantastic choice for a heart-healthy low sodium snack option, but moderation is key.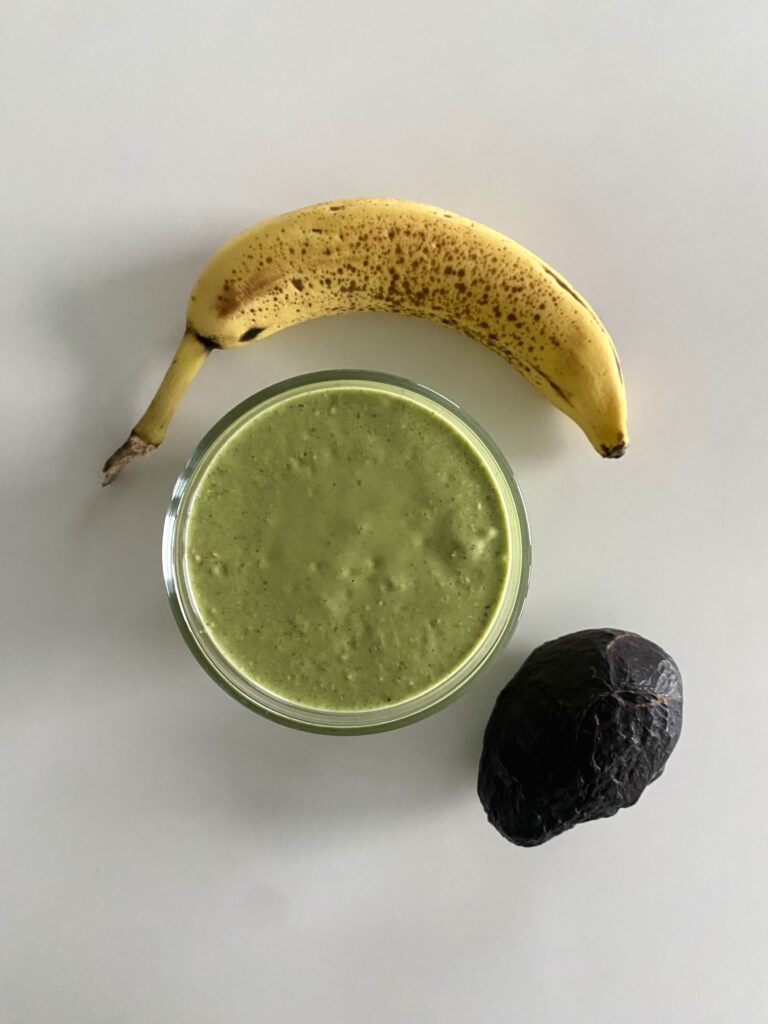 If you're adhering to the DASH diet to lower blood pressure, this smoothie is tailor-made for you! Not only is it rich in magnesium, but it is also beneficial for heart health due to its low sodium content.
This smoothie provides 9 g of fiber, 13 g of protein, and 119 mg of sodium.
This smoothie has been my go-to snack as it not only satisfies my taste buds but also provides a nourishing and revitalizing experience. The blend of creamy avocado, vibrant spinach, and the natural sweetness of banana creates a harmonious flavour profile that is both refreshing and satisfying.
One of my favorite features of this smoothie is the rich magnesium content derived from multiple sources. Magnesium plays a pivotal role in maintaining a healthy heart rhythm, boosting energy, enhancing sleep quality, and supporting healthy blood pressure.
Furthermore, this smoothie incorporates additional heart-healthy components. The inclusion of peanut butter offers a dose of healthy fats, including monounsaturated and polyunsaturated fats, which are key components of a Mediterranean diet. Additionally, oats provide soluble fiber that aids in managing cholesterol levels, while hemp seeds contribute omega-3 fatty acids, which have been linked to cardiovascular benefits.
While this smoothie offers an array of heart-healthy advantages, it's important to note that it may not be suitable for everyone, particularly if you are allergic to peanuts or tree nuts.
However, you can easily omit these ingredients and still enjoy the other nutritious components of the smoothie. It's all about finding what works best for you and customizing the recipe accordingly!
A Mixed Berry Bar contains 140 mg of sodium, 5 g of fiber, and 12 g of protein, with its primary components being almonds and egg whites.
One thing that I like about this product is that the ingredient list for these bars is simple and transparent, clearly displayed on their packaging without any misleading health claims.
Almonds, like other tree nuts, are abundant in healthy fats due to their unsaturated fatty acid composition. Additionally, they serve as an excellent source of magnesium, a vital mineral that aids in blood pressure regulation, muscle relaxation, and maintaining strong bones.
What sets RXBARs apart is their commitment to using wholesome ingredients. They contain no added sugar, are gluten-free, dairy-free, soy-free, and free from artificial flavors and preservatives.
While RXBARs are not low in calories, they prioritize real, nourishing ingredients to provide a satisfying and low sodium snack at the grocery store.
Hesitate no more, give these bars a try and savour the goodness of whole food ingredients in every bite!
All the hummus recipes have 150 mg of sodium or less per serving! So, rest assured that you can still enjoy hummus in a heart-healthy diet.
The main ingredient of hummus is chickpeas, also known as garbanzo beans. These legumes play a crucial role in promoting cardiovascular well-being, aiding in unclogging arteries, and aligning with the principles of the portfolio diet.
Chickpeas boast a remarkable amount of soluble fiber, which forms a gel-like substance in your digestive tract and effectively lowers cholesterol levels.
Furthermore, the inclusion of chickpeas and other legumes in your diet provides protection for your heart health due to their abundance of polyunsaturated healthy fats. These fats have also shown to significantly reduce LDL cholesterol after just 6 weeks of consumption (15).
From personal experience, I can attest to the exceptional flavor and versatility of hummus. It pairs perfectly with various dishes, serving as a delicious dip, spread, or even as a unique ingredient in recipes. Its creamy texture and rich taste make it an absolute favorite of mine.
Overall, low sodium hummus is an nutritious addition to your heart-healthy lifestyle. By incorporating this delicious and versatile legume-based dip into your meals, you'll reap the benefits of its cholesterol-lowering soluble fiber and heart-protective healthy fats.
Let's discover the delightful flavor of this easy-to-make homemade sardine dip!
One serving of this sardine dip provides 105 mg of sodium, 9 g of protein, and 290 mg of potassium.
One thing I love about this recipe is the abundance of protein, healthy fats, and inflammation-fighting omega-3s found in fish like salmon and sardines.
This sardine dip has quickly become a favourite due to its versatility and ability to add a delightful twist to traditional dips like hummus or veggie dip.
Not only does it work wonderfully as a dip, but it can also be used as a spread for sandwiches or bagels, or even as a flavorful sardine appetizer on crackers. The options are endless!
It's important to note that while sardines offer numerous health advantages, there may be a few cons to consider. Some individuals may not enjoy the taste or texture of sardines, and there is a possibility of encountering small bones in the fish. However, with proper preparation and blending, these concerns can be minimized.
Generally, this homemade sardine dip provides a quick, easy, and delicious way to incorporate into your low sodium diet. It's time to dive into the world of sardines and experience the benefits firsthand!
Final Thoughts
As we wrap up, let's remind ourselves of the incredible power of low sodium snacks and a low sodium diet in nurturing our well-being. Our hearts deserve the very best, and by choosing heart-healthy, low sodium snacks, we're making a mindful decision to support our well-being.
From crispy chips to creamy dips, from nutritious bars to refreshing smoothies, there's a whole array of options waiting you to discover. If you need any more ideas, be sure to check out the DASH diet snack list too.
Remember, with every bite, we're nurturing our hearts and taking a proactive step towards a healthier future.
Tell me below what your favorite low sodium snack is, or if you have tried any from this list!
This article was written by Wesley Mai Nutrition Student, and Veronica Rouse, MAN, RD, CDE.