Protein tomato soup is a comforting and delicious classic soup, that can fit into a heart healthy diet.
Instant or canned tomato soup is often lacking in protein, fiber and often high in sodium.
That's why we've created a recipe that not only delivers on taste but is also packed with protein and heart-healthy ingredients. By using Greek yogurt, hemp seeds, and white beans, this tomato soup recipe will keep you satisfied and your heart happy.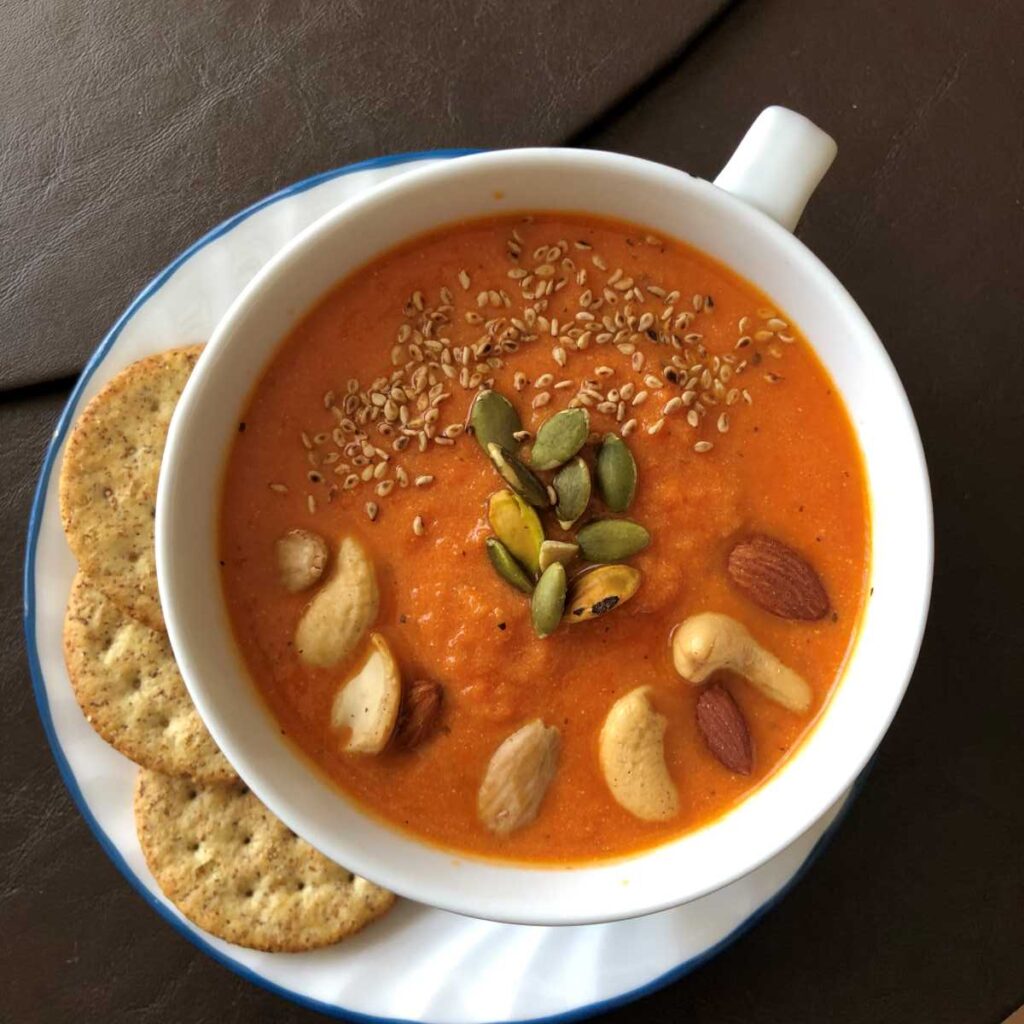 Greek Yogurt Tomato Soup Is Heart Healthy
The ingredients in this protein tomato soup can lower blood pressure and unclog arteries.
Tomatoes
Tomatoes are good for heart health due to their high content of lycopene, a powerful antioxidant that can help reduce inflammation and lower the risk of heart disease. Lycopene can also help lower levels of "bad" LDL cholesterol, which can build up in arteries and lead to blockages.
As a bonus, heating or cooking tomatoes, actually make the lycopene more bioavailable.
Tomatoes are also a good source of potassium, which is an essential mineral that can help regulate blood pressure. High blood pressure is a risk factor for heart disease, and consuming potassium-rich foods like tomatoes can help lower blood pressure levels.
White Beans
White beans are a heart-healthy food due to their high content of dietary fiber, potassium, and folate. The soluble fiber found in white beans can help reduce cholesterol levels.
Like tomatoes, white beans are high in potassium, which helps regulate blood pressure. They are also a good source of folate, which is a B vitamin that plays a role in reducing levels of homocysteine in the blood. High levels of homocysteine have been linked to an increased risk of heart disease.
Hemp Seeds
Hemp seeds contain essential omega-3 fatty acids. These fatty acids play an important role in reducing inflammation in the body, which can lead to a variety of health problems, including heart disease.
Additionally, hemp seeds are a good source of arginine, an amino acid that can help improve blood flow and reduce blood pressure.
Greek Yogurt
Greek yogurt is a heart-healthy food due to its high content of protein, calcium, and probiotics. Like potassium, calcium can reduce blood pressure. It is a nutrient that helps regulate muscle function, including the muscles of the heart.
Greek yogurt also contains probiotics, which are beneficial bacteria that can help improve gut health. Good gut health has been linked to a reduced risk of heart disease, as gut bacteria play a role in regulating inflammation and cholesterol levels in the body.
Why Make Tomato Soup
great source of soluble fiber, potassium, and plant protein
low in sodium, unlike instant soup
inexpensive compared to store bought
only requires one pot
takes 30 minutes to make
perfect all year round
Loaded with protien, fiber, potassium and calcium
Satiating
Follows the DASH diet, Mediterranean diet, Portfolio diet, and Mind diet
Nutrition in Greek Yogurt Tomato Soup
As you can see from the table below, this high protein tomato soup recipe is much healthier than store bought instant Campbells Tomato Soup.
| | | |
| --- | --- | --- |
| | Campbells Tomato Soup | This Protein Tomato Soup Recipe |
| Fiber (g) | 2 | 6 |
| Protein (g) | 2 | 15 |
| Sodium (mg) | 480 | 53 |
| Potassium (mg) | 480 | 764 |
| Calcium (mg) | 40 | 160 |
| | | |
Table 1: Comparison of canned tomato soup to this protein tomato soup recipe in nutrients
This tomato soup with protein recipe is healthier than instant soup because:
Lower sodium content: Instant soups are often high in sodium to increase flavor and preserve the product. Consuming too much sodium can lead to high blood pressure, heart disease, and stroke. When making high protein tomato soup at home, you can control the amount of salt you use and choose lower-sodium ingredients like no salt added tomatoes and broth.
More nutrients: Soup with greek yogurt is more nutrient-dense than instant tomato soup because it has a variety of vegetables, legumes, and seeds to increase the fiber, protein, potassium, and calcium.
Less processed: Instant soups often contain processed ingredients, such as dehydrated vegetables and MSG. Making soup at home, like this Greek yogurt tomato soup, allows you to use fresh, whole ingredients, which can be more nutritious and better for your health.
Like smoothies, soups like this protein tomato soup, are an excellent way to consume lots of vegetables to meet the DASH diet vs Mediterranean Diet requirements to lower blood pressure and prevent heart disease.
Ingredients
extra-virgin olive oil – or if you don't have olive oil check out healthy olive oil alternatives
garlic, onion, carrots – used for flavor and antioxidants
tomato paste and whole peeled tomatoes – can't have tomato soup without tomatoes, choose no salt added canned products here
vegetable broth – for flavor, chicken stock can also be used here, just make sure it is no salt added.
herbs – fresh or dried would work well. I used dried here, because I had it in my pantry.
Greek yogurt – adds creaminess without the saturated fat found in cream


How To Make Protein Tomato Soup
Step 1: Add the olive oil to a large saucepot and saute garlic and onions. Then add carrots.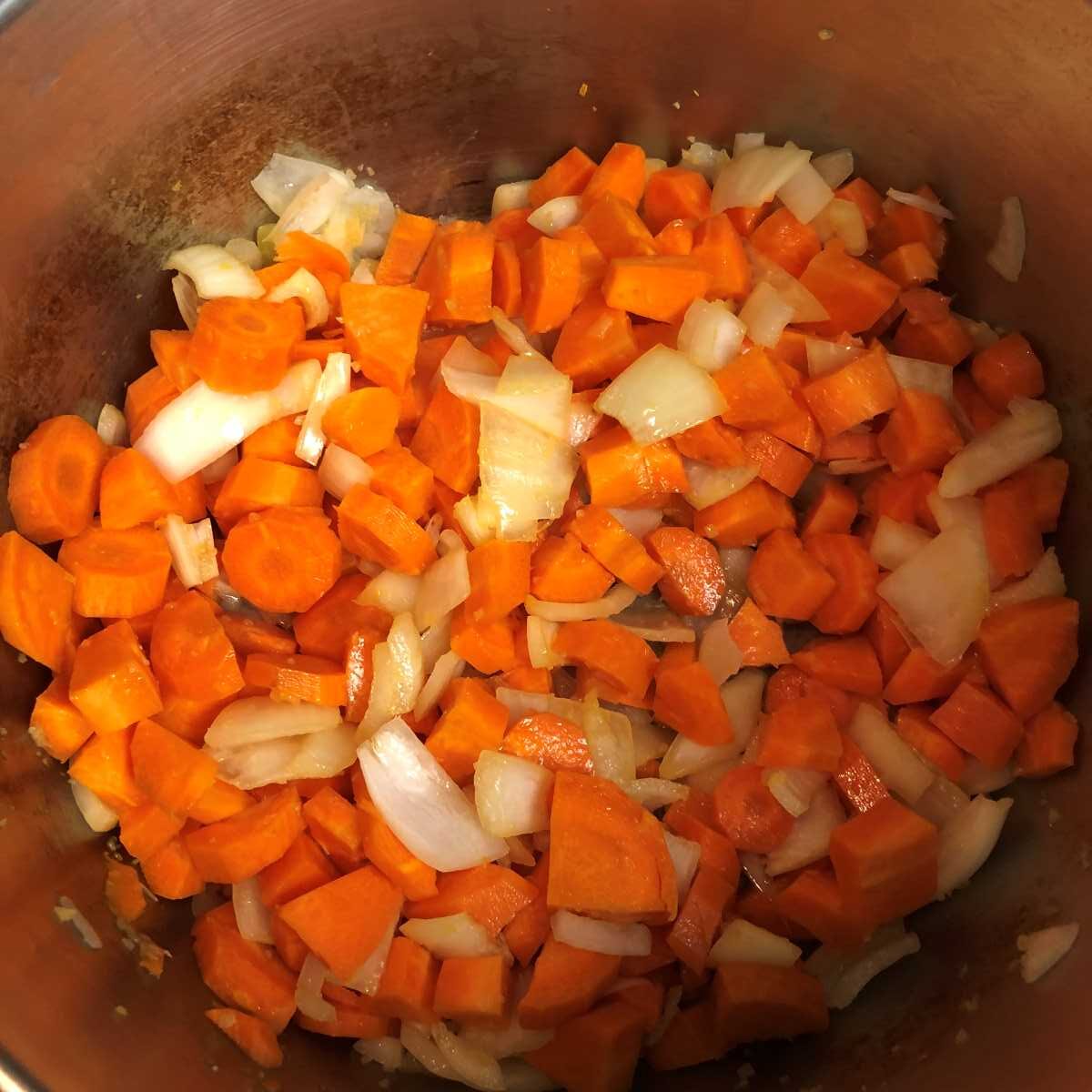 Step 2: Add the tomato paste, canned tomatoes and dried herbs. Cover and let simmer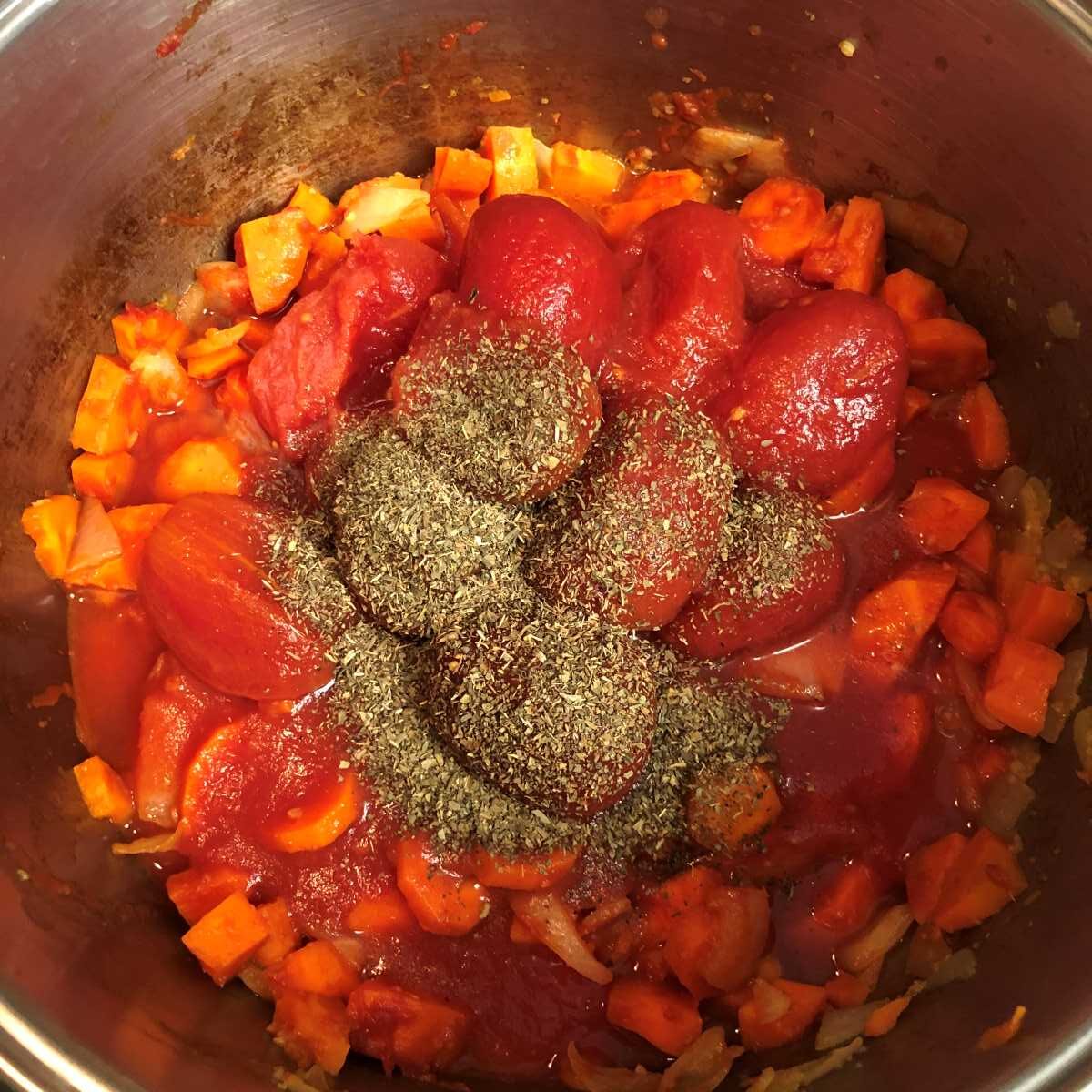 Step 3: Add vegetable broth, Greek yogurt, white beans, and hemp seeds and mix well.
Step 4: Blend with an immersion blender until well mixed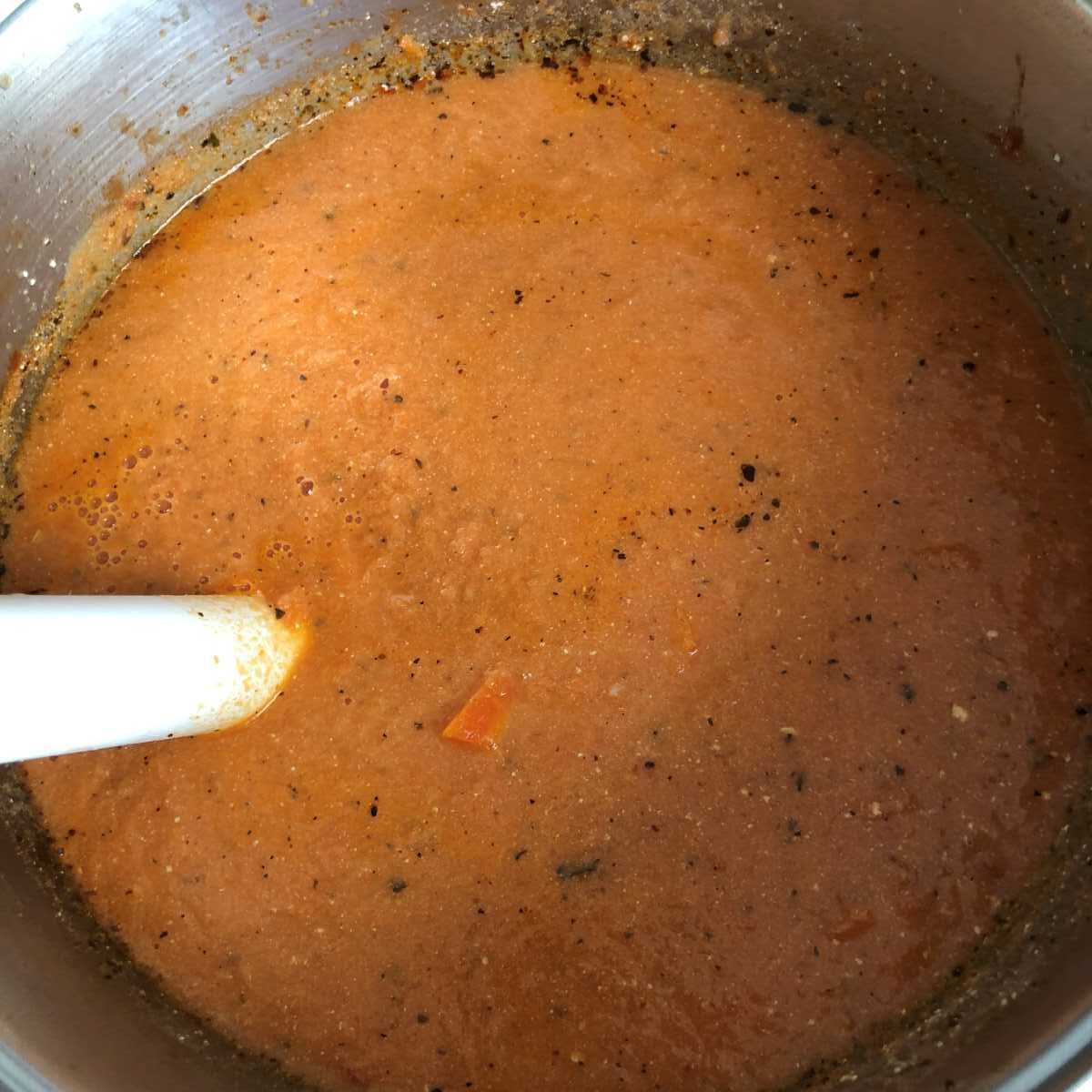 Step 5: Enjoy! Top with your favorites – try sesame seeds, hemp seeds, pumpkin seeds, cashews or nutritional yeast.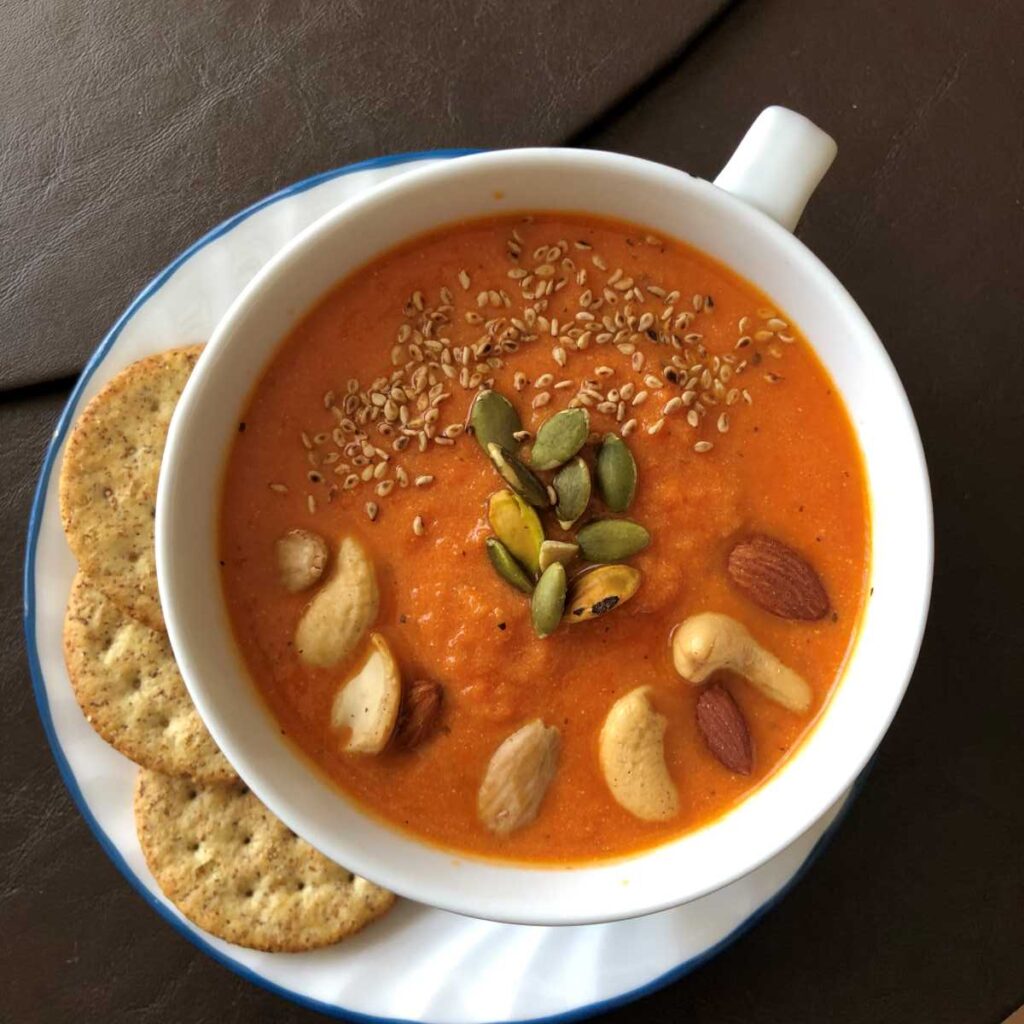 Storage
It will keep in the fridge for about 5 days or in the freezer for about 6 months.
Reheat
You can add the frozen or chilled soup into a medium saucepan and heat on medium high until warmed through and simmering.
Tips
Double the recipe and save extra in the freezer for a rainy day!
If you add the yogurt when the soup is too hot, it will curdle.
You want to use Greek yogurt and not regular yogurt because Greek yogurt strains away extra moisture making it thick. If you choose regular yogurt, the high protein tomato soup will be less thick and more broth-like.
Want a thicker soup? Add more carrots or reduce the amount of broth.
If your can of tomatoes are too acidic, feel free to add maple syrup to balance this out
Add More Protein
You can try adding protein power to soup to further increase the protein content. I recommend trying pea protein or hemp protein, as they are plant based. Once the soup is cooked, you can add the protein powder and blend it with a hand blender to incorporate it well.
I haven't tried using protein powder, so use it at your own risk. When researching this recipe, I read that the acidity of the tomatoes helps mask the protein powder taste. If you do try it, let me know in the comments what you think.
Serve It With
Fresh basil
Top it with nutritional yeast for more plant protein!
Add roasted black beans for crunch
Other Soup Recipes
And if you are looking for other low sodium recipes try low sodium mayonnaise, low sodium breakfast ideas, low sodium lunch ideas, low sodium instant pot recipes, low sodium hot chocolate, low sodium tortillas, low sodium marinara sauce, low sodium pasta recipes, low sodium oatmeal recipes, low sodium salsa, low sodium hummus, low sodium taco seasoning, DASH diet smoothies, DASH diet desserts, low sodium bagels, tofu bolognese, beet mac and cheese… to name a few.
Or check out these low sodium cookbooks and DASH diet cookbooks for inspiration.
Pin It Now & Make It Later!
Final Thoughts
This protein-packed tomato soup is a fantastic option for those looking to boost their protein intake and improve their heart health.
With ingredients like Greek yogurt, hemp seeds, and white beans, this soup is not only satisfying and flavorful but also nutritious and beneficial for your body.
By incorporating this recipe into your meal plan, you'll be able to enjoy a comforting and delicious meal while also taking care of your health.
Recipe and photo by Isabelle Mah, Nutrition Student. Article was written by Veronica Rouse, MAN, RD, CDE.


Protein Tomato Soup
Protein tomato soup is a comforting and delicious classic soup, that is low in sodium and high in fiber and can fit into a heart healthy diet.
Equipment
1 Large pot

1 Immersion blender
Ingredients
2

tbsp

extra virgin olive oil

3

large

carrots

1

medium

yellow onion

2

cloves

garlic

¼

cup

tomato paste

no salt added

28

oz

whole peel tomatoes

no salt added

2

cups

vegetable broth

no salt added

2

tsp

thyme

1

tbsp

basil

1

cup

Greek yogurt

plam, 0%

½

cup

hemp seeds

1

cup

white beans
Instructions
Wash and peel the carrots, onion and garlic. Dice the carrots into small cubes, chop the onions and mince the garlic.

Pour olive oil into a large pot and turn on medium heat

Add the carrots, onion and garlic to the pot

Cook and stir until the evegetables are softened and the onions have carmelized

Add the tomato paste and cook for 30 seconds

Add the can of whole peeled tomatoes, broth, thym and basil. Stir well

Cover the pot and bring to a boil, then lower the heat to simmer.

Cook for another 15 minutes until the vegetables become very soft

Add the Greek yogurt, white beans and hemp seeds and mix well

With the immersion blender, blend the soup into a smooth puree. Scoop into a bowl and sprinkle nuts and sessame seeds if desiderd.
Nutrition
Calories:
271
kcal
Carbohydrates:
26
g
Protein:
15
g
Fat:
13
g
Saturated Fat:
1
g
Polyunsaturated Fat:
7
g
Monounsaturated Fat:
4
g
Trans Fat:
0.002
g
Cholesterol:
2
mg
Sodium:
53
mg
Potassium:
764
mg
Fiber:
6
g
Sugar:
10
g
Vitamin A:
6473
IU
Vitamin C:
21
mg
Calcium:
160
mg
Iron:
5
mg